Lord Stirling's
News Blog
EUROPE
Powerful prayer to St. Michael the Archangel - video ~ link
AVE MARIA - by Helene Fischer - video ~ link
On the Road to the Third World
War
Armageddon also means that the Second Coming of Christ is near
INTO THE ABYSS OF ARMAGEDDON
Attacks in Paris move things towards All-Out Third World War -
Christians vs. Muslims
If you have an understanding of the hidden hand in 'terrorism', how False Flag events work, how historically nations and alliances are driven towards war by FEAR and the resulting HATE, then you can see how tonight's horrific events in Paris have moved us a major step towards the All-Out War Phase of the THIRD WORLD WAR. The French were already sending the flagship of the Navy, the Carrier Charles De Gaulle, along with its supporting battle fleet to the Middle East. Now the French and Europe have been bloodied and the demands for a major military response will widen and this will be used, by those behind the scenes players seeking another Global War, to move us into the Abyss!
Tim Earl of Stirling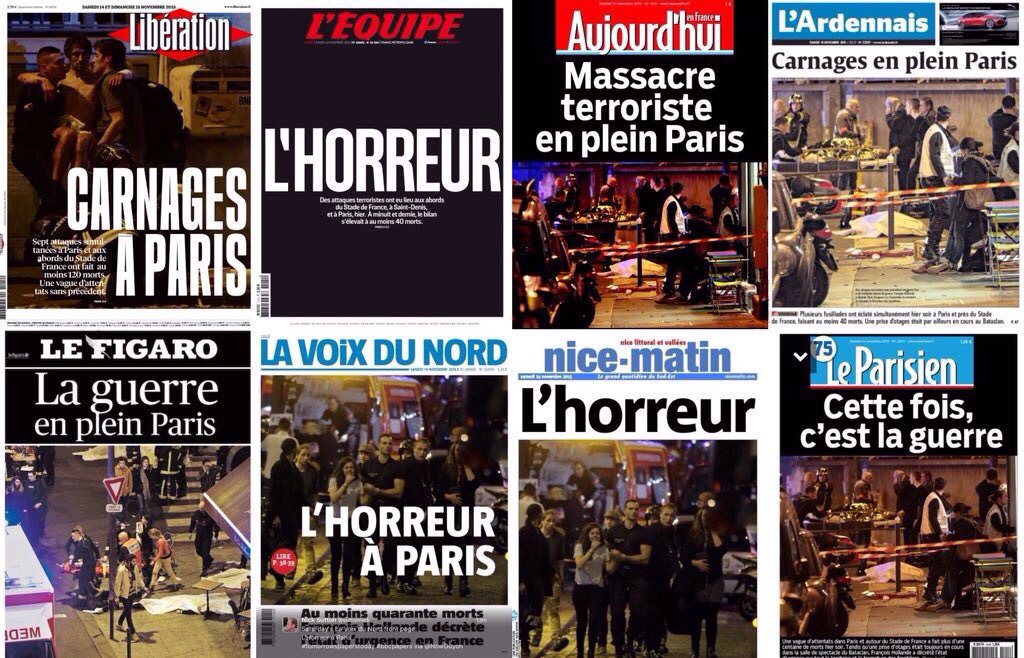 Bloodbath in Paris - At least 150 Dead and Many Injured

~ link ~
A series of coordinated terror attacks in the heart of Paris have killed more than 150 and paralysed the French capital with fear.
As many as 118 people were massacred at a concert in the Bataclan concert hall following a hostage situation. Another 11 were shot down at a Cambodian restaurant. The three terrorists inside detonated their suicide vests as police raided the building to rescue the remaining hostages. Four policeman were killed in the operation.
France has declared a national state of emergency and has closed its borders after at least 120 people were killed in gun and bomb attacks in Paris.
At least 100 people are reported to have died at the Bataclan concert hall in central Paris. Gunmen took many hostages there before being overpowered by police.
About 160 killed in Paris gunfire and explosions

~ link ~
About 160 people have been killed in the French capital Paris in the deadliest attacks to hit the country since the Second World War.
On Friday night, over 100 people, who had been held hostage by gunmen at the Bataclan concert hall in central Paris, were killed. Officials said the hostage-takers were also killed after police stormed the place.
In another Friday attack, at least 11 people were killed by gunmen outside a bar called Le Carillon in Paris.
The assailants also opened fire at the Petit Cambodge restaurant in the city's 10th district, killing four people.
Three explosions near

Stade de France, the country's national stadium

just north of Paris, left several people dead and injured.
At the time of the explosions, French President Francois Hollande was present at the stadium, where

France were hosting Germany

, but he was evacuated to safety before holding crisis talks with Prime Minister Manuel Valls and Interior Minister Bernard Cazeneuve at the Interior Ministry building.
Paris Attacks - RT Live Updates

~ link ~ link ~ link
Additional coverage of Paris horror from around the world

~ link ~ link ~ link ~ link ~ link ~ link ~ link ~ link ~ link ~ link ~ link ~ link