Lord Stirling's
News Blog
EUROPE
Powerful prayer to St. Michael the Archangel - video ~ link
AVE MARIA - by Helene Fischer - video ~ link
On the Road to the Third World
War
Armageddon also means that the Second Coming of Christ is near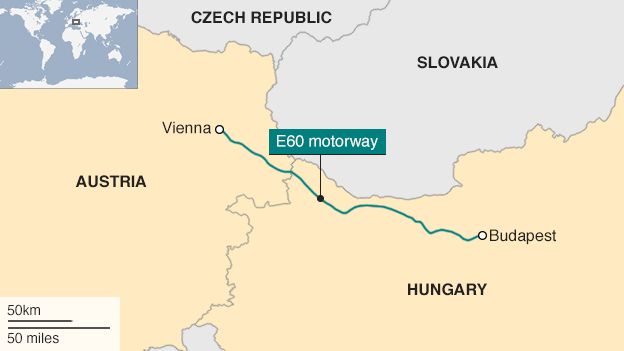 Europe in Crisis:

Hungary refugees start Walk To Border ~ link ~ link ~ link ~

If the people of Europe want to end this crisis, they need to force an end to the Globalist/Zionist wars in North Africa and the Mideast and, after giving temporary shelter to the desperate families, repatriate them back to their homes with aid to reestablish their lives in their own homes!!!

Stirling
A group of about

1,000 migrants stuck at a Budapest railway station for days have set off on foot, saying they intend to walk to the Austrian border

. Hungarian authorities are trying to contain

thousands of people desperate to reach western Europe

.
Meanwhile,

European Union states are struggling to agree a common strategy to deal with the crisis. The Hungarian, Czech, Slovakian and Polish prime ministers have rejected quotas for EU nations

.
Hungarian Prime Minister Viktor Orban warned on Friday of

"the end of Europe"

. "Today we are talking about tens of thousands but next year we will be talking about millions and this has no end," Mr Orban said. [

The Globalists and Zionists, who want to destroy Europe and the pan-European nations, see this event as a double win, they are ethnically cleaning Syria and flooding Christian Europe with masses of Muslims!!!

Stirling]
Europe in Crisis:

Refugee crisis in graphics ~ link ~

Do take a few seconds to view this one!

Stirling
Europe in Crisis:

Putin: West's flawed policies have led to EU's refugee crisis ~ link ~ link ~
Russian President Vladimir Putin says Western countries' "flawed" foreign policy is to blame for Europe's immigration crisis.

Speaking to journalists on the sidelines of the Eastern Economic Forum in the Russian city of Vladivostok on Friday,

Putin said Russia has frequently warned of major problems for Europe as a result of the West's wrong policies as well as the spread of terrorism in the Middle East and North Africa

.
"We in Russia … a few years ago said it straight that pervasive problems would emerge if our so-called Western partners continue maintaining their flawed ... foreign policy, especially in the regions of the Muslim world, Middle East, [and] North Africa, which they pursue to date,"

Putin said.
He added that the current refugee crisis in the EU doesn't come as a surprise, saying it was "absolutely expected.

"
Europe in Crisis:

Volunteers stepping in to help ~ link ~

The good Christians in Europe are doing what they can to help ... remember what Christ said, "Whatever you do to the least ... you do to Me"!!!

Stirling
Europe in Crisis:

Grief at drowned Syrian boys' burial ~ link ~

Also see

~ link ~
Alan's father Abdullah crossed into Kurdish-controlled Kobane with the coffins. Speaking at the burial, he said: "I have no future any more. My future is gone." Three-year-old Alan, his brother Galip, five, and his mother Rehan died trying to reach the Greek island of Kos

.
Europe in Crisis:

Central European Prime Ministers reject the EU's proposal for refugee quota system ~ link ~
The EU states should take sovereign decisions in finding solutions to the migrant crisis, Polish Prime Minster Ewa Kopacz said after an emergency summit of Central European leaders on the spiking refugee influx in in Prague.
"I think our tackling of the immigration problem has to be reasonable and also countries have to make sovereign decisions on the level of their exposure as well as engagement," Kopacz told reporters after meeting her counterparts from the so-called Visegrád Four – Czech Republic, Slovakia, Hungary and Poland – at a summit in Prague on Friday. The group decided to oppose plans for quotas for refugees seeking asylum in the EU. The three states voiced solidarity with Hungary and expressed readiness to provide it with assistance.
Europe in Crisis:

Putin: People are fleeing from Syria because of ISIS NOT the Assad regime ~ link ~

The Globalists and Zionists really hate Putin, he tells the truth too often!!!

Stirling
"Of course, we know that there are different approaches to Syria. By the way, people are running away not from the regime of Bashar Assad, but from Islamic State, which seized large areas in Syria and Iraq, and are committing atrocities there. That is what they are escaping from," RIA Novosti quoted Vladimir Putin as saying on the sidelines of the Eastern Economic Forum in Vladivostok."

They [IS] kill hundreds and thousands of people, burn them alive or drown them, cut off people's heads. How are people supposed to live there? Of course, they run away

."
Answering journalists' questions about

whether Russia is ready to engage in military operations

to combat IS, the president said it was premature to speak about Moscow's participation. "

We see what is happening now: the US Air Force is carrying out strikes. Yet, the efficiency of these airstrikes is poor. It is premature to say that we are ready to do it [too]

. But we are already providing Syria with quite strong support in terms of equipment, training of military servicemen and weapons," Putin said. He reminded that Moscow and Damascus have certain military contracts and they are being fulfilled."

We are considering various options

, but

so far

what you are talking about is not on the agenda," Putin said.
Europe in Crisis:

Cameron says Britain to accept thousands more Syrian refugees ~ link ~

Good for you David, but how about ENDING SUPPORT FOR THE WAR AGAINST SYRIA!!!

Stirling
No figure has been decided but the prime minister said the extra refugees would come from camps bordering Syria, not from among those already in Europe. Britain, he said, would act with "head and heart" to help those most in need. He also announced a further £100m in humanitarian aid for those in camps in Syria, Turkey, Jordan and the Lebanon.
Europe in Crisis:

Worst refugee crisis since World War II -

RT LIVE UPDATES

~ link ~

Make no mistake about it ... this terrible event is part of the unfolding Third World War!!!

Stirling
Europe in Crisis:

President of Ireland: 'We must do more' ~ link ~
The President praised the Irish people for calling for a response to the refugee crisis ahead of the nation's leaders, saying he was encouraged by people's determination to make a contribution to relief efforts. "We have to decide at certain times in our life to do what is right and what is right is to come to the assistance of those who, like our own ancestors, were being lost in the sea of the Atlantic three generations ago," he said

.
"What is important is that we all share the responsibility of what is a human tragedy unfolding before us,"

said the president, adding that it would be irresponsible for those commenting on the situation to encourage a "false division" between members of the public based on their own country's economic situation.
"I think it is to the credit of these great people that even though they have taken a great hit as a result of an imposed economic paradigm . . . they are the people who will come forward first and say come and share with us at least shelter, some security and we will be of assistance." "That is the Irish way at it's best.

"
Europe in Crisis:

'Humans NOT Cattle': Egyptian billionaire wants to buy a Mediterranean island to house refugees ~ link ~
Shocked by the fate and treatment of refugees who risk crossing thousands of miles from war zones to reach the EU, an Egyptian billionaire has put forward an unusual offer: he wants to buy an Italian or Greek island to accommodate the migrants. "Greece or Italy sell me an island, I'll call its independence and host the migrants and provide jobs for them building their new country," Egyptian television industry billionaire Naguib Sawiris proposed via Twitter.
The conflicts within the European Union on the distribution of refugees continue to escalate. While the Hungarian Prime Minister Viktor Orban has said that the refugees were "not a European problem, but a German problem," because the German government "had invited the Syrians to the dinner table," the German government is insisting on compliance with European asylum rules and is exerting massive pressure on the government in Budapest to prevent the refugees from traveling to western and northern Europe

.
At the insistence of the German authorities, the Italian government too has decided to reintroduce border controls at the Brenner Pass on the Italian-Austrian frontier. At the same time, German Interior Minister Thomas de Maizière announced that the constitutionally enshrined right of asylum will continue to be pruned and further measures submitted to deter refugees from traveling to Germany.
Europe in Crisis:

People in Europe are full of fear over the refugee flood ~ link ~ link ~

Good ... wake up people ... World War III is only going to get one hell of a lot worst unless the masses put a stop to it and the evil ones behind it!!!

Stirling