Lord Stirling's News Blog EUROPE
Holy Shroud of Turin
Poweful prayer to St. Michael the Archangel - video ~ link
AVE MARIA - by Helene Fischer - video ~ link
ORTHODOX CHERUBIM HYMN - video ~ link
AVE MARIA by Perry Como - video ~ link
Pray for Peace
On the Road to the Third World War.
Armageddon also means that the Second Coming of Christ is near.
13 July 2014 ~ Second Update
Breaking News
Special Report: War on Gaza
Hamas denies rocket attack on Israel from Lebanon

~ link ~ Hamas does NOT have to use Lebanon for a launching site. However, dear old Bibi

666

Netanyahu desires one Hell of a War, a General Middle East War, so that he can nuke, and get America to nuke, millions in the Mideast. He is the most evil and dangerous man alive. The Israels are claiming that rockets and mortar fire is coming from Lebanon and Syria in order to expand the war!!! Stirling
Palestinian group Hamas had no role in a rocket attack on Israel from Lebanon and had nothing to do with a statement in the name of its armed wing that claimed responsibility for the attack late yesterday, Hamas officials in Lebanon said

.
Three rockets fired from Lebanon hit open areas near Nahariya in northern Israel. Israel responded with artillery fire. There were no casualties reported. The attack followed a similar rocket salvo from Lebanon on Friday

.
IDS: Rocket from Syria hit Israel - We responded with artillery

~ link ~

WHY would Syria attack Israel now??? This was just another Israeli False Flag to turn up the heat and provoke Syria. Crazy!!!

Stirling
First rocket hits Nahariya - All of Isreal within range from Gaza Strip

~ link ~

Hamas does NOT need to fire at Israel from Lebanon or Syria!!!

Stirling
Nahariya, a small resort town 15 minutes drive from the Lebanese border, Sunday, July 13, had the unwanted distinction of being the northernmost Israeli town to be hit by a Hamas rocket from the Gaza Strip. The rocket traveled 172 km to land harmlessly outside the town – more than twice the distance from Gaza to Tel Aviv,

which took its second round of Hamas rockets in two days. Mayor Jackie Sabag of Nahariya said he had fortunately not taken the advice of the Home Command to shut the city's shelters after rockets were fired Friday and Saturday from Lebanon.
Thousands flee Gaza after an Israeli warning of a 'short and temporaty' bombing

~ link ~

Also see

~ link ~
This morning, following the previously reported ground incursion by Israeli special forces in northern Gaza, the Israel military was kind enough to advice locals in Gaza to evacuate ahead of a major shelling round. What follows is the full text of a

leaflet dropped by the Israeli military in the town of Beit Lahiya, near the border with Israel.
Hamas: Israel will pay a price for its crimes

~ link ~

Israel always loves to paint a PR picture of itself as 'poor Israel being attacked by terrorists'. But the reality is very different. Israel has and continues to steal Arab land. Israel refuses to set permanent borders. Israel continues to treat non-Jews as second class citizens at best and as 'soulless two-legged animals' at worse. The people in Gaza, and sometimes greater Palestine, are standing up to a ruthless hyper-racist enemy armed with the latest high-technology weapons that the American tax payers can 'give' them, while fighting with home made rockets and taking massive numbers of mostly civilian killings and injuries. The underdog is NOT Israel and the guilt for this war and most wars there belongs to Israel. They could have, long ago, made a lasting peace but they prefer to continue to expand their territories by stealing Arab land. They continue to claim that this is the land of their ancestors but the DNA evidence says otherwise, that 90+% of the Jews living there are NOT descended from the Jews of the Old Testament. Their drive for a General Middle East War is highly likely to begin the Third World War which will kill BILLIONS. They buy off and blackmail the political classes of most western nations and have become a millstone around the necks of the human race as we race towards Armageddon. It does not have to be this way. In fact the nutty and most evil Netanyahu Government is almost certainly going to get all six million Jews in modern Israel killed, but still they continue on with a drive to kill and control millions throughout the Mideast. Pray for them and for Peace.

Stirling
Abu Zuhri further said Israel deliberately targets civilians.
This comes as Israel continued to pound the Gaza Strip for the sixth straight day on Sunday. The latest Israeli airstrikes have killed at least 32 Palestinians in the besieged territory.

The official further noted Tel Aviv's atrocities will not break the will of the Palestinian people, saying Israel is an occupier.

"Palestinians are just defending themselves. He said all Palestinians support the resistance," Abu Zuhri said.

Earlier in the day, Palestinian sources said Israeli fighter jets have hit nearly 200 targets over the past 24 hours.
At least 170 people have lost their lives and more than 1,150 others injured in Gaza since Tuesday when the Israeli attacks began.





Israel and Palestine: The Maps Tell The True Story

~ link ~

Good One...do check this link out!

Stirling
The truth is that far from being the poor victim it likes to portray itself as, Israel is in fact the most aggressive and belligerent nation in the region, having invaded pretty much everyone it shares a border with.
The following maps show just who is wiping who off of the map!
Given US/UK/Israeli wars and lust for more wars, what do two 'supreme law' treaties say about lawful and unlawful war?

~ link ~
The short answer is war is lawful only in self-defense from armed attack by another nation's government, and lawful response is to arrest US/UK/Israel leaderships for unlawful Wars of Aggression.
Facts Everyone Needs To Know About Israel And Palestine

~ link ~
Gaza (along with the West Bank and East Jerusalem) is occupied Palestinian territory under international law, determined by the vast majority of the world, as well as the highest court in the world, the UN's International Court of Justice. Gaza cannot commit aggression against Israel, since Israel is in constant and continual commission of illegal aggression against Palestine by occupying it (illegally and sadistically blockading it and frequently committing terrorism against its civilians, including by targeting them with chemical weapons provided by US taxpayers – see "Rain of Fire" by Human Rights Watch). As documented by Amnesty Int'l, Human Rights Watch, and many others, Israel intentionally targets and murders civilians, including children, en masse.
Haaretz: Gaza civilians waiting 'for the slaughterhouse'

~ link ~
T., a Palestinian woman from Gaza, tells her children to stay in one room before the Israeli strikes - that way, if a missile comes, they will all die together, and none will stay alone

.
Message from a ten-year-old Palestine girl, "I'm still alive and I'm not dead, so don't kill me, give me the chance to stay alive. Bye"

- video

~ link ~

Do take a minute to view this and pass it on to friends, relatives and co-workers.

Stirling
List of the 176 Palestinians, including whole families, killed since Tuesday

~ link ~
The following is a list of the 176 Palestinians killed by Israeli air bombardment since Tuesday, July 8th. This list is being updated regularly. Approximately 1120 have been injured, dozens in very serious conditions.
Israeli Air Force destroying Gaza water and sewage systems - Oxfam estimates 90% of Gaza water unsafe to drink

~ link ~

A massive War Crime, Genocide and Ethnic Cleansing!!!

Stirling
All of Gaza is Now on Death Row

~ link ~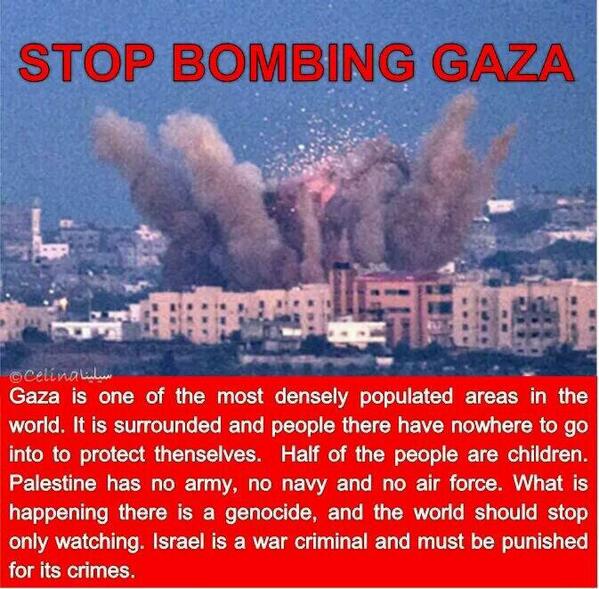 Zionists dominance over the media

~ link ~

Check it out.

Stirling
The World Stands With Gaza - extensive photos the Zionist mainstream news media will NOT be showing you

~ link
US House of Representatives unanimously voices support for Israel in Gaza War

~ link ~

That is why people are calling them 'political whores'!!!

Stirling