Lord Stirling's News Blog EUROPE
Holy Shroud of Turin
Powerful prayer to St. Michael the Archangel - video ~ link
AVE MARIA - by Helene Fischer - video ~ link
ORTHODOX CHERUBIM HYMN - video ~ link
AVE MARIA by Perry Como - video ~ link
On the Road to the Third World War.
Armageddon also means that the Second Coming of Christ is near.
22 June 2014 ~ Second Update
BREAKING NEWS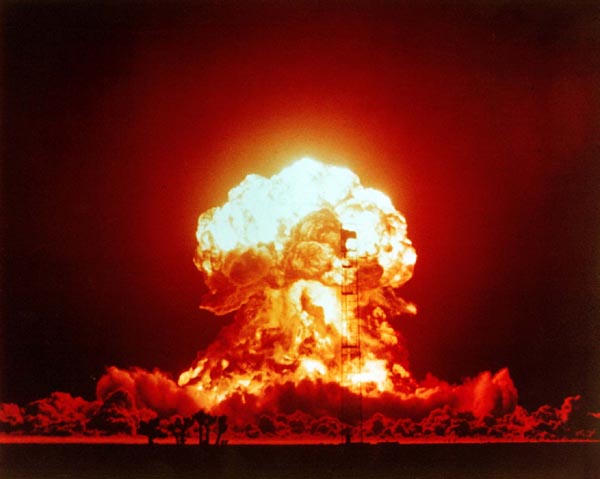 Israel bombs a total of nine 'military targets' inside of Syria

~ link ~

Dear old Bibi 666 Netanyahu just can't wait for the General Middle East War to begin! We are headed for the worst nightmare in the human race and he has a major part in it!!!

Stirling
Nine Syrian military targets have been hit by Israeli jets and guided missiles, the IDF says, claiming it was a decisive response to a series of cross-border shootings to protect the citizens of Israel.
The strikes on targets in Golan Heights were carried out shortly after midnight, Haaretz reports citing an IDF official, who called it a direct response to Sunday's deadly incident when an anti-tank projectile fired from Syrian territory struck near the border fence on the Israeli occupied Golan Heights.
Washington

escalates

intervention in Region-Wide Middle East War ~ link ~

WWIII is coming!!!

Stirling
This points to another major strategic aim in the Iraq intervention, which is to weaken Iranian influence in the country as part of an overarching strategy of subduing every power that poses an impediment to US imperialism's drive for global hegemony. This undoubtedly is a primary consideration as well in the ever more open campaign by Washington to oust Maliki—who was originally put in office by the US occupation—and replace him with a more pliant regime that will align itself with Washington against Tehran.
Thus, for all Obama's talk about taking "targeted and precise military action," the reality is that US imperialism is once again embarking on an aggressive policy that has the potential to ignite a regional and even world war.
ISIS seize Iraq's western border crossings

~ link ~
The Iraqi government appears to have lost control of its western borders after Sunni militants reportedly captured crossings to Syria and Jordan.
The strategically important airport in the northern town of Tal Afar has also reportedly fallen to the rebels.
Iran strongly opposes US interference in Iraq

~ link ~ link ~

They know the real purpose of what the US is doing on behalf of the Globalists and the Zionists, and they want no part of it.

Stirling
It's All About Israel

~ link ~

And the Global Banking Cartel.

Stirling
This is the plan. The United States does not benefit from this plan. The United States does not benefit from a fragmented, Balkanized, broken Iraq. The oil giants are already extracting as much oil as they want. Iraqi oil is, once again, denominated in dollars not euros. Iraq poses no national security threat to the US. US war planners already got what they want. There's no reason to go back and cause more trouble, to restart the war, to tear the country apart, and to split it into pieces. The only reason to dissolve Iraq, is Israel. Israel does not want a unified Iraq. Israel does not want an Iraq that can stand on its own two feet. Israel wants to make sure that Iraq never remerges as a regional power. And there's only one way to achieve that goal, that is, to follow Yinon's prescription of "breaking up Iraq …along ethnic/religious lines …so, three (or more) states will exist around the three major cities: Basra, Baghdad and Mosul."
This is the blueprint the Obama administration is following. The US gains nothing from this plan. It's all for Israel.
Iraq inflicts heavy loses on ISIS near Baghdad

~ link ~
More than 90 ISIL Takfiri militants were killed in the Iraqi army operations in Tikrit and Fallujah on Sunday.
Army spokesman Qasim Ata says they have killed 42 ISIL militants and destroyed 13 vehicles in fighting in Tikrit. Reports say 50 al-Qaeda linked militants were also killed in Fallujah while trying to infiltrate into a military checkpoint. Security forces say they have killed a senior ISIL commander in clashes near the strategic town of Tal Afar.

This is while the terrorists are said to have extended their grip on the town of Rutba. It is the fourth city falling to militants, after Qaim, Rawah and Anah.





ISIS killing the "indestructible" M1A Abrams tank

~ link ~

No tank is indestructible including the M1A1/M1A2.

Stirling





Syrian War: Ceasefire agreed for Yarmounk refugee camp

~ link ~
The Syrian government and rebel groups have reportedly agreed a truce in the Palestinian refugee camp of Yarmouk. A copy of the ceasefire deal, seen by the BBC, says the main entrances to the Syrian camp will be opened and basic services will be restored.
About 18,000 people have been besieged since last July. Rights groups say more than 100 people have starved to death

.
Humanitarian disaster in southeastern Ukraine snowballing

~ link ~

Death, destruction, hurt, economic disaster and chaos ... what the Global Banking Cartel and the Zionists do best!!!

Stirling
More than 18,000 Ukrainian citizens who fled the country's southeastern Lugansk and Donetsk regions are currently staying in the regions of Russia adjoining the Ukrainian-Russia border. Another 2,000 or so people have left for other regions.
Far-right protesters and police clash in Kiev

~ link ~
Far-right protesters clash with police outside an Orthodox Christian monastery in Ukraine's capital city of Kiev.
Members of the radical group Social National Assembly of Ukraine rallied outside the Pechersk Lavra, a historic Orthodox Christian monastery in Kiev on Sunday.
Masked protesters said the rally was in response to an alleged formation of a separatist territory in the capital by pro-Russia activists who they said have gathered in the building. Kiev's Pechersk Lavra belongs to the Ukrainian Orthodox Church of Moscow Patriarchy. The far-right group pledged to crush any separatist movement in the country.
Gerald Celente: Ukraine Civil War can spread to other European nations - video

~ link ~

Good One, Gerald!

Stirling
Netanyahu insults the intelligence of US Christians

~ link ~

I really believe that dear old Bibi 666 Netanyahu is the most evil man in power on the earth today!!!

Stirling
BBC and mainstream news media ignore massive demonstration against austerity in London

~ link ~

I remember when the BBC was a relatively good news organization and when there was a tradition of actual news reporting in the mainstream news media. However, now almost all of the mainstream news media in the west are globalist owned and Zionist ran and they treat the public like mushroom farmers treat their crop: They keep them in the dark and feed them manure! This austerity thing is simply the evil global banksters and Zionists wanting to steal EVERYTHING EVERYWHERE!!! It is reflective of a diseased demonic system on its last!!!

Stirling
Thousands of Portuguese protest against austerity measures

~ link ~

And the bought-and-paid-for political whores could care less!!!

Stirling
The death of the American Shopping Mall - photos

~ link
Buying up the entire planet: Out-of-control Central Banks on a Corporate Buying Spree

~ link ~

It is easy to go on a trillion dollar buying spree when you are legal counterfeiters!

Stirling
DHS solicited bids for vendor to handle 65,000 unaccompanied minors IN JANUARY

~ link ~

The 'smoking gun' that proves the sudden massive flood of illegal aliens is a planned event. I believe that it is a cover for several thousand violent Mexican and Central American gang members being deliberately allowed into the USA. We have had a number of Border Patrol officers resign over the release of large numbers of very dangerous gang members in America. The bastards controlling the political class in Washington are determined to destroy America and all that it stands for and are currently in an advanced stage of doing that!!!

Stirling
Illegals massing at Rio Grand's edge

~ link ~

This scam that has caused/allowed many tens if not hundreds of thousands of illegal aliens to flood America in recent days is a VERY BAD SIGN because it is part of the plan to allow vast numbers of Central American gang members into America to cause havoc and total chaos when the US Dollar totally collapses!!! Things are about to go from Bad to TERRIBLY BAD IN AMERICA!!!

Stirling
Young gang members being released into America in mass by Obama Administration

~ link ~

Call your Congressman and Senators if you live in America and raise hell, because it is Hell that they are allowing in!!!

Stirling
The majority of these thugs are easily identifiable, according to the National Border Patrol Council.
Spokesperson Chris Cabrera explained "they are usually pretty predominant with their tattoos," noting they typically display "a lot of face tattoos."
Nevertheless, when gangsters under the age of 17 – and without a U.S. criminal history – are detained by border guards, they are subsequently sent on their way, free to terrorize American neighborhoods.
Lee Harvey Oswald quietly added to CIA Memorial Wall

~ link ~
Startled employees of the Central Intelligence Agency discovered this morning that Lee Harvey Oswald had been quietly added to the memorial wall at CIA Headquarters. Oswald is widely believed to have assassinated U.S. President John F. Kennedy, or someone dressed like him, in Dallas in 1963.
The action does not appear to have been a prank. As of press time the extra star was still there, along with Oswald's name listed in the memorial book, located between entries for fallen agents Felix Leiter and Charles Calthrop.
Polish Foreign Minister says US ties are worthless

~ link ~
A Polish magazine says it has obtained recordings of a conversation in which Foreign Minister Radek Sikorski says the country's strong alliance with the U.S. "isn't worth anything" and is "even harmful because it creates a false sense of security."
A short transcript of the conversation was released on Sunday by Wprost, a weekly magazine that set off a political storm last weekend with the publication of secret recordings of other top officials making compromising remarks.
Monsanto - The World's Most Evil Corporation

~ link
Pentagon Pain: F-35 stealth fighting jet 'are of the worst planes we've ever designed'

~ link ~

And one of the most expensive!

Stirling