Lord Stirling's News Blog EUROPE
Holy Shroud of Turin
Powerful prayer to St. Michael the Archangel - video ~ link
AVE MARIA - by Helene Fischer - video ~ link
Please forward this site to several friends and post it on as many other sites as possible, thanks.

Stirling
27 February 2014 ~ Third Update
More Russian military armored vehicles amass in the Crimean - with photos and videos

~ link ~
While the IMF is promising a massive bailout to the Ukraine, and NATO is using the harshest language it can possibly muster to halt Russia in its tracks, Putin is doing what he does best: employing brute force (as seen below), and using even harsher language, to wit:

RUSSIA: WEST MUST STOP MAKING PROVOCATIVE STATEMENTS ON UKRAINE

.
NATO calls Ukraine developments "Dangerous and Irresponsible"

- Urges Russia not to "Escalate Tension"

~ link ~ What total bullshit. It is the EU/USA NATO nations that (following globalist banksters orders) created the mess in the first place...they are the ones who are "dangerous and irresponsible"!!! In fact this earns NATO the dreaded FIVE BS FLAG Award. Stirling
And the lie of the day:
U.S., NATO HAVE NOT DRAWN UP ANY CONTINGENCY PLANS FOR HOW THEY WOULD RESPOND IF RUSSIA INTERVENED IN CRIMEA-NATO'S TOP MILITARY COMMANDER

THERE IS NO REASON FOR NATO AND RUSSIA TO COMPETE OVER THE FUTURE OF UKRAINE-NATO COMMANDER



Ukraine: A Deep State Analysis

~ link ~
The term "Deep State" was coined in Turkey and is said to be a system composed of high-level elements within the intelligence services, military, security, judiciary and organized crime.
The Deep State is a hybrid association of elements of government and parts of top-level finance and industry that is effectively able to govern the nation without reference to the consent of the governed as expressed through the formal political process.
Two Russian warships enter Black Sea through Bosphorus from Syrian deployment - President Yanukovich to hold Press Conference tomorrow at 5:00 p.m. local time

~ link ~
The Press Conference could come just after/or during the beginning of a Russian invasion or just presage such an invasion. Will Israel strike, with US/French assistance, Syria while Russia is 'tied-down' in the Ukraine???
Stirling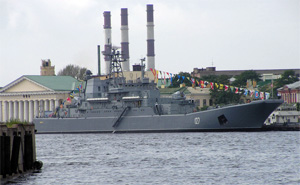 Minsk. Photo from liveinternet.ru
Minsk warship ~ link
Russia may be awaiting a diplomatic resolution of the Ukraine crisis, but we wouldn't hold our breath especially with the deposed president Yanukovich set to conduct a press conference tomorrow from Russia's Rostov-on-Don at 5pm local time, where we hardly anticipate a scaling back of the escalation in what is sure to not be an abdication from power. Instead, Putin continues to prepare for the worst and is openly signalling to the West that if he has to fight to regain influence in the Ukraine, he will, as a top Kremlin politician warned last week. As such it was not surprising to read that two Russian warships, the Minsk and the Kaliningrad which last week were sent out on deployment around Syria, crossed back into the Black Sea, most likely in direction Sevastopol, as the build up of Russian forces in the Crimea continues.
US urges Russia to be cautious over Ukraine

~ link ~
The United States has called on Russia to be cautious and demonstrate a "wise leadership" in dealing with the crisis in Ukraine as Moscow has begun large-scale military maneuvers along its border with crisis-hit Ukraine.
Russia has sent a large intelligence ship to Cuba - with photos

~ link ~ link ~
A Russian warship was docked in Havana Wednesday, without explanation from Communist Cuba or its state media.
The Viktor Leonov CCB-175 boat, measuring 91.5 meters (300 feet) long and 14.5 meters wide, was docked at the port of Havana's cruise ship area, near the Russian Orthodox Cathedral.
Below is a collection of videos on Russian military ships, aircraft, missiles, weapons of various types, tanks, etc.:
Russian Smerch multiple rocket launchers - video

~ link
Su-35/37 fighter - video

~ link
MiG-35 fighter - video

~ link
T-90 & T-80 tanks in action - video

~ link
Russian mobile air defense - video

~ link
Modern Russian weapons: Army, Navy, Air Force

~ link
Russian warships & hovercraft in action - video

~ link
Russian S-400 air defense missile system - video

~ link
Deploying new S-400 air defense near Moscow - video

~ link
Pantsir-S1 air defense missile/gun system - video

~ link
P-800 Oiks (Yakhont) missile - video

~ link
Shkval VA-111 underwater rocket - video

~ link
Russian S-300 air defense missile system - video

~ link
Russian high speed anti-tank missiles - video

~ link
New Russian weapon Club-M - video

~ link
Russian Topol-M ICBM - video

~ link
Russian new hard-hitting weapon systems fielded in 2013 - video

~ link
Modern Russian Weapons - video

~ link
Modern Russian Weapons (rifles) - video

~ link
'Top Secret' Russian laser tank - video

~ link
Russian radar can now see F-22 and F-35 stealth fighters - video

~ link
Russian Plasma Tesla experiments

- video

~ link