Powerful prayer to St. Michael the Archangel - video ~ link


AVA MARIA - by Helene Fischer - video ~ link



Lord Stirling's news blog EUROPE
Please forward this site to several friends, thanks.

Stirling
1,157 daily postings to this news blog as of today.
Lord Stirling is available for newspaper, radio and television interviews and public speaking engagements. Contact him at FAX in USA 812.491-3712 or via email at
earlofstirling@yahoo.com
Current status of the Gulf Stream ~ link
RTOFS (Atlantic) Graphic Nowcasts/Forecasts - Latest Surface Horizontal Current ~ link
RTOFS (Atlantic) Graphic Nowcasts/Forecasts - Latest Surface Temperature ~ link
Oil Spill in the Apocalypse - video ~ link
T
hree Video Interviews With Lord Stirling by Renowned Video Webcaster Morris Herman of England ~

link ~

link ~

link
Risk of Global Climate Change By BP Oil Spill by Dr. Gianluigi Zangari ~

link
Advanced Biological Warfare (article by Lord Stirling) ~ link ~
I have a link to a free movie on Hulu, BLACK DAWN: THE NEXT PANDEMIC, that is most interesting. The movie is about the spread of a naturally occurring mutation in the H5N1 virus; a rather nasty mutation that kills up to 10% of those it effects. I strongly urge people to take the time to view this movie, as it shows the impact of what a single naturally occurring virus mutation can do. In reality, a global strategic Advanced Biological-based war would be at least ten-fold as bad and more likely a hundred-fold in its impact as the viruses would be military designer-created (recombination DNA) diseases with a much stronger kill ratio (90% or higher fatality level from an infection) and there would likely be many dozens of viruses released at the same time, instead of only one disease.
Before we allow hardliners in Israel take us into yet another war, we need to take a very hard and realistic look at just what a war involving MAD on all sides would mean to Israel, to Europe, to North America and the entire world.
Ancient Scottish Barony Title for sale. There are about 100 Scottish feudal baronies t
hat still exist; only a handful are from the very ancient Baronage of the Isles, as this one is. In a time of economic crisis, it pays to put some of your wealth into important artwork, properties, etc. of rare value. This is one of the most rare things that can be purchased and held. For sale at US$150,000

~ link
Royal Burgh of Stirling Pipe Band at Stirling Castle ~ link
~
Official site ~ link
The eyes of the entire world are upon the Battle of Egypt...right now!
Tim Earl of Stirling
Lord Stirling

- audio on the

Revolution in Egypt and coming Third World War

- NutriMedical Report - go to link and chick on 'February 10, 2011 (hour 3)
Mubarak hands over some power to his Vice-President, but does not resign as President. This guarantees both a global spreading of the 2011 Year of Revolution (in the spirit of but much more intense that 1848 and 1968), and more struggle in Egypt as the regime refuses to really let go.

Revolution ~ Civil WAR ~ Bloodshed ~ Army against Army ~ Out-of-control
I will be on NutraMedical Report from 4-5 today, Chicago time.
Tim Earl of Stirling
AlJazeera English Video Feed

~ link
Is Saudi King Abdullah dead after violent phone call to Obama on Mubarak .... Saudi Arabia splits with America!!!

~ link ~
[Listen to today's NutriMedical Report with the Earl of Stirling, see link above]
Update: Reports say the Saudi government is denying this.
Original post: This just hit the

internet

, and we don't know if it's true.
It's on IslamTimes, and frankly it doesn't read credibly because it ties his death to discussions about Egypt.
Needless to say, were it true, it would only further concerns about Mideast stability at an already fragile time.
Oil prices originally jumped on the news, but then that faded, perhaps indicating the market's disbelief in the rumor.
Saudi Arabia's 86-year-old King Abdullah was discharged from a New York City hospital in good health after going through two back operations in December 2010. The king delegated the management of the affairs of the world's largest oil supplier to his half-brother, Crown Prince Sultan bin Abdulaziz, during his absence.

King Abdullah talked with Obama about the situation in Egypt over the phone yesterday. Obama and the King got into a heated debate about their opinions of what Hosni Mubarak should do. After the

phone

call

sources stated that King Abdullah was furious and then suffered a sudden heart attack.

Doctors ran to his resuce but were unable to save him. He was pronounced dead, but his death was not reported due to the sensative conditions that exist in the region. The Saudi Arabian government will reject this claim; but the ball is in their court to prove that he is alive.
Egypt's Mubarak refuses to quit

~ link ~
Egypt's President Hosni Mubarak has said he will stay in office and transfer all power only after September's presidential election. His comments in a national TV address confounded earlier reports that he was preparing to stand down immediately. Mr Mubarak said he would delegate some powers to Vice-President Omar Suleiman, but the details of this remain unclear.
Thousands of anti-government protesters in Cairo's Tahrir Square reacted angrily to his announcement. There were chants of "Down with Mubarak", and protesters waved their shoes in disgust. Thousands were reported to be heading towards the presidential palace some distance away.
ElBaradei warns 'Egypt will explode'

~ link ~

Sounds like a well crafted script for a 'narrative' that will spread throughout the Muslin world on the eve of a General Middle East War, leaving the Arabs and Iranians confused and disorganized at the beginning of the war. Ask yourself, Who Benefits from this. Things are about to get very interesting in the Middle East.

Stirling
Egyptian Army to shoot commanders?

~ link ~
An Egyptian activist says several Egyptian army officers and soldiers have warned the military that they will no longer shoot protesters, instead they will shoot the commanders.


"I think some of them (the army personnel) might join protesters. We have heard some of the officers and soldiers saying if we receive an order to shoot people, we would shoot whoever issued the order," Wael Abbas, a member of the opposition Egypt Revolution Youth Movement, told Press TV in a phone interview on Thursday.

Egypt Revolution Youth Movement has been one of the active rights groups in 17 days of revolution which has rocked the North African country.
Egypt crisis: Protesters react to Hosni Mubarak's defiance

~ link ~
When they gathered around the television in Tahrir Square not long before midnight the democracy protesters were sure President Hosni Mubarak was about to step down. Most had been celebrating for hours, and many had brought their children to witness history being done. Arabic television had already told them that the army would step in to provide an interim president. Most were happy with that and the mood was close to euphoric; a month ago protesters were too scared of jail and torture to criticise their president in public, yet by early last night they thought they had forced him out.
"At last we can have freedom and democracy," said Mokhtar Sobhy, 25, a veterinarian who was one of the first to sign up last month to the Facebook page which started the protests.
"This is our revolution, but why didn't the West help us get rid of this tyrant?" he asked. They not only blame President Mubarak for Egypt's repression and poverty. They hate him now as a tyrant who has ordered the killings of hundreds of their fellow protesters.
When the broadcast started and the 82-year-old president's gravelly, portentous voice came on, the protesters listened carefully, and some made ribald jokes about him which the crowd guffawed at. For half an hour he lectured the people he had ruled for 30 years, boring them with a self-justifying account of his loyalty and service. Then, at the end of a dull speech, he came out with it. He was staying. There was a low groan across the square. Grown men stood staring into space. Many looked shocked and dazed. "I am too angry to translate what he said," an Egyptian friend told me. "Surely he knows it is over for him now. Why is he doing this?" Then the defiant chants started. The mood, which had been one of celebration, in minutes turned to anger.
Fury in Egypt as Mubarak refuses to leave

~ link ~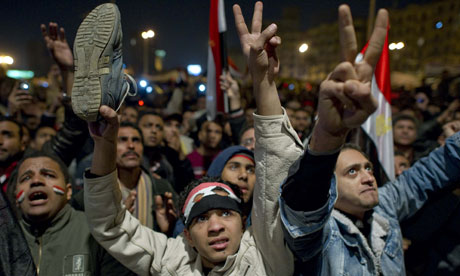 President Hosni Mubarak dashed the hopes of hundreds of thousands of Egyptians waiting for what they thought would be his resignation speech last night by defiantly announcing that he would not bow to domestic or foreign pressure to quit.
In a televised address that has set the stage for further confrontation on the streets – as well as heightened tensions with the US – Mubarak said he would hand powers to his deputy, Omar Suleiman, but would stay on as president, with his regime controlling the transition to free elections.
Egyptian Army withdraws from positions near Presidential Palace

~ link ~
Eyewitnesses on Thursday night said the Egyptian army had troops pulled out of many locations near the presidential palace in Cairo, where they had been stationed since the beginning of the ongoing popular uprising. Sources said army tanks had disappeared from Salah Salem Street, which is near the presidential palace and President Hosni Mubarak's residence. They added troops had withdrawn before today's meeting of the Supreme Council of the Armed Forces from which Mubarak was absent.
The sources opined that the withdrawal of the troops could be a warning to the president that the army may not be able to protect him if protesters decided to march towards the palace. This came shortly after Egypt's military announced Thursday night that it was stepping in an attempt to end the three-week-old crisis.
LEAVE! LEAVE! Fury of millions as Mubarak defies his nation and says he is NOT going to quit immediately

~ link ~
Unhappy: Hundreds of protesters in Tahrir Square show their contempt for Mubarak
Mubarak vows to stay on, cedes some power

~ link
Mubarak Refuses to Step Down

~ link ~
EGYPT TV via APTN, via Associated Press
Opposition groups rally around Mohamed ElBaradei

~ link ~

I am not so sure about the truth of this article.

Stirling
Mubarak vows to stay in office until September elections

~ link ~
Hundreds of thousands of Egyptian protesters endured a disheartening anticlimax Thursday night as President Hosni Mubarak dashed hopes of an early resignation by vowing to stay in office until September's presidential elections.
Mubarak said in a national television address that he would delegate some powers to Vice President Omar Suleiman that he would ignore "diktats from abroad," and would "carry on and protect the constitution and the people and transfer power to whomever is elected next September in free and transparent elections." The embattled president reiterated that he would not run as a candidate.
At this stage it is still unclear as to the role the army and Suleiman will play because Mubarak's comments were so ambiguous.
In Egypt's Tahrir Square, celebration grinds to a halt with Mubarak's speech

~ link ~
"
By the time Mubarak, the old general, reached the point in which he insisted he had to soldier on to save the nation from chaos, the crowd erupted in angry shouts of "Illegitimate! Illegitimate!" that drowned out the rest of his speech."
That below is from this afternoon, Chicago time:
Egyptian military coup supports people's Revolution

~ link ~
State TV says President Hosni Mubarak will speak to the nation Thursday night from his palace in Cairo.
The announcement comes after Egypt's military proclaimed on national television that it stepped in to "safeguard the country" and assured protesters that Mubarak will meet their demands. In Washington, the CIA chief said there was a "strong likelihood" Mubarak will step down Thursday.
The dramatic announcement showed that the military was taking control after 17 days of protests demanding Mubarak's immediate ouster spiraled out of control. Footage on state TV showed Defense Minster Field Marshal Hussein Tantawi chairing a meeting of around two dozen top stern-faced army officers, seated around a table. Not at the meeting were Mubarak, the military commander in chief, or his vice president Omar Suleiman, a former army general and intelligence chief named to his post after the protests erupted Jan. 25. That could be a sign that Suleiman, as well, was being pushed out of power.
Gen. Hassan al-Roueini, military commander for the Cairo area, told thousands of protesters in central Tahrir Square, "All your demands will be met today." Some in the crowd held up their hands in V-for-victory signs, shouting "the people want the end of the regime" and "Allahu akbar," or "God is great," a victory cry used by secular and religious people alike.
Tantawi was heading a meeting of the military's supreme council. Its spokesman read a statement on state TV announcing its "support of the legitimate demands of the people."
He said the council was in permanent session to explore "what measures and arrangements could be made to safeguard the nation, its achievements and the ambitions of its great people" — a suggestion that the council was now in charge of the country.
The statement was labeled "communique number 1," further phrasing that suggested a military coup.
Egypt's Mubarak 'may stand down' - with video

~ link ~
Hossan Badrawi of Egypt's governing party says the right thing for Mubarak to do is to step aside

Egypt's President Hosni Mubarak is to make an address on national television, amid suggestions that he is preparing to step down.
A senior member of Egypt's governing party, Hossan Badrawi, has said he does not expect Mr Mubarak to be president on Friday.
The country's military, meanwhile, has said it will "support the legitimate demands of the people". It comes on the 17th day of protests against Mr Mubarak's 30-year rule.
Thousands of demonstrators have gathered in Cairo's Tahrir Square, waving flags and chanting slogans as they await what they hope will be President Mubarak's resignation.
The euphoric atmosphere spread after an Egyptian army commander told protesters that all their demands would be met, but some are expressing concern that the military could try to seize power. Doctors, bus drivers, lawyers and textile workers were on strike in Cairo on Thursday, with trade unions reporting walkouts and protests across the country.
State TV has shown pictures of Mr Mubarak in his office, holding talks with Vice-President Omar Suleiman.
I am watching AlJazeera live video feed, I suggest that my readers do so, also. God Bless The People of Egypt!
AlJazeera English Video Feed

~ link