Powerful prayer to St. Michael the Archangel - video ~ link


AVA MARIA - by Helene Fischer - video ~ link



Lord Stirling's news blog EUROPE
Please forward this site to several friends, thanks.

Stirling
1,153 daily postings to this news blog as of today.
Lord Stirling is available for newspaper, radio and television interviews and public speaking engagements. Contact him at FAX in USA 812.491-3712 or via email at
earlofstirling@yahoo.com
Current status of the Gulf Stream ~ link
RTOFS (Atlantic) Graphic Nowcasts/Forecasts - Latest Surface Horizontal Current ~ link
RTOFS (Atlantic) Graphic Nowcasts/Forecasts - Latest Surface Temperature ~ link
Oil Spill in the Apocalypse - video ~ link
T
hree Video Interviews With Lord Stirling by Renowned Video Webcaster Morris Herman of England ~

link ~

link ~

link
Risk of Global Climate Change By BP Oil Spill by Dr. Gianluigi Zangari ~

link
Ancient Scottish Barony Title for sale. There are about 100 Scottish feudal baronies t
hat still exist; only a handful are from the very ancient Baronage of the Isles, as this one is. In a time of economic crisis, it pays to put some of your wealth into important artwork, properties, etc. of rare value. This is one of the most rare things that can be purchased and held. For sale at US$150,000

~ link
Royal Burgh of Stirling Pipe Band at Stirling Castle ~ link
~
Official site ~ link
UPDATED: APPROXIMATELY 8:30 am TIME - 2:30 PM LONDON TIME - 4:30 PM CAIRO TIME - 5 FEBRUARY 2011
There has been an unsuccessful assassination attempt, involving a number of people whose identity and background has not been disclosed, on the new Egyptian Vice-President.
Stirling
AlJazeera English Video Feed

~ link
Egypt youth to announce formation of 25-person negotiating body, including Baradei, Zewail and Moussa

~ link ~
Members of the coalition of youth movements, which triggered the 25 April popular uprising and have since provided field leadership to the occupation of Tahrir Sq have agreed on mandating a 25-person committee of public and political figures to negotiate on behalf of the pro-democracy protesters, lawyer Ziad El-Eleimy, a leading member of one of the youth movements and a close associate of Mohamed El-Baradei, revealed to Ahram Online.

According to El-Eleimy, the 25-person committee is to include an assemblage of Egyptian luminaries, among whom the former director of the International Atomic Energy Agency and Nobel laureate, El-Baradei, himself. Another Egyptian Nobel laureate on the committee is Ahmed Zewail, a professor of chemistry and physics at the famed California Institute of Technology (Caltec), who also sits on US President Barak Obama's Council of Advisors on Science and Technology. Over the past few years, Zewail has been increasingly vocal in criticizing the Egyptian regime for its lack of democracy. Arab League Secretary General Amr Moussa, who retains wide popularity among Egyptian and Arab publics is also expected to be a member of the committee.
Protesters put forward plan for future

~ link ~ You can count on the fact that Israel, the existing regime and the US will ignore this, or at best give it 'lip service' while working to kill it. Stirling
Caged yesterday inside a new army cordon of riot-visored troops and coils of barbed wire – the very protection which Washington had demanded for the protesters of Tahrir Square – the tens of thousands of young Egyptians demanding Hosni Mubarak's overthrow have taken the first concrete political steps to create a new nation to replace the corrupt government which has ruled them for 30 years.
Sitting on filthy pavements, amid the garbage and broken stones of a week of street fighting, they have drawn up a list of 25 political personalities to negotiate for a new political leadership and a new constitution to replace Mubarak's crumbling regime.
They include Amr Moussa, the secretary general of the Arab League – himself a trusted Egyptian; the Nobel prize-winner Ahmed Zuwail, an Egyptian-American who has advised President Barack Obama; Mohamed Selim Al-Awa, a professor and author of Islamic studies who is close to the Muslim Brotherhood; and the president of the Wafd party, Said al-Badawi.
Other nominees for the committee, which was supposed to meet the Egyptian Vice-President, Omar Suleiman, within 24 hours, are Nagib Suez, a prominent Cairo businessman (involved in the very mobile phone systems shut down by Mubarak last week); Nabil al-Arabi, an Egyptian UN delegate; and even the heart surgeon Magdi Yacoub, who now lives in Cairo.
The selection – and the makeshift committee of Tahrir Square demonstrators and Facebook and Twitter "electors" – has not been confirmed, but it marks the first serious attempt to turn the massive street protests of the past seven days into a political machine that provides for a future beyond the overthrow of the much-hated President. The committee's first tasks would be to draw up a new Egyptian constitution and an electoral system that would prevent the president-for-life swindle which Mubarak's fraudulent elections have created. Instead, Egyptian presidents would be limited to two consecutive terms of office, and the presidential term itself would be reduced from six to four years.
The Food Bubble - Dlan Ratigan - video

~ link ~

This is a must see video, please take the time to watch it.

Stirling
After Mubarak - What's Next?

~ link ~
Post-WW II decolonization produced neocolonial regimes, Cold War politics, the Non-Aligned Movement, emergent nationalism, ethnic conflicts, and American imperial dominance, distinguished by its:
-- abhorrence of democracy;

-- support for neocolonial strongmen, mostly police state dictatorships serving Western interests; and

-- use of direct or proxy belligerence for world capitalist enforcement, keeping the world safe for big money.

Old orders passed. New ones emerged. Everything changed but stayed the same, more than ever dominated by finance capital and monopoly corporations, controlling governments for their own self-interest at the expense of harshly exploited workers globally. As a result, today's world is characterized by instability, declining living standards, police state harshness, and enormous human suffering, especially in areas like the Middle East.

Across the region, people want it ended, pitting revolutionary populism against imperial harshness offering pretense, not change. As a result, expect new faces continuing old policies, yielding nothing unless sustained mass outrage persists. That's today's reality, resolution still in doubt, but odds always favor the strong.
US and Israeli generals "taking control" in Egypt

~ link ~ This Iranian story may be a little over the top, but just a little. I suspect that all is far from over in Egypt and things begun there will spread. Stirling
Two senior Israeli officers and three U.S. generals have arrived in Cairo to take control of the military command in Egypt, an anonymous source has told the Tehran Times.
The command council is headed by a general named Sisson, the source said. One of the options that the generals are weighing is staging a military coup in Egypt.

The decision shows that the United States and Israel are seriously worried about the fate of Hosni Mubarak's regime as unprecedented protests have gripped Egypt.
'Day of Departure' rally in Egypt - with video

~ link ~
Huge crowds are occupying the main square in the Egyptian capital, Cairo, to reinforce their demand for the resignation of President Hosni Mubarak. The tens of thousands of protesters attending the "day of departure" rally in Tahrir Square have been waving flags and chanting "Leave! Leave! Leave!" Soldiers have been guarding the area to limit disruption by Mubarak supporters.
Swapping a Dictator for a Torturer in Egypt

~ link ~
"After taking over as spy director, Suleiman oversaw an agreement with the United States in 1995 that allowed for suspected militants to be secretly transferred to Egypt for questioning, according to the book "Ghost Plane" by journalist Stephen Grey. ..
"In the run-up to the US invasion of Iraq in 2003, the CIA relied on Suleiman to accept the transfer of a detainee known as Ibn Sheikh al-Libi, who US officials hoped could prove a link between Iraq's Saddam Hussein and Al-Qaeda. The suspect was bound and blindfolded and flown to Cairo, where the CIA believed their longtime ally Suleiman would ensure a successful interrogation, according to "The One Percent Doctrine" by author Ron Suskind. A US Senate report in 2006 describes how the detainee was locked in a cage for hours and beaten, with Egyptian authorities pushing him to confirm alleged connections between Al-Qaeda and Saddam. Libi eventually told his interrogators that the then Iraqi regime was moving to provide Al-Qaeda with biological and chemical weapons. When the then US secretary of state Colin Powell made the case for war before the United Nations, he referred to details of Libi's confession. The detainee eventually recanted his account."
Thus our loyal ally Egypt provided the fake information used by the United States to justify go to war in Iraq.
The Egyptian Tinderbox: How Banks and Investors Are Starving the Third World

~ link ~ This is an interesting article, too long and complicated to summarize here. Take the time to read it if you can. Stirling
Underlying the sudden, volatile uprising in Egypt and Tunisia is a growing global crisis sparked by soaring food prices and unemployment. The Associated Press
reports
that roughly 40 percent of Egyptians struggle along at the World Bank-set poverty level of under $2 per day. Analysts estimate that food price inflation in Egypt is currently at an unsustainable 17 percent yearly. In poorer countries, as much as
60 to 80 percent
of people's incomes go for food, compared to just 10 to 20 percent in industrial countries. An increase of a dollar or so in the cost of a gallon of milk or a loaf of bread for Americans can mean starvation for people in Egypt and other poor countries.
Army holds the fate of Mubarak in its hands - And he knows it

~ link ~
Nonetheless, the situation is very far from secure for Mubarak. The army knows that the writing is on the wall: they are trying to assert control and find a formula for an honourable exit. But the moment they realise that the disadvantages of the status quo outweigh the advantages, they will say: you must give up power now.
The army finds itself under tremendous pressure, between the rock of its institutional instincts and interests and the hard place of public and international opinion, in particular now that even the Americans have come to the conclusion that Mubarak is a liability.
In the senior ranks, they are asking: how much damage have we incurred? Should we play for time, or assert control? Equally, they know that junior officers and conscripts are not on the same page, being much closer in outlook – ideologically, socially, economically – to the people on the streets. The top brass are well aware that even if they decided to go all the way in support of Mubarak, they might not be able to get their juniors to follow orders.
That is the position as we reach today, the moment of truth. If huge crowds come out and try to march to the
presidential
palace, the army will be forced to make its decision. The balance of power seems to be in favour of the opposition.
Spirit of Egypt protest spreads to Yemen, Algeria and Syria

~ link ~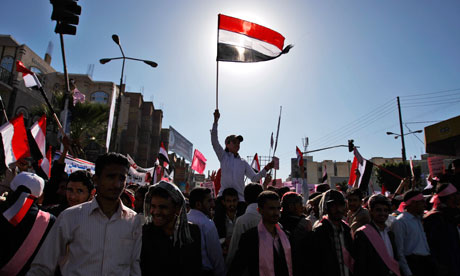 Reverberations from the mass protests in Tunisia and Egypt continued to be felt around the Arab world as demonstrators gathered on the streets of Yemen for a "day of rage" and Algeria became the latest country to try to defuse tensions by lifting its 19-year state of emergency. More protests are expected across the region following Friday prayers, including in Syria, where activists have used Facebook to organise demonstrations in front of parliament in the capital, Damascus, and at Syrian embassies across the world. Major demonstrations both against and in support of President Ali Abdullah Saleh took place in Yemen within a few miles of each other in a battle for hearts and minds in the capital, Sana'a.
Jim Rogers: "I expect more currency turmoil, more social unrest, more governments collapsing" - video

~ link
American Foreign Policy Promotes "Our Interests"?

~ link ~
The clear assumption is that there is some commonality of interest between the American people and the state that claims to represent them. But in reality, we've got about as many interests in common with "our" government as the Egyptian people have in common with Hosni Mubarak.
The U.S. government may pursue "interests" in the Middle East and elsewhere in the world, but they're the interests of the coalition of class forces that controls the American state. The interests promoted by the U.S. government are those at the commanding heights of the corporate economy. U.S. copyright policy is written by the RIAA, MPAA, and Microsoft – Joe Biden's "IP task force" actually operated out of Disney headquarters. Agricultural policy is made by ADM, Cargill, and Monsanto, as indicated by the revolving door through which vice presidents and CEOs of those companies walk to become deputy and assistant secretaries at USDA or vice versa.
American foreign policy is aimed at guaranteeing American corporations a supply of "safe, reliable and affordable" fuel from the Persian Gulf and Caspian Sea oil basins.
It's aimed at making sure foreign governments recognize and enforce the "intellectual property rights" of the proprietary content companies who make up the bulk of the corporate global economy ("rights" which also comprise the primary means by which American corporate headquarters retain control of outsourced job-shops all over the Pacific Rim and charge a 1000% brand-name markup to American consumers).
It's aimed at preventing peasants from regaining control of expropriated land which landed elites use to grow cash crops for the export market, in collusion with Western agribusiness corporations and domestic authoritarian governments.
About the only time American policy doesn't reflect such corporate interests is when it irrationally deviates from them to pander to the Zionist colonial project in Israel. The one case in which American foreign policy seems to reflect some principled ideological imperative, even at the expense of promoting energy policy through stable relations with autocratic regional regimes, is America's "special relationship." Not that that's got anything more to do with "our interests" than the rest of it.
After 10 Years, Algerian President Agrees to End State of Emergency, and More

~ link ~
Egypt's next-door-neighbor, Algeria, will soon come out of its 19-year state of emergency. Algerian President Abdelaziz Bouteflika has announced that he will lift the state of emergency in the "very near future," leaving activists hopeful, but wary.
Al Jazeera reports
that the president has made other concessions, telling state-run TV to give airtime to "all political parties" and allowing protests, which were banned under emergency rule, in all cities but the capital. Experts believe these moves are a direct response to pressure from the continuing mass protests in neighboring Egypt.
Al Jazeera Cairo Office Destroyed

~ link ~ T

here is a major effort to target news reporters and international news organizations by Mubarak's thugs. Not a good sign!

Stirling
Nothing Is Stable Anymore

~ link ~
The world is becoming a very unstable place, and the pace at which things are changing all around us has become absolutely mind-numbing. In fact, change has become one of the only constants in today's world. Once upon a time, people in the United States could actually make 20 or 30 year plans and feel confident about achieving them. But now, nothing is stable anymore. The financial crisis showed us that some of the biggest corporations on the globe can collapse in a single day. The events of the past few weeks have shown us that entire governments can be brought down in a single week. We live in a world where there are now very few "guarantees" that you can count on. One of the only things that is guaranteed is that technology and information will continue to grow at exponential speeds. This year, the total amount of information produced on electronic devices around the globe is projected to be
more than a zettabyte
. A zettabyte is equivalent to one sextillion bytes. In other words, imagine a one with more than 21 zeroes following it.
Egypt Revolution impacts Gaza fuel supply

~ link ~
Gazans have to wait for hours to receive fuel to heat up homes, businesses, and schools.


Storms make a slash across Scotland

~ link ~
PA
The waves came crashing in on Blackpool yesterday as high winds gusted across northern Britain.
The first of two ferocious storms that formed in the Atlantic reached UK shores on Thursday night, with the Northern Isles experiencing hurricane-force winds of up to 100mph. Further south, Glasgow was hit by 70mph gusts.
Two Winter Storms - More Trouble Next Week

~ link ~
World of two halves! Map shows most of Northern Hemisphere is covered in snow and ice

~ link ~
There are a couple of things that you will not get on the climate topic from the mainstream news media. First is that the strange weather patterns, which began last summer (in the Northern Hemisphere, winter in the Southern Hemisphere) with extreme heat and drought in parts of Eurasia (104F in Moscow, etc.) and heat and flooding in other parts of Eurasia, along with extreme cold in South America, and now continue with cold to extreme cold in the Northern Hemisphere and flooding in Australia, Brazil, etc., and drought in Argentina, etc., are all interconnected. That these strange weather patterns are beyond any El Nino or La Nina, that they are due to the disruption in the Thermohaline Circulation System caused by the death of the Loop Current in the Gulf of Mexico (a key part of the Thermohaline Circulation System). With the death of the Loop Current itself caused by the BP Oil Disaster and the use of millions of gallons of dispersants.
The second thing that the mainstream news media will not tell you, is that the current climate crisis is related to other major problems including the food shortage, revolutions, the Global Depression, and coming war in the Middle East/world. That there is clear evidence, from insider stock trades, that certain key people and banks knew something was going to happen in the Gulf of Mexico at the BP site. That the Oil Disaster was a planned event and the use of massive amounts of dispersants was also planned. That this is all part of a overall plan to take the global political/economic/social order down so that the New World Order can be implemented. That this is ultimately a Spiritual Battle between the forces of God and those of Satan, and is outlined in the last Book of the Christian Bible. Stirling
Hundreds of drivers on Lake Shore Drive in Chicago, which was blasted by 20 inches of snow, abandoned their cars in an almost apocalyptic scene as authorities closed the road
The inside of a pickup truck that was stranded and left open on Lake Shore Drive on Wednesday shows the full ferocity of the blast as the white stuff almost covers the steering wheel
Global food prices hit record high

~ link ~

Rising food prices have been cited among the driving forces behind the recent popular revolts in north Africa, including the uprising in Egypt and the toppling of Tunisia's long-time president Zine El Abidine Ben Ali.

In response, some countries are increasing food imports and have built stockpiles to meet their domestic needs. Among them is Algeria, wary after food riots in early January. It has made huge wheat purchases to avoid shortages, and on Thursday it announced plans to lift a 19-year-old state of emergency in a bid to to avert spreading protests.
Capital Economics, a consultancy in London warned that "Even if the crisis in Egypt eases soon, the actions taken by governments elsewhere to prevent similar uprisings in their own countries will add to the upward pressure on global agricultural commodity prices." In Central America, Honduras has frozen prices on many basic foodstuffs despite complaints from farmers. El Salvador is increasing anti-poverty programs by 30 per cent, and Guatemala is considering slashing import tariffs on wheat and is handing out food and cash vouchers to landless peasants.
Indonesia, Southeast Asia's biggest economy, last week bought 820,000 tonnes of rice, lifting rice prices, while suspending import duties on rice, soybeans and wheat.
Robert Zoellick, World Bank President urged world leaders to "wake up" to the dangers of rising food inflation. "We are going to be facing a broader trend of increasing commodity prices, including food commodity prices," he said.
During the last food price crisis, the World Bank estimated that some 870 million people in developing countries were hungry or malnourished. The FAO estimates that number has increased to 925 million. The FAO data showed that prices for dairy products rose by 6.2 per cent from December, oils and fats gained 5.6 per cent, while cereals went up by 3.0 per cent because of lower global supply of wheat and maize.
Food prices set to climb even higher as reduced production leads to spike

~ link ~

Families face paying even more for food after United Nations experts revealed that the cost of key crops has hit an all-time high.

British shoppers are already struggling after a 6.1 per cent increase in weekly grocery bills over the past 12 months – adding £317 a year to the average annual cost.
However, figures published by the UN Food and Agriculture Organisation (FAO) suggest this is just a taste of things to come. And aid groups warned high prices are putting millions of lives at risk and threaten food riots from the Middle East to Africa and Asia.
Extreme Weather Report from Home

~ link ~
I wanted to share a short report from my home town, Santa Fe in New Mexico, where temperatures have not only been extreme this past year, but record setting on both ends of the spectrum.
Last summer Santa Fe broke the high temperature record for both June (100 degree F) and July (100 degree F). While I was reasonably cool inside an old adobe house where I live, such high temperatures are no good news for plants and animals of our region. Between 2001 and 2005 sustained drought combined with high temperatures killed off 90% of mature piñons in northern New Mexico—our state tree. This continuing heat is killing newly planted trees as well, redefining the idea of reforestation in the 21st century. Last summer I wrote about the massive global forest deaths caused by climate change.
If you live in Boston or New York, you might be thinking (if you can afford it) of taking a vacation to New Mexico to warm up. But you'll be surprised to know that on Wednesday Santa Fe broke the minimum temperature record for February with a minus 15 degrees F. Add to that 25 miles per hour wind that brought the wind–chill down to minus 40 degrees F. This is my way of saying it's too cold for New Mexico.