Powerful prayer to St. Michael the Archangel - video ~ link


AVA MARIA - by Helene Fischer - video ~ link



Lord Stirling's news blog EUROPE
Please forward this site to several friends, thanks.

Stirling
1,145 daily postings to this news blog as of today.
Lord Stirling is available for newspaper, radio and television interviews and public speaking engagements. Contact him at FAX in USA 812.491-3712 or via email at
earlofstirling@yahoo.com
Current status of the Gulf Stream ~ link
RTOFS (Atlantic) Graphic Nowcasts/Forecasts - Latest Surface Horizontal Current ~ link
RTOFS (Atlantic) Graphic Nowcasts/Forecasts - Latest Surface Temperature ~ link
Oil Spill in the Apocalypse - video ~ link
T
hree Video Interviews With Lord Stirling by Renowned Video Webcaster Morris Herman of England ~

link ~

link ~

link
Risk of Global Climate Change By BP Oil Spill by Dr. Gianluigi Zangari ~

link
Ancient Scottish Barony Title for sale. There are about 100 Scottish feudal baronies t
hat still exist; only a handful are from the very ancient Baronage of the Isles, as this one is. In a time of economic crisis, it pays to put some of your wealth into important artwork, properties, etc. of rare value. This is one of the most rare things that can be purchased and held. For sale at US$150,000

~ link
Royal Burgh of Stirling Pipe Band at Stirling Castle ~ link
~
Official site ~ link
More material on the Revolution in Egypt below this section...same date/different heading.
Unrest in Egypt: President Mubarak dissolves Cabinet after night of protests

~ link ~

This is no where near over yet.

Stirling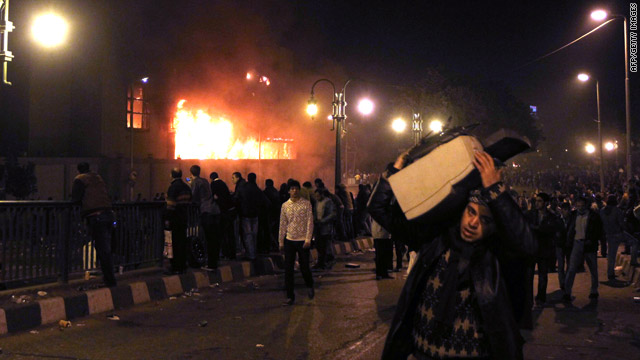 [

Updated 7:40 p.m. (0240 in Egypt)]
A senior U.S. State Department official said Egyptian President Hosni Mubarak "was not particularly forthcoming" in his speech early Saturday. "Our initial impression is that he emphasized security far more than reform," said the official, who wasn't authorized to speak on the record.
A senior Muslim Brotherhood leader echoed those sentiments in an interview with Al Jazeera Arabic, saying that Mubarak has to step down and the military should intervene, according to Al Jazeera.
Egypt: Mubarak sacks Cabinet defends security role - with video

~ link ~ Too little - too late. Stirling
Mr Mubarak also dismissed his government and said a new cabinet would be announced on Saturday. It was his first statement since the protests - in which at least 26 have died with hundreds injured - began.
Protesters set fire to the headquarters of the governing NDP party and besieged state TV and the foreign ministry. At least 13 people were killed in Suez on Friday, while in Cairo, five people died, according to medical sources.
Egypt revolution: America's secret backing for rebel leaders behind uprising [from The Telegraph in London]

~ link ~ I am not sure what to make of this story. It may simply be a case of America playing 'both sides of the street' as Mubarak is getting old and has been in power a long time. However, the WikiLeak connection raises a 'Red Flag' as the WikiLeak operation seems to be a Mossad/CIA front. Stirling
The American government secretly backed leading figures behind the Egyptian uprising who have been planning "regime change" for the past three years, The Daily Telegraph has learned.

Also see: Cables: US Funded Egyptian pro-democracy movement

~ link
Egypt show how easily Internet can be silenced

~ link ~

So true, and don't think the governments around the world don't know it.

Stirling
In an attempt to stop the frenzied online spread of dissent against President Hosni Mubarak's 30-year rule, not only Facebook and Twitter but the entire Internet was shut down overnight, leaving some 20 million users stranded.
Hundreds of service providers offer connections in Egypt, but just four own the infrastructure — Link Egypt, Vodafone/Raya, Telecom Egypt and Etisalat Misr.
How Egypt shut down the Internet

~ link ~
Organisations that track global internet access detected a collapse in traffic in to and out of Egypt at around 10.30GMT on Thursday night.
The shut down involved the withdrawal of more than 3,500 Border Gateway Protocol
(BGP) routes by Egyptian ISPs
, according to Renesys, a networking firm. Only one ISP out of 10, Noor Data Networks, appeared largely unaffected. It connects to the outside world via an undersea cable operated by Telecom Italia.According to BGPMon, another networking firm,
88 per cent of Egyptian internet
access was successfully shut down, however.
Renesys speculated that the apparent anomaly of Noor Data Networks may be a result of the fact it provides services to the Egyptian stock exchange. BGP routes are one of the most vital parts of the internet. They are mostly used by ISPs so their networks can exchange information about how to best route the packets of data that make up all internet communications.
Egypt Revolution: ElBaradei held as hundreds of thousands pour on to streets in biggest protests yet - with video

~ link ~
Mr ElBaradei was among thousands of protesters who have poured on to the streets of
Egypt
's towns and cities at the end of noon prayers on Friday, in are expected to be the biggest demonstrations yet in the attempted revolution against Mr Mubarak
Egypt's authorities responded to the growing threat to the regime by shutting down access to the internet and launching a fresh wave of arrests.
Their focus this time was the outlawed Muslim Brotherhood, Egypt's largest opposition group, after it threw its support behind the protest movement. Leaders of the group, as well as ordinary supporters, were rounded up on Thursday night and in the early hours of Friday morning. But, despite a ban on all forms of political protest, there was little to suggest that the crackdown was working.
Yemen: Tens of thousands call on president to leave

~ link ~

He should take them up on it while he still can.

Stirling
Tens of thousands of Yemenis have demonstrated in the capital Sanaa, calling on Ali Abdullah Saleh, president for 30 years, to step down. This comes after mass protests in Egypt and a popular uprising in Tunisia that ousted its long-time leader.
Yemeni opposition members and youth activists gathered in four parts of the city, including Sanaa University, chanting anti-government slogans. They also called for economic reforms and an end to corruption. Yemenis complain of mounting poverty among a growing young population and frustration with a lack of political freedoms.