Powerful prayer to St. Michael the Archangel - video ~ link


AVA MARIA - by Helene Fischer - video ~ link



Lord Stirling's news blog EUROPE
Please forward this site to several friends, thanks.

Stirling
1,142 daily postings to this news blog as of today.
UPDATED: 8:20AM ~ 25JANUARY2011 ~ LONDON TIME
Lord Stirling is available for newspaper, radio and television interviews and public speaking engagements. Contact him at FAX in USA 812.491-3712 or via email at
earlofstirling@yahoo.com
Current status of the Gulf Stream ~ link
RTOFS (Atlantic) Graphic Nowcasts/Forecasts - Latest Surface Horizontal Current ~ link
RTOFS (Atlantic) Graphic Nowcasts/Forecasts - Latest Surface Temperature ~ link
Oil Spill in the Apocalypse - video ~ link
T
hree Video Interviews With Lord Stirling by Renowned Video Webcaster Morris Herman of England ~

link ~

link ~

link
Risk of Global Climate Change By BP Oil Spill by Dr. Gianluigi Zangari ~

link
Ancient Scottish Barony Title for sale. There are about 100 Scottish feudal baronies t
hat still exist; only a handful are from the very ancient Baronage of the Isles, as this one is. In a time of economic crisis, it pays to put some of your wealth into important artwork, properties, etc. of rare value. This is one of the most rare things that can be purchased and held. For sale at US$150,000

~ link
Royal Burgh of Stirling Pipe Band at Stirling Castle ~ link
~
Official site ~ link

Moscow bombing: Medvedev in Domodedovo airport pledge - with video

~ link ~
Russian President Dmitry Medvedev has vowed to track down and punish those behind an apparent suicide bomb attack at Moscow's Domodedovo airport killed 35 people and injured more than 100. Unnamed officials said three suspects were being sought over the attack.
RT on Domodedovo Airport blast - video

~ link ~ They are not sure who is responsible, unlike western media. If Israel is behind this, Russia will extract a very high price from them (Medvedev was just in Palestine and recognized a future Palestine state). If some domestic nuts are responsible, they will be hunted down as only the Russians know how to do it. Stirling
Protests as Hezbollah poised to form Lebanon government

~ link ~
It begins. Count on Bibi 666 Netanyahu to do all he can to make things a proper mess in Lebanon, in the run up to the Third Lebanon War/General Middle East War/World War III/Armageddon. Stirling
Supporters of Lebanon's caretaker Prime Minister Saad Hariri have taken to the streets in protest at efforts by Hezbollah to form the next government. Protesters, who accuse the Shia Islamist movement of staging a coup, are blocking roads and burning tyres in several towns and cities.
Hezbollah and its allies earlier won the nomination of their candidate Najib Mikati as the next prime minister.
Under Lebanon's power-sharing system, the post of prime minister is reserved for a Sunni, while the president must be a Maronite Christian and the speaker of parliament a Shia.
During consultations with President Michel Suleiman at the presidential palace on Monday Mr Mikati - a Sunni and US-educated billionaire businessman - won the support of 65 of the 128 members of the Chamber of Deputies.
Hezbollah-backed Mikati set to lead Lebanon government

~ link ~
Hezbollah and its allies
won
support
on Monday to nominate their candidate for Lebanon's prime minister, giving them the upper hand in attempts to form a government and sparking accusations of a pro-Iranian coup.
Telecoms tycoon Najib Mikati, backed by a
Hezbollah-led
coalition, looked set to be asked to form a government after the first of two days of consultations among Lebanese politicians.
The Tea Party's Emerging Zionist Face

~ link ~ Parasites hitching a ride on genuine opposition to much that the Federal Government does and spinning things into a support of Israeli militarism and geo-political insanity. Stirling
When the Tea Party appeared as a national phenomenon early in 2009, the chief preoccupation was with domestic matters, its disparate groups and members rallying around such traditionally conservative concerns as big government, "socialized medicine," and the like. There was a strong populist streak (or at least that's how the media portrayed it), and outrage was expressed over Obama's multi-billion dollar stimulus package, along with genuinely-felt sentiments, put forth here and there, that Washington was "bailing out Wall Street at the expense of Main Street." Concerns over foreign policy, the nation's wars in Iraq and Afghanistan, seemed to take a backseat, and certainly there were few, if any, calls for a new war in Iran or solidifying relations with the state of Israel.
By mid 2010, however, this had changed dramatically. On July 21, several Capitol Hill Republicans, including Michelle Bachman of Minnesota and Louis Gohmert of Texas, held a press conference announcing formation of a Congressional Tea Party Caucus, and almost immediately thereafter caucus members sponsored a resolution "explicitly endorsing Israel's right to strike Iran's nuclear program," as
one report
put it.
Russia to adopt Universal ID card in 2012

~ link ~ Mark of the Beast system. Stirling
For all those conspiracy theorists out there, 2012 just got a little more ominous. As required by legislation passed this last summer, Russia will adopt a universal ID card starting next year. The Universal Electronic Card (UEC) is intended to eventually replace all local, regional, and national forms of ID, providing a central database through which Russians can access everything from medical insurance to ATMs. According to the official website, the UEC will be adopted by around 1000 national and regional services along with about 10,000 commercial enterprises. The mayor of Moscow has already declared it will be able to handle public transportation there, and we can expect similar adoptions throughout the nation. Will all Russians be carrying a single form of ID that is their only passport to all public and private services? Looks like it. A similar project has started in India, and there are experiments for related concepts in Mexico. Universal ID is starting to catch on around the globe. Where will it spread to next?
The end of the net as we know it

~ link ~
The free, unrestricted internet as we know it is under threat. Britain's leading ISPs are attempting to construct a two-tier internet, where websites and services that are willing to pay are thrust into the "fast lane", while those that don't are left fighting for scraps of bandwidth or even blocked outright. They're not so much ripping up the cherished notion of net neutrality as pouring petrol over the pieces and lighting the match. The only question is: can they get away with it?
Four people killed as US East Coast shivers in temperatures as low as -50F

~ link ~
Car trouble: A vehicle in New York City is entombed in ice after sub-zero temperatures swept across the east coast and caused chaos for motorists
Talks under way for body to oversee Tunisia cabinet

~ link ~
Tunisian politicians are negotiating the creation of a council to oversee the interim government, people close to the talks said Monday after days of street protests demanding that the cabinet resign.
They said the council would be tasked with protecting the revolution that toppled veteran president Zine al-Abidine Ben Ali this month, amid widespread complaints that former members of the ruling party are trying to cling on to power. The council is expected to include respected opposition politician Ahmed Mestiri, whom a range of

opposition

politicians

and former members of the ruling RCD believe they can work with.
The news came as the Tunisian army general who refused to support Ben Ali's crackdown on protesters warned that a political vacuum could bring back dictatorship. "Our revolution is your revolution. The revolution of the youth could be lost and could be exploited by those who call for a vacuum," General Rashid Ammar told crowds outside the prime minister's office, where protesters have demanded that Prime Minister Mohamed Ghannouchi quit. "The army will protect the revolution," he said.

Russians want Lenin removed from Red Square

~ link ~

I have been in Red Square two or three times, and each time I refused to view his pickled corpse. He was an evil bastard that is no doubt in one of the deepest worst parts of Hell. They should burn his corpse and dump the ashes in the sewer.

Stirling
Two-thirds of Russians want Vladimir Lenin to be removed from his Red Square mausoleum in central Moscow, a new poll has shown.

The poll, organised by Vladimir Putin's ruling United Russia party, comes after a senior figure in the party sparked a lively debate on the issue, saying the time had come to respect Lenin's last wishes and bury him in St Petersburg alongside his mother.

"Lenin was an extremely controversial political figure and his presence as the main figure in a necropolis in the heart of our country is absurd," Anatoly Medinsky, an MP and member of the party's governing committee, said.

Only 10 per cent of Lenin's corpse remained, he said, alleging that the rest had been "ripped out and replaced a long time ago". The body's presence in a purpose-built mausoleum on Red Square had turned the country's central square into a cemetery and was "blasphemous", Mr Medinsky added.

Lenin's waxy corpse remains a popular tourist attraction and is regularly treated with a special cocktail of chemicals to stop it from degrading.

Brussels protest calls for Belgian unity government

~ link ~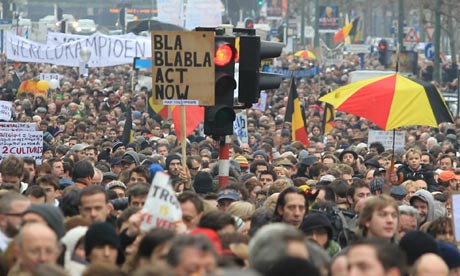 Tens of thousands of protesters marched through the Belgian capital today in support of national unity and to demand that the rival political groups form a coalition after seven months without a government.
Organisers said the peaceful rally in Brussels was also meant to promote solidarity among the country's Flemish and Walloon communities and to reject nationalism
.
The Andy Coulson affair raises the question - Who runs Britain - Cameron or Murdock

~ link ~
There are MPs campaigning on this. But the silence from the party leaderships, where the power lies, has been deafening. And the reason is bleakly clear. Look at the reports and see the photos from any of Murdoch's summer parties, where the political class and the News International elite schmooze. There is no crude political favouritism here. At the Orangery in Kensington or the Oxo tower, you find Cameron, Lord Mandelson, Alastair Campbell, both Miliband brothers, Ken Livingstone, Nick Clegg, George Osborne – etc, etc – mingling with the News International chief, his family and his courtiers.
That is only one example of the close ties woven between Tony Blair and Gordon Brown, when they were prime ministers, and Cameron now, and the Murdoch camp – the private meetings and dinners, the calls (no hacking there) and the mutual interest. We once used to think of the establishment as being cabinet ministers, archbishops, BBC panjandrums, leaders of industry and royalty. No longer. It's the links between the government and the Murdoch empire that count today – a shadowy influence-mart.
We need a thorough-going clean up of the rules by which individuals can be spied on and harassed. But who can we turn to? There have been dark mutterings of police collusion and apathy. They have certainly not rushed to inform those who have been targeted. Many politicians feel intimidated, fearful of what the press might do to them if they do raise concerns. I have spoken to several MPs who are suspicious about the way cameras appeared as if by chance – but they will only talk off the record.
The answer is that MPs of all parties have to understand this is just as much a question of authority, of "who runs Britain?", as Europe or the dominance of the bankers. We get steamed up about CCTV cameras and the big state, and rightly so. But what about privately sponsored snooping and the Big Hack? If the legislature is intimidated by newspapers, it is not worthy of respect and cannot be relied on to protect anyone else. We seem to be living through a digital age of exposure, much of it driven by the press. Now, perhaps, it's time to shine the light on the one profession that has too often been able to work quietly, in the shadows, without full disclosure or scrutiny – journalism.
Head of Catholic Church in Italy criticizes Berlusconi

~ link ~ Berlusconi, the Neocon who "just can't keep it in his pants". He is a disgrace and needs to go for many reasons including acting like a out-of-control old fool. Stirling
The head of the Catholic Church in Italy has strongly criticised Prime Minister Silvio Berlusconi, who is embroiled in a sex scandal. Cardinal Angelo Bagnasco said that political leaders who behave immorally pollute the country's future.
Prosecutors have accused the prime minister of paying for sex with prostitutes, allegedly including an under-age dancer. Mr Berlusconi denies he has done anything wrong.
He has refused to appear before prosecutors for questioning, and on Monday Ansa news agency reported that his lawyers had filed court documents defending him from the accusations.


Only 47% of working age American
have full time jobs

~ link ~
OK dumb-asses, do you think maybe, just maybe, now is the time to turn off the boob tube, get off your butts and start raising hell about what the global banksters and their political whores are doing to you! No, too busy watching reality TV, sure...but don't blame me, I have tried to warn you about what is happening and that it is about to get much worse. Stirling
Illinois Court of Appeals
throws Emanuel off Chicago Mayor's ballot
~ link ~

Too bad, NOT. This arrogant Israeli jerk knew damn good and well that he did not qualify legally, but he (flush with putting a non-US citizen in the White House as president) thought he could do anything. Go back to Israel you clown!

Stirling
Just days ago, Rahm Emanuel seemed to be steamrolling the entire field of candidates for

Chicago

mayor

. He had millions in the bank, a huge lead in the polls and abundant opportunities to show off his influence, including meeting with the visiting Chinese president.
But on Monday, the former White House chief of staff was waging a desperate bid to keep his campaign alive after an Illinois appeals court kicked him off the ballot for not meeting a

residency

requirement

. The surprise decision threw the race into disarray with less than a month to go.
Hawaii official new swears:
NO OBAMA BIRTH CERTIFICATE
~ link ~ Obama is a total fraud. He is not eligible under the US Constitution to be President, as he was not born in America. He is a creation of the Israel Mossad and the global banking families. All of the photos of him with his family and school buddies from childhood have been photo shopped. Stirling
Former Congreswoman Cynthia McKinney

Reveals 5,000 Executed Post Katrina

- video

~ link ~
There was a time, not too long ago, when I would have automatically said that this was BS at worst, or exaggeration at best. Now I am not so sure. Stirling





There Are No Words To Describe The Following ($1 Trillion of our money the Fed gave out and no one knows who got the money)

~ link ~ This is a Congressional hearing and it shows just how we are 'being taken for a ride' by the global banking families. Stirling
Must See:

Spanish Bank Protested By Flash Mob Of Flamenco Dancers - Ramba Rave "Banquero" En El Banco De Santander - video ~ link ~

Way cool! People all over the world are totally fed up with what the global banksters are doing to us and these guys found a new and interesting non-violent way to tell the banksters to 'go to hell'.

Stirling
Spain Announces Massive Bank Bailout

~ link ~

The global banksters are getting very bold and more than a bit obvious, but then they intend to spring WWIII on us soon, to give us other things to worry about...like staying alive.

Stirling
The Spanish government is set to launch a sweeping bailout of its troubled regional savings banks in an attempt to reassure global bond markets.
In every country so far except Iceland, from the U.S. to the U.K. to Ireland & Greece, the bill for bailing out criminally over-leveraged banks goes to taxpayers. Spain is simply another domino in the global bankster recapitalization heist, sponsored by captured politicians from Montana to Madrid.
Clarke and Dawes ask the million dollar questions - video

~ link ~

You have got to view this short funny video.

Stirling
Here Comes $4 Gas - $5 Cups of Coffee

~ link ~

The final dam to stopping $150-a-barrel oil and $4-a-gallon gas is being breached, as financial regulation continues its daily erosion into worthlessness.
Watching the CFTC attempt to back up Dodd-Frank legislation since it was passed in July has been like watching salmon flop upstream as the water drains out -- it's slow, arduous and likely to lead nowhere. It is clear now that we will instead be witness to the highest prices for commodities ever, fueled by the biggest influx of profit-driven trading and investment ever, unstanched even in the slightest by the hopes of financial regulation legislation.
The Most Predictable Financial Calamity in History

~ link ~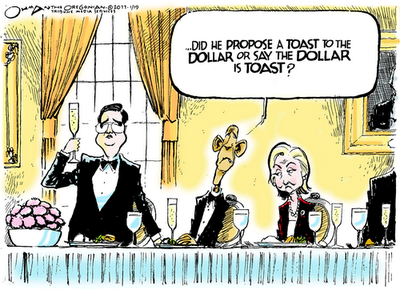 Genetically-modified, oil-eating bacteria creating dangerous mutant organisms in the Gulf

~ link ~

NaturalNews) Even the most creative science fiction movie could not have concocted the reality of what is taking place both in the Gulf of Mexico and around the world right now. Genetically-modified (GM), oil-eating bacteria introduced into the Gulf as part of the oil disaster's remediation efforts is reportedly causing the emergence of various other mutant bacteria, as well as increasingly-severe harm to humans and the environment.





Back in August, NaturalNews covered the story of Tel Aviv University scientists' proposal to use a natural oil-eating

bacteria

to help clean up the Gulf (

http://www.naturalnews.com/029375_o...

). But reports have now revealed that both scientists and

BP

knew of a "super" bacteria that was programmed to eat

oil

twice as fast as normal and set loose in the Gulf.


Catholic Church Silences Exorcist Priest

~ link ~
The Catholic Church recently silenced
one of its most eloquent voices and suppressed his two books on exorcism. This is more evidence that the church has been subverted by satanists.

Since 2000, Rev. Thomas J. Euteneuer, 48, was the president Human Life International, the world's largest pro-life organization with affiliate offices in seventy-five countries. On Aug. 27, 2010 Bishop Gerald Barbarito ordered Euteneuer to resign and return to Parish duties in Palm Beach FL.

He is bound not to discuss the reasons for his "resignation" nor the fact that he still has no diocesan assignments. His two books, Exorcism and the Church Militant, and Demonic Abortion have been pulled from shelves and sell for as much as $1000 on the Internet.

Euteneuer graduated as a Marine at the top of his class at Quantico but felt called to the Church rather than the military. He was ordained in 1988 and became active in pro-life activities. He is reminiscent of Marine Cpl. Pat Tillman who was "silenced" by friendly fire in 2004; or Rev. Charles Coughlin, the radio priest who the Pope silenced in 1936 at the request of FDR.

All of our major social institutions are controlled by cabalists or satanists belonging to the Illuminati. Humanity is being modeled after a satanic cult dedicated to the worship of Lucifer. People at the lower rungs will be exploited mercilessly or exterminated. The mass media and education system are dedicated to inducting us into this cult. That's why outspoken Christians who present a positive example, like Rev. Thomas Euteneuer are silenced. They interfere with our programming.
Scientists fear MMR link to autism

~ link ~

I have two old friends who have autistic children. The trouble is, Big Pharma just does not care who or how many they hurt as long as they make their billions and billions of dollars.

Stirling
New American research shows that there could be a link between the controversial MMR triple vaccine and autism and bowel disease in children. The study appears to confirm the findings of British doctor Andrew Wakefield, who caused a storm in 1998 by suggesting a possible link.

Now a team from the Wake Forest University School of Medicine in North Carolina are examining 275 children with regressive autism and bowel disease - and of the 82 tested so far, 70 prove positive for the measles virus. Last night the team's leader, Dr Stephen Walker, said: 'Of the handful of results we have in so far, all are vaccine strain and none are wild measles