Powerful prayer to St. Michael the Archangel - video ~ link


AVA MARIA - by Helene Fischer - video ~ link



Lord Stirling's news blog EUROPE
Please forward this site to several friends, thanks.

Stirling
1,141 daily postings to this news blog as of today.
Lord Stirling is available for newspaper, radio and television interviews and public speaking engagements. Contact him at FAX in USA 812.491-3712 or via email at
earlofstirling@yahoo.com
UPDATED: 5 AM ~ 24 JANUARY 2011 ~ LONDON TIME
Current status of the Gulf Stream ~ link
RTOFS (Atlantic) Graphic Nowcasts/Forecasts - Latest Surface Horizontal Current ~ link
RTOFS (Atlantic) Graphic Nowcasts/Forecasts - Latest Surface Temperature ~ link
Oil Spill in the Apocalypse - video ~ link
T
hree Video Interviews With Lord Stirling by Renowned Video Webcaster Morris Herman of England ~

link ~

link ~

link
Risk of Global Climate Change By BP Oil Spill by Dr. Gianluigi Zangari ~

link
Ancient Scottish Barony Title for sale. There are about 100 Scottish feudal baronies t
hat still exist; only a handful are from the very ancient Baronage of the Isles, as this one is. In a time of economic crisis, it pays to put some of your wealth into important artwork, properties, etc. of rare value. This is one of the most rare things that can be purchased and held. For sale at US$150,000

~ link
Royal Burgh of Stirling Pipe Band at Stirling Castle ~ link
~
Official site ~ link



Ireland's Green Party quits government

~ link ~ All the rats are deserting the sinking ship of state, now that they have agreed to sell out the people of Ireland to to global banksters. They are all lucky that the people of Ireland don't decide to hang them all from the streetlamps of Dublin. Stirling
The Republic of Ireland's Green Party is pulling out of the ruling coalition, a move expected to bring forward the general election due on 11 March.

The Greens' announcement wipes out the ruling coalition's two-seat majority and puts into question the passage of a vital finance bill. It also follows the decision on Saturday by PM Brian Cowen to quit as leader of his Fianna Fail party but to stay on as prime minister. Opponents said this was "farcical".
Fianna Fail had urged the Greens to stay in government to ensure the financial bill - which is needed as part of Ireland's international bail-out package - was passed before the election.
Brian Cowen: The Irish PM who lost his powers

~ link ~ The Irish have come to deeply hate Cowen and most of their corrupt political class, who have enslaved them to the EU/global banksters almost as bad as they were enslaved to England for centuries. Stirling
It has been an extraordinary week in the political life of Brian Cowen. On Tuesday night the Irish PM won a motion of confidence in his leadership. Two days later - after a botched pre-election cabinet reshuffle that threatened his coalition with the Green Party - one of his own junior ministers, Conor Lenihan, was again calling on him to quit.
When Mr Cowen did not immediately sack his critical minister, it was clear he had lost his authority within the Fianna Fail party.
During a visit to Northern Ireland on Friday, he insisted he would stay and fight the next election as Fianna Fail leader but then went home to Offaly, spoke to his family and, on Saturday, announced his resignation.
Ireland: We're printing billions, just to save the banks

~ link ~
NOW that they have run out of collateral against which to borrow from the ECB, what does the future hold for the beleaguered Irish banks?
With the Central Bank now effectively printing the money that the Irish banks need to pay off their depositors, the moment of truth is rapidly approaching.
Earthquake hits west of Scotland

~ link ~

The British Geological Survey (BGS) said the 3.5-magnitude quake struck in Glenuig, 25 miles (40km) west of Fort William in the Highlands at about 0600 GMT.

People in Inverness, Skye and Oban, reported feeling tremors, which were experienced across the west Highlands.


Ireland's Titanic Bailout at Risk, Iceland looms ahead

~ link ~
The announcement by Brian Cowen that he was resigning as the leader of the Fianna Fail party, but is going to stay on as Taoiseach (Prime Minister) until the March 11 election, has put the Irish bailout into question. The November bailout of the Irish economy consisted of a series of different financing packages being combined into a larger total.
The first funds available under the bailout were provided by the raiding of the Irish retirement fund by its bankers. The next steps were to be funded by the EU and IMF funding sources, once the people of Ireland were legally subjected to the bailout requirements. The bailout never made it to a full vote before the collapse of the Fianna Fáil party.
This leaves Ireland in the unique position of being able to reclaim its future, by denying its past. The citizens of Ireland have not accepted the bailout. The coalition is not expected to be able to put the matter to a vote before the election.
The people are clear they plan on voting for anyone who will fight the bailout. This makes the chances of a post-election bail out vote of acceptance unlikely. If the Bailout fails to be voted on in the coming days, it may never make it to a vote.
The Irish people are overwhelmingly against the loss of their Sovereignty because bankers were allowed to take outsized risk. The fact that these same bankers were allowed to book extremely large bonuses for bankrupting the nation is at the core of the problem.
The only question about Ireland today, is if they are going to stay debt slaves of their banks, or are they going to embrace a return of Sovereignty to the Emerald Island.
22 Facts Reflecting the Demise of California

~ link ~ Since the Second World War California has led the nation in trends. Things start in California and move east. Not a good sign. Stirling
The Vast majority of this Contraction of Availability to America Industry has been by the Larger Banks

~ link ~

This is the smoking gun! You cause recessions and depressions by cutting back on the credit pipeline. The global banking families have been and are creating a Global Depression for their own ends with no regards to how many lives that they ruin in the process.

Stirling
Dennis Santiago - CEO and Managing Director of Institutional Risk Analytics (Chris Whalen's company) - notes:
The really shocking numbers are in the unused line of credit commitments of banks to U.S. business. This is the canary number I like to look at because it is a direct expression of banking and finance confidence in Main Street industry. It's gone from $92 billion in Dec -2007 to just $24 billion as of Sep-2010. More importantly, the vast majority of this contraction of credit availability to American industry has been by the larger banks, C&I LOC from $87B down to $18.8B by the institutions with assets over $10B. Poof!
This once again confirms what I have been saying for years: the giant banks are causing most of the credit contraction.
How the Federal Reserve Bought the Economics Profession

~ link ~ Take the time to read this if you can. Stirling
But by 1993, when former Fed Chairman Greenspan provided the House banking committee with a breakdown of the number of economists on contract or employed by the Fed, he reported that 189 worked for the board itself and another 171 for the various regional banks. Adding in statisticians, support staff and "officers" -- who are generally also economists -- the total number came to 730. And then there were the contracts. Over a three-year period ending in October 1994, the Fed awarded 305 contracts to 209 professors worth a total of $3 million.
The Federal Reserve's Board of Governors employs 220 PhD economists and a host of researchers and support staff, according to a Fed spokeswoman. The 12 regional banks employ scores more. (HuffPost placed calls to them but was unable to get exact numbers.) The Fed also doles out millions of dollars in contracts to economists for consulting assignments, papers, presentations, workshops, and that plum gig known as a "visiting scholarship." A Fed spokeswoman says that exact figures for the number of economists contracted with weren't available. But, she says, the Federal Reserve spent $389.2 million in 2008 on "monetary and economic policy," money spent on analysis, research, data gathering, and studies on market structure; $433 million is budgeted for 2009.
That's a lot of money for a relatively small number of economists. According to the American Economic Association, a total of only 487 economists list "monetary policy, central banking, and the supply of money and credit," as either their primary or secondary specialty; 310 list "money and interest rates"; and 244 list "macroeconomic policy formation [and] aspects of public finance and general policy." The National Association of Business Economists tells HuffPost that 611 of its roughly 2,400 members are part of their "Financial Roundtable," the closest way they can approximate a focus on monetary policy and central banking.

Would the isolation of America persuade Obama NOT TO VETO a UN Security Council resolution condemning Israeli settlements in occupied territories

~ link ~ Obama is a total 'Front Man' puppet. He was born outside of America and is NOT constitutionally eligible to be President and those that placed him in power (global banking families and Zionists) clearly 'have the goods' on him. He was placed in the White House to preside over the death of the American Dream, the death of freedom in America, and the death of the American Middle Class (and the lower end of the Upper Class). He has become a giant disgrace to America, just like the last several presidents. In short, he will do as he is told! Stirling
Iran Nuclear Talks Fail

~ link ~ The 'distance' from 3.5% enrichment for nuclear power plant operations to 90% for nuclear weapons grade material is a VERY LONG WAY TO GO TECHNOLOGICALLY. Iran's program is not a danger to Israel or the world. Israel's massive nuclear weapons stockpile, considering its crazy aggressive behavior as of late, is a danger to the peace not only of the Middle East but of the world at large. Stirling
Uranium enrichment lies at the heart of the dispute.
Low-enriched uranium – at around 3.5 percent – can be used to fuel a reactor to generate electricity, which Iran says is the intention of its program. But if uranium is further enriched to around 90 percent purity, it can be used to develop a nuclear warhead.
Is it strange that FEMA wants to buy 140MILLION PACKAGED MEALS with a shelf life of only 36 months for a SPECIFIC DISASTER SCENARIO

~ link ~ What do they know that we don't!!! Stirling
I'm sure that there are plenty of reasons why this isn't weird, but I'll just make a note of it in case Coincidence strikes.
Chinese stealth fighter jet may use US technology

~ link ~ As someone who has been involved with three aviation firms as a consultant, let me tell you that most of "stealth" is not so secret. Moreover, there are some ways to detect 'stealth' aircraft. Stirling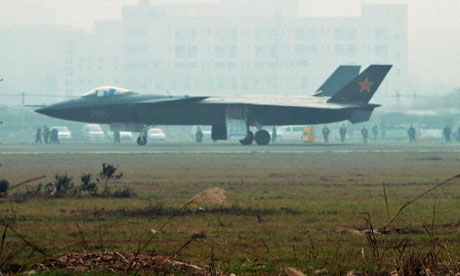 Blair's ex aide": Netanyahu an 'armour-plated bullshitter'

~ link ~
Photo by: Moshe Milner, GPO
Coming from a spinmaster (super bullshitter) like Alister Campbell, that is quite a statement. Stirling
Australian soldier gets Victoria Cross for Afghan battle

~ link ~ He is only a corporal but for the rest of his service days, the most senior generals, admirals, and air marshals will salute him. I post this here to honor the man's courage and bravery. I support allied troops but I do not support the policies that keep them in a ten-year long unnecessary war based on lies and a false flag operation (9/11). Stirling
WikiLeaks: The movie to blow the whistle on 'most dangerous man in the world'

~ link ~ Julian Assange is such a Zionist front man. Now Hollywood is going to make a movie about him....give me a break! What a con job! Stirling
Playing dirty in nuclear stakes

~ link
An Empire of Lies, Yesterday, Today and Tomorrow - Dog Poet Transmitting

~ link ~
Any of the rapidly disappearing, well informed students of human history, can tell you that there are long periods where life goes on in a fairly normal fashion in most places around the world. Then there are other times when normal has left the building. This is one of those times. Usually there is some incident that ignites the brushfire madness that has been smoldering for awhile. It goes from trails of smoke into an incendiary conflagration in no time. It's been building for a long period and all the necessary features are in place. All the opportunistic and deadly assistants are in their spots. It's as if it was choreographed and it is.
I had some thoughts about personal preparation but that hasn't gotten me very excited. How am I to know what I will need when I need it? Sure, there are the basics but what about the things I need most? What about the things inside me? So, that's where my focus has been. I can hardly build an ark if fire is coming, or head for the seashore if it turns out to be water, especially when I don't know which one it is and especially when it's going to be some combination of all of them, as we have already seen taking place.
We spend so much time planning and preparing to protect ourselves and our loved ones from pending disasters, without having taken the time to make ourselves into what we will need to be. Nothing may happen. It may just go on and on like it is, only getting worse but that defies all the laws of physics and metaphysics that I have ever seen besides entropy. Maybe a stagnant swamp is our destiny but I can't seem to accept that and there are still tigers in The Sundarbans.
I was a Boy Scout. I was one merit badge shy of Eagle Scout. That was the Lifesaving Merit Badge (grin). I still believe in 'be prepared". However, the question remains; be prepared for what? What do you prepare? Everything on the outside is controlled by the inside.
Australia set for another week of floods

~ link ~
Meanwhile, the Australian Bureau of Meteorology warned Sunday that a low pressure system off the north Queensland coast could develop into a cyclone over the next few days.
The bureau rated the chances of a cyclone — which could lash the coast with gale-force winds and torrential rains — at between 20 percent and 50 percent.
Australia floods: 'Inland sea' moves across Victoria - with video

~ link ~

Parts of the south-eastern Australian state of Victoria are braced for the approach of a giant lake of floodwater 55 miles (90km) long, as Australia's severe flooding problems continue.

Deputy PM Wayne Swan said the recent floods would rank as one of Australia's most costly natural disasters ever. More than 30 people have been killed since flooding began last month. In Queensland, which has witnessed the worst of the flooding, nine people are still missing.
Floods tore through the towns of Toowomba and Grantham.
But record rains have shifted the flood emergency focus from the north-eastern state to Victoria in the south-east, which is experiencing its worst floods since records began 130 years ago.
Australian treasurer: Economic toll from flooding 'will be enormous'

~ link ~

Flooding in Australia has affected more than 3 million people, making it one of the most costly disasters in the nation, the federal treasurer said Sunday.

The cost of the damage surpasses past tragedies like major bushfires two years ago and floods in the 1970s, Treasurer Wayne Swan said.
Cold ruins peach blossom harvest in Vietnam

~ link ~
Horticulturalist Tran Tien Dung feels sad as he looks around his garden of 500 peach-blossom trees. More than half show no sign of being able to open their gorgeous red or pink flowers for Tet.
It is a poignant reminder for Dung, and all Hanoians, of the remarkable cold spell that is hovering over the north. The image of Tet with its banh chung xanh (green bean cake) and hoa dao do (red peach blossoms) has been engraved in their minds.
Peach flowers are believed to bring wealth and luck - and to chase away evil spirits. But this is not the case for Nhat Tan peach-flower village, the best known in the north, which has 30ha of peach trees in all sizes. This year, there are many growers like Dung who are facing failure brought on by the bitter weather which hit the north in early January.
Food prices may cause "unrest" say Agriculture ministers from Europe, Africa and Canada

~ link ~

"Unrest" as in "the shit hitting the fan"; as in mass rioting, deaths, revolution, repression, etc.
Stirling
Agriculture ministers from Europe, Africa and Canada warned Saturday of dire consequences, including riots and social unrest, unless action is swiftly taken to improve food security and tackle price hikes. The ministers from Germany, France, Poland, Ukraine, Morocco, Kenya and Canada met in Berlin to prepare for a larger gathering which was to begin later in the day.
The seven agriculture ministers were unanimous on the causes and consequences of food shortages, which are pushing prices sharply up and, they agreed, renewing the threats of social instability and the sort of food riots witnessed in Mozambique, Egypt and elsewhere last year.
"We will see them again in 2011 and 2012 if we don't rapid take the necessary decisions together," warned French minister Bruno Le Maire.
Elizabeth II and the missing Stone of Destiny

~ link ~ This article repletes some old nonsense that the British Royal Family is very high in the Illuminati, New World Order, etc. Now my long time readers will know that I am not afraid of exposing real conspiracies and high ranking individuals. But I have to tell you, that I do not see any evidence that the British Royals are 'dirty' or involved in such things, or for that matter are anywhere near that powerful. While I may be an American, I was Scottish Editor at the famous Burke's Peerage publishing and genealogical firm in London and I use to hear a fair amount of inside information on events at Buckingham Palace. My former partner, the late Editor at Burke's Peerage (Harold Brooks-Baker) was married to a French Countess whose brother was both a Duke of the Ancient Regime and a French Senator and whose family was second only the French Royal and Imperial Families in historic importance. Her relatives included relatives of the Duke of Edinburgh. They would visit "Elizabeth and Philip" at "Buck House" and then the Brooks-Bakers. My perception of the British Royals is that they sincerely do try to do a decent job of things, that their human nature sometimes gets in the way a bit, but is generally blown out of portions by the highly competitive newspaper environment in London (the most competitive newspaper market on Earth). I do not think, based on all that I know and have see/heard, that the British Royal Family is deeply involved in the New World Order/etc. In fact, among some members of the Royal Family, there is a strong Christian religious belief. This includes the Queen and the Prince of Wales who has taken several private trips to the Holy Mountain in Greece with its many Orthodox monasteries. His paternal grandmother, became a Greek Orthodox nun after her husband (a Greek and Danish prince) died and she has been declared a saint by the Greek Orthodox Church which does not make such declarations on the basis of politics. Just a side note: I was actually born at the moment the Scottish nationalists were removing the Stone of Destiny from beneath Saint Edward's Chair (the Coronation Throne, and if you look at the video of the actual coronation you simply cannot make out the Stone itself contrary to what this article says). They broke into Westminster Abbey very late on Christmas Eve and removed the Stone in the wee hours of Christmas Day 1950. That is the exact time that I was being born, on the other side of the world. I said that to the Queen, in a letter once, and I don't think that she was 'amused'. But she is OK in my book, and her family as well and I do not say that because I have claimed the old Earldom of Stirling. I say it because I believe it based on fact and personal knowledge. Stirling


Is

Sarah Palin's

Political Career Almost Over

~ link ~
A significant percentage of the American population is totally fed up with the political class. She got some attention, in the past, as she was a new face, and a good looking one at that, but she has shown herself to be just one more political hack for the hidden powers. That does not translate into run away support anymore. Or to put it another way, as Lincoln said, "You can fool some of the people all of the time; and all of the people some of the time; but you can't fool all of the people all of the time." Stirling
The George W. Bush

administration

launched a highly controversial demonstration project, but in March 2009, President Obama signed the $410 billion Omnibus Funding Bill that included provisions withdrawing funds from the DOT with the goal of terminating the program.
Congressional critics during the Bush administration had argued that the DOT and the Federal Motor Carrier Safety Administration were unable to provide assurances that Mexican trucks and their drivers would operate safely in the U.S. Mexico still lacks a reliable federal system of conducting background checks before it issues commercial driver's licenses. There also is evidence Mexican trucks and drivers operate without complying with the drug testing standards, driver physical requirements and safety inspection procedures that U.S. truck drivers are forced to meet.
Sistine Chapel

~ link ~ This is a most interesting interactive view of the world famous Sistine Chapel. I am not really an artistic type, but I was totally overwhelmed by the art here. This is one place you should plan to visit someday. Stirling
Church-Okyed seers claimed 'Journeys' to afterlife, including levels of nether region

~ link ~
"Our Lady showed me an abyss filled with fire to explain that this is the eternal fire," said the seer. "But she told me that hell is not fire. It is the eternal suffering of not seeing God, of being deprived of God."
Anathalie said traveling in the afterlife was such that "you move without the slightest effort." As in near-death experiences, Alphonsine described moving, as in space, through stars.
In Search of King Herod's Tomb

~ link ~
More Anglican priests to join Catholic Church

~ link
Allies of Tunisia's ousted president 'detained' as protests demanding fall of PM and President continue

~ link ~
On Sunday, a new protest march reached Tunis.
Some 1,000 demonstrators from Menzel Bouzaiane - the rural area where protests against Tunisia's authoritarian rule began in December - had joined the "Caravan of Liberation" to the capital. The main trade union, the General Tunisian Workers' Union (UGTT), has backed the protest, which set off on Saturday. "The aim of this caravan is to make the government fall," said Rabia Slimane, a teacher taking part in the caravan protest.
Mr Ghannouchi has left Mr Ben Ali's ruling Democratic Constitutional Rally (RCD) party and insisted that figures from the previous regime who have remained in positions of power - including the ministers of defence, interior, finance and foreign affairs - have "clean hands". But this has failed to satisfy many opposition figures and protesters.

On Saturday, policemen - who had defended the regime of the ousted president - were among those protesting, which the BBC's Magdi Abdelhadi in the Tunisian capital says marked a very dramatic development.
Quantitative Easing Is Causing Food Prices To Skyrocket

~ link ~
As I've previously noted, interest rates have risen both times after the Fed implemented quantitative easing.
Graham Summers points out that food prices have also skyrocketed both times:
In case you've missed it, food riots are spreading throughout the developing world Already Tunisia, Algeria, Oman, and even Laos are experiencing riots and protests due to soaring food prices. As Abdolreza Abbassian, chief economist at the UN's Food and Agriculture Organization (FAO), put it, "We are entering a danger territory."

Indeed, these situations left people literally starving… AND dead from the riots.

And why is this happening?

A perfect storm of increased demand, bad harvests from key exporters (Argentina, Russia, Australia and Canada, but most of all, the Fed's money pumping. If you don't believe me, have a look at the below chart:

[Summers shows the share price of Elements Rogers International Commodity Agriculture ETN as a proxy for food prices generally.]

As you can see, it wasn't until the Fed announced its QE lite program that agricultural commodities exploded above long-term resistance. And in case there was any doubt, QE 2 sent them absolutely stratospheric.
This isn't really unexpected.
Coping with food shock in 2011

~ link ~ I predict that we will have to prohibit the use of feed stocks to make ethanol in 2011 or 2012. Stirling
International media also reported that in 2010, the prices of staples such as corn, wheat, soybean and sugar increased by more than 20 percent. In particular, the prices of wheat and corn increased by more than 60 percent.
Today's food shortages around the world are primarily caused by crop failures. Natural disasters, climate change and pest attacks are the common factors of crop failures. Some main food producing countries experienced serious impacts of crop failures, such as failed wheat harvests due to droughts in Russia, Ukraine and Kazakhstan.
Heavy floods also destroyed farming fields in China, the US and Australia.
Other factors contributing to world food shortages are increasing demand for food from new economic powers with huge populations such as India and China, and increasing demand for food to be converted into ethanol fuel.
Albania crisis deepens after protest deaths

~ link ~
Albania's political crisis escalated as the government and its opposition traded blame for the deaths of three protesters during a violent demonstration against an administration accused of deeply-rooted corruption.
Arrest warrants had been issued for six officers of the National Guard, army troops under Interior Ministry command who guard government institutions and senior officials. the prosecutor general's office said.
Two Suns? Twin Stars Could Be Visible From Earth By As Early As 2012

~ link ~
Earth could be getting a second
sun
, at least temporarily.
Dr. Brad Carter, Senior Lecturer of Physics at the University of Southern Queensland, outlined the scenario to news.com.au.

Betelgeuse

, one of the night sky's brightest stars, is losing mass, indicating it is collapsing. It could run out of fuel and go super-nova at any time. When that happens, for at least a few weeks, we'd see a second sun, Carter says. There may also be no night during that timeframe.
Are we accidentally medicating ourselves into a mind-numbing body-weakling stupor

~ link ~ This is a very good article. Take the time to read it if you can and buy a good reverse-osmosis water system if you can. Stirling
Dead dolphins, sea turtles, and tons of angelfish in Galveston, Texas - with video

~ link