Powerful prayer to St. Michael the Archangel - video ~ link

Lord Stirling's news blog EUROPE
Premeditated Mass Murder On The High Seas



The Israeli attack on the unarmed civilians of the Gaza Aid Flotilla has killed 19 people and wounded at least a further 30 people (perhaps as many as 50 injured). The Israeli Navy attacked the ships carrying urgently needed supplies for the people of Gaza, who have been denied basic human rights in direct violation of multiple international laws by their Israeli occupiers. IDF commandos, using American paid for and American built helicopters, attacked the unarmed women and men of the international peace/aid flotilla before dawn shooting many like dogs.
I watched the live video feed, by chance or perhaps guided by the hand of God, and I saw NO attacks upon the IDF commandos but I did see wounded civilians and heard lots of shooting. I am an eyewitness, via live video feed, to this mass murder and mass armed assult on unarmed civilians. You do NOT get these high numbers of killed and wounded unless the highly trained commandos were given orders, before the mission, to kill and wound many as a form of punishment. It is clear that the Israeli regime has 'lost it' and no longer cares what the goy (the rest of the human race; we the "two-legged soulless animals" according to the more racist ones in the government) thinks. It is also highly likely that they expect events of the next few days and weeks to bury this story. War on a global scale is coming and coming soon!

Stirling



Links:
'Israel is a Lunatic State' - Norman Finkelstein on Gaza Flotilla attack - video ~ link

World Watches Raid on Relief Flotilla as Israel's PR Machine Fails ~ link ~
It's been 24 hours since we began watching live video of the
Freedom Flotilla
as it attempted to deliver 10,000 metric tons of humanitarian aid to the people of Gaza, and much remains murky. With the Israeli government refusing to provide information on the killed, injured and detained passengers – who included European legislators, medical personnel and activists, all civilians – we are left in the dark.
Of course, Israel is quite happy to spread around the latest IDF videos which claim to show the events on the ships as Israeli commandos attacked. Left out of those video accounts is the essential, core fact that the ships were in international waters at the time – and had in fact specifically decided to alter their course to avoid just such a confrontation during the night.
Many of us watching the live feeds from Turkish TV heard the announcement of the captains decision to shift his course shortly after the Israeli warships made initial contact when the flotilla was still 100 miles off the coast. We then saw the passengers take off their life vests and relax after the initial preparations made with the first Israeli radio message. We thought that things would be calm overnight. We were oh so wrong.
In raw video, reporters state Israelis fired on activists before boarding ship ~ link ~
In what could be a serious blow to Israel's narrative on the killing of at least nine humanitarian activists making their way to Gaza through international waters, raw video by an Al Jazeera producer, who was filming during the raid, appears to provide evidence that the IDF opened fire on the flotilla even before boarding it.
Israeli forces assert they came under attack by the pro-Palestine civilian group, and video released by the IDF appears to show one soldier being tossed overboard amid a scuffle with unidentified individuals wielding melee weapons, like clubs and chairs.
However, in raw video captured by an Al Jazeera producer and published to YouTube late Monday, two journalists provide a play-by-play of the harrowing event as pops and cracks echo in the background. Even before the Israeli forces were aboard, one says, they were pelting the boat with tear gas and stun grenades, injuring numerous people.
Then he confirms the first death, saying the individual was killed by "munitions," but not specifying whether it was a bullet or something else. Then he confirms that Israeli forces were boarding the ship.
Israel Forces Fired On Sleeping Civilians Under Cover Of Darkness ~ link ~ The following press release came from Freegaza.com , one of the aid groups involved in the flotilla, in the wake of the attack:
Under darkness of night, Israeli commandoes dropped from a helicopter onto the Turkish passenger ship, Mavi Marmara, and began to shoot the moment their feet hit the deck.

They fired directly into the crowd of civilians asleep. According to the live video from the ship, two have been killed, and 31 injured. Al Jazeera has just confirmed the numbers.

Streaming video shows the Israeli soldiers shooting at civilians, and our last SPOT beacon said, "HELP, we are being contacted by the Israelis."
As things currently stand 20 people are thought to have been killed in the attack.
While the IDF and the Israeli government claim that their soldiers were attacked by violent political agitators wielding knives, several videos of those on board the boats and scenes from their voyage reveal that they are peaceful civilians that could not possibly constitute any threat to one of the most powerful armies on the planet.
A Statement from the Israeli Peace Movement:
Press Release 05/31/2010
Uri Avnery: this night a crime was perpetrated in the middle of the sea, by order of the government of Israel and the IDF Command
A warlike attack against aid ships and deadly shooting at peace and humanitarian aid activists
It is a crazy thing that only a government that crossed all red lines can do
"Only a crazy government that has lost all restraint and all connection to reality could something like that - consider ships carrying humanitarian aid and peace activists from around the world as an enemy and send massive military force to international waters to attack them, shoot and kill.
"No one in the world will believe the lies and excuses which the government and army spokesmen come up with," said former Knesset member Uri Avnery of the Gush Shalom movement. Gush Shalom activists together with activists of other organizations are to depart at 11:00 from Tel Aviv to protest in front of the prepared detention facility where the international peace activists will be brought.
Greta Berlin, the spokeswoman for the flotilla organizers located in Cyprus, told Gush Shalom activists that the Israeli commandos landed by helicopter on the boats and immediately opened fire.
This is a day of disgrace to the State of Israel, a day of anxiety in which we discover that our future was entrusted to a bunch of trigger-happy people without any responsibility. This day is a day of disgrace and madness and stupidity without limit, the day the Israeli government took care to blacken the name of the country in the world, adding convincing evidence of aggressiveness and brutality to Israel's already bad international image, discouraging and distancing the few remaining friends.
Indeed, today a provocation took place off the coast of Gaza - but the provocateurs were not the peace activists invited by the Palestinians and seeking to reach Gaza. The provocation was carried out by Navy ships commandos at the bidding of the Israeli government, blocking the way of the aid boats and using deadly force.
It is time to lift the siege on the Gaza Strip, which causes severe suffering to its residents. Today the Israeli government ripped the mask of its face with its own hands and exposed the fact that Israel did not "disengage" from Gaza. Real disengagement from the area does not go together with blocking the access to it or sending soldiers to shoot and kill and wound those who try to get there.
The State of Israel promised in the Oslo Accords 17 years ago to enable and encourage the establishment of a deep water port in Gaza, through which Palestinians could import and export freely to develop their economy. It's time to realize this commitment and open the Port of Gaza. Only after the Gaza port will be open to free and undisturbed movement, just like the Ashdod and Haifa ports, will Israel really have disengaged from the Gaza Strip. Until then, the world will continue - and rightly so - to consider the Gaza Strip under Israeli occupation and the State of Israel as responsible for the fate of the people living there.
Contact: Uri Avnery 0505-306449
Adam Keller, Gush Shalom spokesman 03-5565804 or 054-2340749
Coalition Against the Siege Yacov - 050-5733276, 09-7670801, Sebastian -050-6846056
Greta Berlin spokeswoman for flotilla organizers
35799187275
הודעה לעיתונות 31.5.2010
אורי אבנרי: בלב ים בוצע הלילה מעשה פשע בפקודת ממשלת ישראל ופיקוד צה"ל
התקפה מלחמתית על ספינות סיוע וירי קטלני על פעילי שלום וסיוע הומניטארי
היא מעשה מטורף שרק ממשלה שעברה כל גבול מסוגלת לעשותו
"רק ממשלה מטורפת שאיבדה כל רסן וכל קשר למציאות הייתה מסוגלת למעשה כזה - להתייחס לספינות הנושאות סיוע הומניטארי ופעילי שלום מכל רחבי העולם כאל אויב ולשלוח כוח צבאי אדיר כדי לתקוף אותן במים בינלאומיים, לירות ולהרוג. התירוצים השקרניים שמביאים דוברי הממשלה והצבא למעשה הזה לא ישכנעו איש בעולם" אומר חבר הכנסת לשעבר אורי אבנרי מתנועת גוש שלום. פעילים מגוש שלום ותנועות אחרות עומדים לצאת בשעה 11.00 מתל אביב לקיים הפגנת מחאה לפני מתקן המעצר אליו הובאו פעילי השלום הבינלאומיים.
גרטה ברלין, דוברת מארגני המשט הנמצאת בקפריסין, מסרה לפעילי גוש שלום כי חיילי הקומנדו הישראלים נחתו בהליקופטר על הספינות ופתחו מיד באש לעבר נוסעיהן.
זהו יום של חרפה למדינת ישראל, יום של חרדה בו אנו מגלים כי עתידנו הופקד בידי חבורה של אנשים חסרי כל אחריות שידם קלה על ההדק. זהו יום הוא יום של בושה וחרפה וגם שיגעון וטפשות ללא גבול, יום בו דאגה ממשלת ישראל להשחיר את שמה של המדינה בעולם כולו, לספק הוכחות חדשות ומוחצות לתדמית הכוחנית והברוטאלית שכבר יצאה לישראל בזירה הבינלאומית, לייאש ולהרחיק את מעט הידידים שעוד נותרו לה.
אכן, היום התבצעה פרובוקציה מול חופי עזה - אך הפרובוקטורים לא היו פעילי השלום שביקשו להגיע לעזה על פי הזמנתם ובקשתם המפורשת של התושבים הפלסטינים. את הפרובוקציה ביצעו ספינות חיל הים וחיילי הקומנדו, במצוותה של ממשלת ישראל, כאשר חסמו את דרכן של הספינות והפעילו כוח קטלני.
הגיע הזמן להסיר את המצור על רצועת עזה, הגורם סבל קשה לתושביה. היום קרעה ממשלת ישראל במו ידיה את המסכה מעל פניה וחשפה את העובדה כי מדינת ישראל לא "התנתקה" מעזה. מי שהתנתק באמת משטח אינו חוסם את הדרכים לשטח הזה ואינו שולח חיילים להרוג ולפצוע את כי מי משנסה הלגיע אליו.
מדינת ישראל התחייבה בהסכמי אוסלו לפני 17 שנה לאפשר וגם לעודד הקמת נמל עמוק מים בעזה, דרכו יוכלו הפלסטינים לייבא ולייצא באופן חופשי ולפתח את כלכלתם. הגיע הזמן לממש את ההתחייבות הזאת ולפתוח לרווחה את נמל עזה. רק ברגע שיפתח נמל עזה לתנועה חופשית ובלתי מופרעת, בדיוק כמו בנמל אשדוד ובנמל חיפה, תסתיים באמת התנתקותה של ישראל מרצועת עזה. עד אז, ימשיך העולם - ובצדק - לראות את רצועת עזה כנתונה לכיבוש ישראלי ואת מדינת ישראל כאחראית לגורל התושבים בה.


Israel's Attack on Us All ~ link ~
I
t is quite astounding that Israel has been able to create over the past 12 hours a news blackout, just as it did with its attack on Gaza 18 months ago, into which our main media organisations have willingly allowed Israeli spokespeople to step in unchallenged.
How many civilians were killed in Israel's dawn attack on the Gaza-bound flotilla of aid? We still don't know. How many wounded? Your guess is as good as mine. Were the aid activists armed with guns? Yes, says Israel. Were they in cahoots with al-Qaeda and Hamas? Certainly, says Israel. Did the soldiers act reasonably? Of course, they faced a lynch, says Israel.

If we needed any evidence of the degree to which Western TV journalists are simply stenographers to power, the BBC, CNN and others are amply proving it. Mark Regev, Israel's propagandist-in-chief, has the airwaves largely to himself.

The passengers on the ships, meanwhile, have been kidnapped by Israel and are unable to provide an alternative version of events. We can guess they will remain in enforced silence until Israel is sure it has set the news agenda.

So before we get swamped by Israeli hasbara let's reiterate a few simple facts:
* Israeli soldiers invaded these ships in international waters, breaking international law, and, in killing civilians, committed a war crime. The counter-claim by Israeli commanders that their soldiers responded to an imminent "lynch" by civilians should be dismissed with the loud contempt it deserves.

* The Israeli government approved the boarding of these aid ships by an elite unit of commandoes. They were armed with automatic weapons to pacify the civilians onboard, but not with crowd dispersal equipment in case of resistance. Whatever the circumstances of the confrontation, Israel must be held responsible for sending in soldiers and recklessly endangering the lives of all the civilians onboard, including a baby and a Holocaust survivor.

* Israel has no right to control Gaza's sea as its own territorial waters and to stop aid convoys arriving that way. In doing so, it proves that it is still in belligerent occupation of the enclave and its 1.5 million inhabitants. And if it is occupying Gaza, then under international law Israel is responsible for the welfare of the Strip's inhabitants. Given that the blockade has put Palestinians there on a starvation diet for the past four years, Israel should long ago have been in the dock for committing a crime against humanity.
Today Israel chose to direct its deadly assault not only at Palestinians under occupation but at the international community itself.

Raw Footage: Israeli Navy Massacre Flotilla Activists - SEE FOR YOURSELF - videos ~ link

Israel Attacks Gaza Aid Ships - Killing At Least 19 - Ships were towed to Haifa to avoid media coverage ~ link ~
Israel had telegraphed its move for weeks. They had promised to stop the aid ships at all cost, they had promised to use force against the aid workers. Somehow, no amount of official bellicosity could prepare anyone for the carnage that unfolded.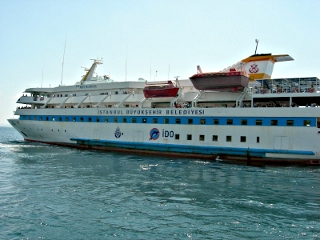 The Mavi Marmara
At least 19 aid workers were killed and dozens of others wounded when Israeli commandos, backed up with helicopters, boarded the Mavi Marmara, one of the six aid ships, and opened fire on the passengers.
It was by no means the largest massacre of civilians in Israeli history, or even recent Israeli history, but unlike the others there was no way to couch the deliberate attack on a civilian aid vessel in international waters as Hamas' fault, or an example of human shields, or even a narrow miss of the real target.
Indeed it has spawned what must be among the lamest attempts at hasbara (public explanation) in Israel's sordid history, as one of the commandos in the region's most heavily armed military explained opening fire on civilians by saying "they beat us up with metal sticks."
Metal sticks notwithstanding, the aid flotilla was violating no international laws in trying to deliver medicine and food to civilian victims of an Israeli blockade. Israel on the other hand was most assuredly violating international law in attacking an unarmed aid ship on the open sea.
Flotilla Massacre is a Reply to the Turkish-Iranian Relations ~ link ~
T
he leaders of the Israeli gang of War criminals, the so-called "Israeli government" is currently engaged in inciting and planning to launch a nuclear war against Iran, was not able to do anything in response to the Turkish- Iranian-Brazilian agreement of last May 17 2010 to transfer 1.200 Kg of low-enriched uranium to Turkey in return for nuclear fuel. In retaliation, they perpetrated the massacre on the Freedom Flotilla of humanitarian aid-carrying ships aiming to break the Israel genocide of siege on Gaza imposed since 2006. The Turkish-Iranian-Brazilian agreement stood as an obstacle against the Israeli ambitions to force the world to enter into a spiral of bloody nuclear war. It is wrong to believe that the Turkish government was not expecting the massacre against the Freedom Flotilla which carried 10.000 tonnes of humanitarian aid to Gaza.
The military maritime piracy and massacre operation carried out by Shayetet 13, a naval commando unit, in which at least 20 peace activists were murdered and over 50 were wounded, was a decision of the inner circles of power in israel and approved by the Israeli Cabinet headed by Benjamin Netanyahu, Ehud Barak and other war criminals. This Israeli massacre was a message addressed to Turkey and its new Iranian and Syrian allies. Anyone who knows to read between the lines and the history of Israel's military leaders can understand that Israel has never distinguished between civilians and militants of the groups which are considered as enemies according to the non-logical standards of the zionists.
Israel committed a massacre against the Turkish ship "Marmara", which carried humanitarian aid to the Palestinians besieged in the Gaza concentration camp. This massacre was well prepared by the Israeli cabinet, and some pro-Israel governments were informed with full details about the planned crime. Israel commissioned a special unit in the Marine Corps, deployed boats and helicopters patrolling the coast of Ashdod and Gaza and announced the waters off the coast of Gaza a closed military zone. They also announced via their propaganda organs of their intent to transfer the ships and the solidarity activists to the port of Ashdod before deporting them to their countries as illegal immigrants, and to arrest those who refused to identify themselves and sign a pledge not to return. They also prepared tents as detention units to jailing the activists and investigating them; the team of the interrogators which Israel choose to interrogate the peace activist was manned by people with experience as torturers and who had previously "worked" the Palestinian prisoners of the israeli gulag.
The Israeli ships monitored the Freedom Flotilla from a distance of about 124 km away of the coast of Israel. According to the international movement, the passengers rushed to wear the safe jackets and raised the alert status as soon as the war ships were visible. The peace activists on board of the convoy stated that three Israeli ships spoke to the Turkish ship Captain over radio and warned him of the consequences of approaching the coast of Gaza which was declared as the a closed military area. They demanded from them to bring the humanitarian aid to the port of Ashdod, stressing that the Israeli navy would prevent the penetration a military closed area at any price, meaning that they would not shrink from murdering anybody.
The ships were carrying 10.000 tons of medical supplies and building materials, timber, and 100 pre-built houses, for ten thousands of people who lost their homes due to the Israeli war crimes on Gaza early in the year of 2009. They also carried 500 electric vehicles for the use of disabled people, especially since the recent Israeli war crimes over 600 were left permanently disabled, with amputated legs.
The Israeli Arab Knesset MP Hanan Al-Zoubi had spoken through a loudspeaker in Hebrew with the Israeli military telling them to not attack ships carrying civilian peace activists and humanitarian aid. She added that during her appeal the Israeli soldiers fired live bullets at ships, which led to the wounding of civilians, among them the Arab-Israeli citizen Sheikh Raed Salah, who was shot and now in a critical conditions. She added: "the Israeli gunboats approached the "Caravan of freedom" and asked the captain of the ship to identify himself and the identity of the boat. The ships were in the International waters about 100 miles from Gaza. At this moment the Israeli helicopters attacked the ships from the sky.
Turkish sources and media revealed a document which shows that a death list had been
prepared in advance by the Israelis, showing names and pictures of people on board of the ships to be murdered, who, according to Israel, were "involved in the International humanitarian aid for Gaza". According to the Turkish sources, hundreds of Israeli soldiers stormed the blue Turkish ship "Marmara" flotilla and they had copies of the death list. The list included the names of civilians on the fleet who should be killed". The document was apparently recovered after one of the Israeli soldiers lost it during the piracy act.
Turkey threatens action - Israel on alert ~ link ~
Two Turkish activists were reported to be among those killed in the flotilla. Ankara warned that further supply vessels will be sent to Gaza, escorted by the Turkish Navy, a development with unpredictable consequences.
Israel has sounded an alert throughout the country fearing rocket attacks by Hezbollah in Lebanon.
The Arab League has called an urgent meeting on Tuesday to decide on a common response. Egypt is under pressure to end the blockade of Gaza while Greece has cancelled a military exercise with Isreal.
Turkey: future Gaza Aid Ships Will Have Military Escorts ~ link ~
Once Israel's closest ally in the region, the Turkish government has reacted with fury at last night's Gaza aid ship massacre,
condemning it as 'inhuman state terror
.'
Turkey's Navy will reportedly protect future aid ships
The attacked ship was Turkish in origin and at least two of the slain aid workers were Turkish citizens. Turkey says future aid ships will be dispatched with a military escort so as to prevent future Israeli attacks.
Irish Foreign Minister: Irish citizens kidnapped in international waters ~ link ~
Seven Irish passport holders have been taken to the Israeli port of Ashdod from where it is planned to deport them. One has already signed papers agreeing to the move.

But Minister Martin said he has told the Israeli Ambassador Dr Zion Evrony that the Government wants these Irish citizens released immediately.

"The Israeli government requires people to sign papers so that they can be deported," Minister Martin said. "But of course these people did not enter Israel illegally.

"They were essentially kidnapped from international waters, taken into Israel.. And now they are being asked to sign a document almost confirming that they entered illegally.

Deaths as Israeli commandos storm civilian Gaza Aid ship - with video ~ link ~
Armed forces boarded the largest vessel overnight, clashing with some of the 500 people on board.
It happened about 40 miles (64 km) out to sea, in international waters.
Israel says its soldiers were shot at and attacked with weapons; the activists say Israeli troops came on board shooting.
The activists were attempting to defy a blockade imposed by Israel after the Islamist movement Hamas took power in Gaza in 2007.

There has been widespread condemnation of the violence, with several countries summoning the Israeli ambassadors serving there.
UN chief Ban Ki-moon said he was "shocked by reports of killings and injuries" and called for a "full investigation" into what happened.
Israeli Prime Minister Benjamin Netanyahu, who is in Canada, has cancelled a scheduled visit to Washington on Tuesday to return to Israel, officials said.
Earlier, he expressed his "full backing" for the military involved in the raid, his office said.
Arafat Shoukri, of the Free Gaza Movement (FGM) which organised the convoy, said those on board one ship had told them by telephone that Israeli helicopters had arrived.
"Then we started to hear screams, shouting, shooting everywhere," he said. "We heard some of them shouting 'we are raising the white flag, stop shooting at us'."
He said Israeli claims that activists had pistols and other weapons were "cheap propaganda".
Audrey Bomse, also of the FGM, told the BBC that the activists were "not going to pose any violent resistance".

In Turkey, thousands of protesters demonstrated against Israel in Istanbul, while several countries have summoned Israeli ambassadors to seek an explanation as to what happened.
Greece has withdrawn from joint military exercises with Israel in protest at the raid on the flotilla.

Greece cancels military exercises with Israel over Flotilla attack ~ link ~

Greece on Monday said that a joint air force exercise with Israel has been cancelled, following an early Monday morning attack on foreign activists by Israel?s military.
Greek Alternate Foreign Minister Dimitris Droutsas made the announcement following emergency talks with Israel?s ambassador to Athens after at least 10 foreign activists were killed after the Israel navy stormed a flotilla of six ships bound for the Gaza ship with aid.
The flotilla of six boats, containing 10,000 tons of aid had been warned before setting sail for Gaza that it would be denied entry.
Reports said there were more than 40 Greek activists, doctors and journalists sailing on the two Greek ships.
Germany Foreign Minister "deeply concerned" ~ link
Israeli Prime Minister Netanyahu says Israeli soldiers were attacked as they attempted to stop a convoy headed to Gaza to deliver aid ~ link ~ link ~ Bibi Netanyahu is one lying piece of crap! I saw what happened, this was a unarmed ship full of unarmed civilian women and men.
France says nothing can justify violence of Israel's ship raid ~ link ~ French Foreign Minister Bernard Kouchner said Monday he was "deeply shocked" by Israel's commandos raid on a Gaza-bound aid flotilla and insisted "nothing can justify" such violence after more than 10 died.
Gaza Aid Convoy killings: "Those responsible must be held criminally accountable" ~ link ~ This incident should serve as a wakeup call for a complicit international community. There are three political imperatives that need to emerge with a sense of urgency: condemnation of the Israeli attack and an accompanying demand for the immediate end of the Israeli blockade of the Gaza Strip, appropriately by a decision in the UN Security Council; an authoritative launching of an investigation of war crimes allegations against Israel by the International Criminal Court; the widest possible endorsement and strengthening of the already growing worldwide boycott, divestment, and sanctions campaign directed at Israel's occupation policies in Palestinian Territories.
GENEVA – The UN Special Rapporteur for the Occupied Palestinian
Territories, Richard Falk, urged Monday the international community to
bring to justice those responsible for the killing of some 16 unarmed
peace activist, when Israeli armed commandos stormed a convoy of ships
carrying aid to Gaza.
"Israel is guilty of shocking behavior by using deadly weapons against
unarmed civilians on ships that were situated in the high seas where
freedom of navigation exists, according to the law of the seas," Mr. Falk
said. "It is essential that those Israelis responsible for this lawless
and murderous behavior, including political leaders who issued the orders,
be held criminally accountable for their wrongful acts."
There are confirmed reports of lethal interference by Israeli military
units on the high seas with the Freedom Flotilla of six ships carrying
some 10,000 tons of medicine, food, and building materials to the civilian
population of Gaza. Preliminary reports suggest as many as 16 unarmed
activists were killed, and dozens more wounded.
"This peaceful humanitarian initiative by citizens from 50 countries is an
urgent response to the continuation of an unlawful blockade that has been
maintained for almost three years causing great physical and mental harm
to the whole of the 1.5 million people entrapped within Gaza," the UN
independent expert said. "Such a massive form of collective punishment is
a crime against humanity, as well as a gross violation of the prohibition
on collective punishment in Article 33 of the Fourth Geneva Convention."
"As Special Rapporteur for the Occupied Palestinian Territories, familiar
with the suffering of the people of Gaza, I find this latest instance of
Israeli military lawlessness to create a situation of regional and global
emergency. Unless prompt and decisive action is taken to challenge the
Israeli approach to Gaza all of us will be complicit in criminal policies
that are challenging the survival of an entire beleaguered community."
How the mainstream news media is reporting on the attack on Gaza Aid Ships ~ link ~ The public is no longer buying it 'hook, line, and sinker'. That is why most people get their news on-line and less and less from the mainstream news media, which are almost totally owned/controlled by the global banking families.

Israel's Latest War Crime ~ link ~ Israel has done it again. (See news articles and videos compiled by Alison Weir at "If Americans Knew.") Creating outrage on a daily basis seems to be its speciality. It has now launched an attack on international peace activists carrying humanitarian aid to besieged Gaza — "the world's largest concentration camp" still recovering from war crimes committed by Israel almost 18 months ago. Here are some of the bare facts: The Mavi Marmara is a Turkish vessel. It was part of a 6-ship unarmed flotilla, including a U.S.-flagged vessel, carrying 700 passengers from 40 different countries and 10,000 tons of humanitarian aid on a mission of mercy to besieged Gaza.
The ship was attacked approximately 65 miles off the coast of Netanya and 80 miles from Gaza, well within international waters. This is regarded as an act of piracy in international law. It is a war crime. It is too early to put a final figure on the number of casualties. These keep changing by the hour, depending on which side is providing the figures. AP's initial report, based on figures helpfully supplied by Israel, stated that only two peace activists had died. This figure has now been rejected. The latest reports indicate that 16 unarmed activists may have been killed and up to 60 injured. Israeli casualties, as expected, have been minimal and almost cosmetic: two gun-toting commandos killed and three lightly injured. The AP report skilfully managed to give the impression that the heavily armed Israeli attackers were in fact the victims. The AP version comes down to this (my paraphrase):
Armed to the teeth, the Israelis board a vessel in international waters with peaceful intent, only to meet with violent resistance from a bunch of potential terrorists consisting of members of parliament from Germany, Sweden, Ireland and Turkey. Among those on board: Nobel Peace Laureate Mairead Maguire of Ireland, Holocaust survivor Hedy Epstein, US diplomats Amb. Edward Peck and Col Ann Wright, not to mention peace activists from forty countries — including a US Navy survivor of Israel's infamous attack on the USS Liberty.
By some remarkable inversion of logic, all these highly respected humanitarian peace activists are portrayed as aggressors seeking a confrontation with peace-loving Israel, while their Israeli attackers are seen as defending themselves by opening fire on orange-vested civilians rash enough to resist their 'tough love' overtures. Israel naturally claims that there is no humanitarian crisis in Gaza. The Gazans are purportedly doing quite well under Israel's benevolent supervision. All Israel wants is to stop arms getting through. And of course cement — for what is the point of rebuilding all those demolished houses if Israel, in its compassionate wisdom, intends to demolish them all over again? AP fails to mention that a recent Amnesty International report stated that Israel's siege on Gaza had created a humanitarian crisis of horrendous proportions: that four out of five Gaza residents needed humanitarian assistance and that hundreds were waiting for medical treatment that is cruelly denied by Israel.
World in shock ~ link

Israeli Butchery At Sea by Gilad Atzmon ~ link ~
As I write this piece the scale of the Israeli lethal slaughter at sea is yet to be clear. However we already know that at around 4am Gaza time, hundreds of IDF commandos stormed the Free Gaza international humanitarian fleet. We learn from the Arab press that at least 16 peace activists have been murdered and more than 50 were injured. Once again it is devastatingly obvious that Israel is not trying to hide its true nature: an inhuman murderous collective fuelled by a psychosis and driven by paranoia.
For days the Israeli government prepared the Israeli society for the massacre at sea. It said that the Flotilla carried weapons, it had 'terrorists' on board. Only yesterday evening it occurred to me that this Israeli malicious media spin was there to prepare the Israeli public for a full scale Israeli deadly military operation in international waters. Make no mistake. If I knew exactly where Israel was heading and the possible
consequences, the Israeli cabinet and military elite were fully aware of it all the way along. What happened yesterday wasn't just a pirate terrorist attack. It was actually murder in broad day light even though it happened in the dark.
Yesterday at 10 pm I contacted Free Gaza and shared with them everything I knew. I obviously grasped that hundreds of peace activists most of them elders, had very little chance against the Israeli killing machine. I was praying all night for our brothers and sisters. At 5am GMT the news broke to the world. In international waters Israel raided an innocent international convoy of boats carrying cement, paper and medical aid to the besieged Gazans. The Israelis were using live ammunition murdering and injuring everything around them.
Today we will see demonstrations around the world, we will see many events mourning our dead. We may even see some of Israel's friends 'posturing' against the slaughter. Clearly this is not enough.
The massacre that took place yesterday was a premeditated Israeli operation. Israel wanted blood because it believes that its 'power of deterrence' expands with the more dead it leaves behind. The Israeli decision to use hundreds of commando soldiers against civilians was taken by the Israeli cabinet together with the Israeli top military commanders. What we saw yesterday wasn't just a failure on the ground. It was actually an institutional failure of a morbid society that a long time ago lost touch with humanity.
It is no secret that Palestinians are living in a siege for years. But it is now down to the nations to move on and mount the ultimate pressure on Israel and its citizens. Since the massacre yesterday was committed by a popular army that followed instructions given by a 'democratically elected' government, from now on, every Israeli should be considered as a suspicious war criminal unless proved different.
Considering the fact that Israel stormed naval vessels sailing under Irish, Turkish and Greek flags. Both NATO members and EU countries must immediately cease their relationships with Israel and close their airspace to Israeli airplanes.
Considering yesterday's news about Israeli nuclear submarines being stationed in the Gulf, the world must react quickly and severely. Israel is now officially mad and deadly. The Jewish State is not just careless about human life, as we have been following the Israeli press campaign leading to the slaughter, Israel actually seeks pleasure in inflicting pain and devastation on others.

Again, Zionists Set Up Jews for Holocaust by Dr. Henry Makow ~ link ~ Israel is the primary source of anti-Semitism in the world today, and jeopardizes the security of all Jews. Proclaiming itself the "Jewish State" but acting as a rogue state, Israel exposes all Jews to revulsion and retribution.

The murder of Gaza peace activists provides more evidence that the actual goal of Zionism is not to protect Jews from anti-Semitism but in fact, is to create anti-Semitism.

The purpose is to make Jews a pariah unto the nations with no choice but to follow Zionist dictates.

Eventually, they will be sacrificed for Zionist goals, as they were in the holocaust. This is because Zionism is a Masonic (Illuminati, cabalist, satanic) secret society intent on building a totalitarian New World Order. The majority of Jews have no part in this, except to be sacrificed again for a cause they have no inkling of.

Zionists are stripping Israelis and Jews of moral legitimacy so they can be liquidated again without any compunction. And most Israelis and Jews cooperate by supporting Israeli outrages with feeble excuses, blithely indifferent to the possible consequences.

Do the moral arithmetic: In 2006, Israel kills 1400 Lebanese and inflicts $10 billion in damage because 2 soldiers are captured. In 2009-10, Israel kills 1300 Gaza civilians and levels countless buildings because of a few popgun rockets. Now this- killing unarmed international peace activists bringing aid to the beleaguered Gazans.

JEWISH HOMELAND?

Israel would never have been created if it were only "a Jewish Homeland." Israel is intended to be the capital of the Rothschild Cabalist World Empire. Ordinary Jews have no role in this except as cannon fodder.

My grandparents died in the holocaust. I blame the Illuminati bankers who brought the Nazis to power. I blame the Zionists for collaborating with the Nazis. I blame the Zionists for preventing European Jews from being rescued. I blame Zionists for stopping aid from reaching ghettos. I blame Zionists for rounding up Jews and sending them to concentration camps. I blame Zionists for sabotaging Jewish resistance.

Israel was not created as result of the holocaust. It was the other way round. The Nazis were brought to power partly to force Jews to set up Israel for the Rothschilds and the Illuminati.
Brave Israeli Commandos Slaughter Aid Activists At Sea ~ link ~ Even America's major media can't duck a crime this grave - attacking and slaughtering up to 20 Gaza Freedom Flotilla activists and injuring dozens more.
The activists, in fact, were unarmed civilians, delivering vitally needed humanitarian aid to 1.5 million Gazans, trapped under siege for three years this month. Without provocation, they were maliciously and willfully attacked in international waters by armed Israeli commandos with orders to open fire if the convoy failed to abort its mission.




The best Journal writer Joshua Mitnick could say was "whether the military action was warranted or not (it) threatens to further sully Israel's international reputation, after a series of recent diplomatic setbacks."




No mention of the Gaza war, daily West Bank and East Jerusalem incursions, the three-year siege, a 43-year occupation, daily killings, targeted assassinations, homes bulldozed, mass arrests, torture, and Palestinian communities throughout the Territories and in Israel threatened by daily terror.
Turkey to Assume UN Security Council Presidency in June ~ link ~

That should prove interesting.



Turkey withdraws ambassador as deadly Israeli raid on Gaza boats sparks protests, condemnation ~ link ~ Turkey withdrew its ambassador to Israel and called for an emergency session of the U.N. Security Council as criticism and condemnations arose across Europe and the Arab world Monday over Israel's deadly commando raid on ships taking humanitarian aid to the blockaded Gaza Strip.
Turkey's prime minister said that Israel had violated international law and shown that it does not want peace in the region.
"It should be known that we are not going to remain silent in the face of this inhumane state terrorism," Prime Minister Recep Tayyip Erdogan.
Turkey Issues Stark Warning To Israel Following Aid Convoy Attack ~ link ~ Turkey has warned Israel of "irreparable consequences" following the deaths of up to 19 people when Israeli commandos moved to prevent a flotilla of boats from carrying aid to Gaza.
Violent protests in Turkey; Israeli envoy summoned ~ link ~ "We were not expecting such an operation in international waters," Omer Faruk Korkmaz, an official of the pro-Islamic aid group, IHH, that led the aid shipment said in Turkey. "Israel has been caught redhanded and the international community will not forgive it."
Turkey recalls envoy over Gaza Flotilla deaths, accuses Israel of 'State Terrorism' ~ link ~ Turkish Prime Minister Tayyip Recep Erdogan said the incident represented a complete violation of international law.
"This action, totally contrary to the principles of international law, is inhumane state terrorism. Nobody should think we will keep quiet in the face of this," Erdogan told reporters from Chile, where he was cutting short an official visit to Latin America to deal with the crisis.
The ministry said that Israel had violated international law and must now carry the consequences."The interception on the convoy] is unacceptable ... Israel will have to endure the consequences of this behavior," it said in a statement.
Murat Mercan, a lawmaker from Prime Minister Recep Tayyip Erdogan's ruling party, said: "I was expecting an intervention. I was not expecting bloodshed, the use of arms and bullets."
"Israel is engaged in activity that will extremely hurt its image," he said. Erdogan, meanwhile, cut short a trip abroad to deal with the incident.

Israeli commando gun down 19 peace activists in raid on Gaza ships with 28 Britons on board ~ link ~

.
A team of masked Israeli military personnel seen on board one of their ridge boats after the raid
Cynthia McKinney condemns Israeli massacre of activists ~ link ~ Finally, a friend just sent a message to me saying that the Israelis had lost their minds. Sadly, based on the past, the Israelis could very well conclude that they can do anything–imprison me for trying to take love to the children of Gaza and kill humanitarian activists trying to do the same–because they know, in the end, they'll get away with it. Instead, I would suggest that we are the ones who have lost our minds, our souls, our spirits, and our human dignity if we allow the Israelis to get away with murder–again–and we do nothing.
Israel stations up to three subs with nuclear weapons armed cruise missiles off Iran ~ link