Holy Shroud of Turin
Powerful prayer to St. Michael the Archangel - video ~
link
Lord Stirling's news blog EUROPE
Please forward this site to several friends, thanks.

Stirling
1,083 daily postings to this news blog as of today.
LIFE ON THIS EARTH JUST CHANGED - Death of the North Atlantic Current

~ link ~
The coverage that this article that Dr. Deagle and myself wrote, has been great on the Internet.

UPDATED 23 November 2010
Current status of the Gulf Stream ~ link
RTOFS (Atlantic) Graphic Nowcasts/Forecasts - Latest Surface Horizontal Current ~ link
RTOFS (Atlantic) Graphic Nowcasts/Forecasts - Latest Surface Temperature ~ link
T
hree Video Interviews With Lord Stirling by Renowned Video Webcaster Morris Herman of England ~

link ~

link ~

link
Risk of Global Climate Change By BP Oil Spill by Dr. Gianluigi Zangari ~
link
Ancient Scottish Barony Title for sale. There are about 100 Scottish feudal baronies t
hat still exist; only a handful are from the very ancient Baronage of the Isles, as this one is. In a time of economic crisis, it pays to put some of your wealth into important artwork, properties, etc. of rare value. This is one of the most rare things that can be purchased and held. For sale at US$150,000

~ link
Preliminary War Warning for the Koreas, Japan, Russian Far East, South China:
Persons in these areas should be prepared to move to nuclear/biological/chemical defense shelters at any time. Conditions are indicative of a pre-war/near-war environment. Large American/South Korean naval forces are engaged in 'war games' just offshore of North Korea and near China. The Philippines are moving to get their workers out of South Korea. The North Koreans have recalled tens of thousands of their workers from Russia to North Korea with little publicity. This latter event is most troubling. If you are traveling in/to this part of the world, you should delay you trip until things settle down, if in fact that happens. Pray for peace.
Stirling
Expats recalled as North Korea prepares for war

~ link ~
Bad sign, really bad sign. Stirling
A mass exodus of North Korean workers from the Far East of Russia is under way, according to reports coming out of the region. As the two Koreas edged towards the brink of war this week, it appears that the workers in Russia have been called back to aid potential military operations.
Vladnews agency, based in Vladivostok, reported that North Korean workers had left the town of Nakhodka en masse shortly after the escalation of tension on the Korean peninsula earlier this week. "Traders have left the kiosks and markets, workers have abandoned building sites, and North Korean secret service employees working in the region have joined them and left," the agency reported.
US and South Korea begin military exercises

~ link ~Also see:

North Korea moves missiles to firing positions in disputed area

~ link
South Korea and the United States have begun four days of joint military exercises in the waters off the Korean west coast.
The US aircraft carrier the USS George Washington and four other US navy vessels are being joined by South Korean destroyers, patrol vessels, frigates, support ships and anti-submarine aircraft.

The drills are taking place about 125km (77 miles) south of the disputed maritime border between the two Koreas, about 40km off the Korean coast.
Iran - Korea Nuclear Lies - Orders From Tel Aviv

~ link ~

This is a very good article that I highly recommend my readers taking the time to view.

Stirling
The Threat of War in Korea: Philippines prepares for possible mass evacuation from South Korea, requests Japan's aid

~ link ~

DAMN! Take this seriously folks.
Philippine President Benigno Aquino has held talks with Japanese Ambassador Makoto Katsura in Manila on the possible immediate evacuation of some 50,000 Filipinos from South Korea to Japan, NHK television reported on Saturday.
President Aquino's concerns come after reports of a U.S. naval task force led by the George Washington nuclear-powered aircraft carrier that will join South Korean warships in naval exercises on November 28-December 1.
The drills will be held in the wake of a recent military clash between North Korea and South Korea. The South claimed it returned fire after the North opened artillery fire on Yeonpyeong Island in the Yellow Sea on Tuesday, killing at least two South Korean marines and two civilians. Sixteen others were injured, along with three civilians.
Aquino held an extraordinary meeting with government officials to inform them of the need to be prepared for the evacuation of Filipinos living and working in South Korea, adding that their evacuation to the Philippines would take much time and "the closest country to South Korea is Japan."
THK television neither reported on how such an evacuation would occur nor on Japan's actions should it need to accept 50,000 Filipino refugees.
US and South Korea push ahead with war games

~ link ~
The United States and South Korea prepared for war games Sunday as South Koreans demanded vengeance over a deadly North Korean artillery bombardment that has raised fears of more clashes between the bitter rivals.
The North, meanwhile, worked to justify one of the worst attacks on South Korean territory since the 1950-53 Korean War. Four South Koreans, including two civilians, died after the North rained artillery on the small Yellow Sea island of Yeonpyeong, which is home to both fishing communities and military bases.
North Korea said civilians were used as a "human shield" around artillery positions and lashed out at what it called a "propaganda campaign" against Pyongyang. It claimed the United States orchestrated last Tuesday's clash so that it could stage joint naval exercises in the Yellow Sea with the South that include a U.S. nuclear powered supercarrier - enraging the North and making neighboring China uneasy.



China Warns US as Korea Tensions Rise

~ link ~It takes a lot to convince a couple of billion people that their nations should engage in the Third World War. That is what is going on now, the psych ops getting us ready for WWIII. Stirling



North Korea accuses South of using 'human shields'

~ link ~ KCNA said Seoul was using the civilian casualties for propaganda, in its words "creating the impression that the defenceless civilians were exposed to indiscriminate shelling from the North". Pyongyang said it had been provoked by the South's military exercises, which were being carried out close to Yeonpyeong. It said the North had sent a "telephone notice" on the morning of the shelling "to prevent the clash at the last moment" but the South continued its "provocation".
North Korea: Timeline 2010
26 March: South Korean warship, Cheonan, sinks, killing 46 sailors
20 May: Panel says a North Korean torpedo sank the ship; Pyongyang denies involvement
July-September: South Korea and US hold military exercises; US places more sanctions on Pyongyang
29 September: North holds rare party congress seen as part of father-to-son succession move
29 October: Troops from North and South Korea exchange fire across the land border
12 November: North Korea shows US scientist new - undeclared - uranium enrichment facility
23 November: North shells island of Yeonpyeong, killing at least four South Koreans



Will Hezbollah Defeat Israel (Again) in the Coming War Part I

~ link ~

Can Israel Defeat Hezbollah in the Coming War Part II

~ link ~
Wikileaks - Israeli Mossad Operation

~ link ~
The "Iraq War Log" was, well…phony. There is one thing that has been consistent about Wikileaks and our prediction is that this next batch, reputed to be millions of highly sensitive documents, will prove our point. Wikileaks is Israel.
Wikileaks is an intelligence operation to weaken and undermine the American government, orchestrated from Tel Aviv, using dozens of operatives, dual citizens, some at the highest authority levels, spies for Israel. Through leaking carefully selected intelligence along with proven falsified documents, all fed to a controlled press, fully complicit, Wikileaks is, in fact, an act of war against the United States.
This last week, in a lawsuit over an AIPAC, (Israel's lobby) employee reputedly fired for being caught spying against the US, news stories across the United States reported that, as part of that $20 million civil case, evidence will be presented that masses of classified material come to AIPAC and Israel continually. Is AIPAC Wikileaks? The only evidence of any massive leak discovered in the Pentagon is AIPAC.
Pentagon to test 2nd near-space strike craft

~ link ~ Interesting technology, I was writing about how to do this over 25 years ago when I was a senior consultant to a high-tech aerospace start-up firm. Stirling
Defense Department scientists are set to conduct a second test launch next year of the Falcon HTV-2 experimental superweapon after the first flight this year ended when the autopilot deliberately crashed the unmanned glider into the ocean as a safety measure.
The Falcon Hypersonic Test Vehicle is designed to skim the top of the atmosphere just below space, and is a key element of the Pentagon's Conventional Prompt Global Strike (CPGS) capability — a program to build non-nuclear strategic weapons that can strike conventionally anywhere in the world in less than an hour.
No let-up in big freeze across United Kingdom

~ link ~
The BP Gulf Oil Disaster caused change in weather patterns continue to get worst for the UK and parts of Europe. Stirling
Up to 40cms (16in) fell in parts of north-east England and Scotland on Saturday - with more to come overnight and on Sunday.
Met Office severe weather warnings for heavy snow remain in place for many parts of Scotland, Northern Ireland, north east England, and Yorkshire and Humber.

BBC forecaster Peter Gibbs said there would be more heavy snow in north-east England and eastern and southern Scotland, and this snow would start to drift
*100,000+ protest against Irish bailout

~ link ~ link ~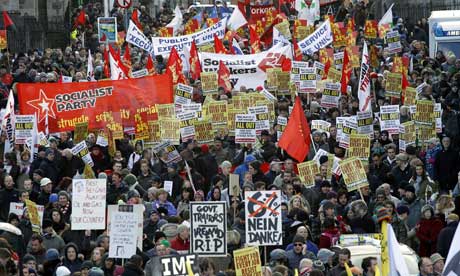 Despite overnight snow storms and freezing temperatures, huge crowds have gathered in O'Connell Street to demonstrate against the cuts aimed at driving down Ireland's colossal national debt.

Among the marchers there is deep anger that most of the more than €80bn (£67bn) from the EU and the International Monetary Fund will be given to shore up Ireland's ailing banks.
Marching in the rally was Irish builder Mick Wallace who has had to lay off 100 workers due to the crash in the construction industry. Wallace said it was time the Irish became more militant. "We should be more like the French and get onto the streets more often. Because our politicians go over to Europe and tell the EU that our people do not demonstrate, they don't take to the streets. It's time we changed that and openly opposed what is going on," he said.
*Irish banks get downgraded as bailout fears grow

~ link ~
Gurdgiev said it was inevitable that the emerging EU-IMF bailout would require even senior bondholders to take "a haircut" — lose part of their stake — on the money they could claim back on their loans to Ireland's debt-crippled banks. "It's becoming clearer by the day there is really no other solution," he said.
In the northwest county of Donegal, an Irish nationalist who has vowed to vote against Ireland's austerity plans won a seat in parliament, cutting Cowen's majority to just two seats.

Sinn

Fein

candidate Pearse Doherty said his dominant performance in a six-candidate field showed that people want to elect a new government that will force foreign banks, not Irish taxpayers, to bear the cost of Ireland's enormous financial crisis.

Doherty had successfully sued the government over its 17-month refusal to permit an election in Donegal, given Cowen's unpopularity and narrow hold on power.
Voters "are telling

Brian

Cowen

to get out of office. It's not clear that this budget will pass. It is completely unfair and unjust to attack the weakest and most vulnerable in this society," Doherty said. "The government should suspend the budget, call a general election, and let the people have their say."
Cowen is unveiling an emergency budget Dec. 7 that seeks to cut euro6 billion ($8 billion) from Ireland's 2011 deficit. He and European officials say that budget must be passed to clear the way for the EU-IMF bailout loan for Ireland. Ireland's 2010 deficit is running at 32 percent of GDP, the highest in Europe since World War II.

The country's severe financial problems are rooted in its enormous bailout of Irish banks

who gorged themselves on overpriced real estate.
*Dublin protesters march against cuts as bail-out looms - with video

~ link ~ Austerity Fascism means poverty for the masses and a massive rip-off by the banksters. Stirling
Protest leaders said it was the first of many demonstrations over plans to raise taxes and cut public spending. The austerity programme is designed to cut the Irish Republic's massive government deficit, exacerbated by the rescue of the country's banks.
A spokesman for the Irish Congress of Trade Unions president, Macdara Doyle, told the BBC that the protest was designed to send out a clear message: "We're trying to convince government and show government that there's no support for their plan amongst civic society and that every measure they have taken to date has been exactly the opposite of what they need to do. "Our fears about the new budget is that it's deflationary multiplied by ten. It's taking far too much money out of the economy and whatever possible chance there is of, some sort of growth taking hold in the economy will be killed by this proposed budget."
*Protest march in Dublin: Austerity measures prove to be unpopular, to say the least

~ link ~ Give the banksters hell, that is where they are going anyway. Stirling
*
Iceland is no Ireland as State is Free of Bank Debt says Icelandic President

~ link ~ link ~
"The difference is that in Iceland we allowed the banks to fail," Grimsson said in an interview with Bloomberg Television's Mark Barton today. "These were private banks and we didn't pump money into them in order to keep them going; the state did not shoulder the responsibility of the failed private banks."
*Spain's PM vows deficit reduction amid crisis

~ link ~
Government for and by the global banking families. Stirling
"The government is committed to austerity, to reducing the deficit," Zapatero said Saturday, seeking to reassure investors that his government is taking the threat to its economy seriously.
*Protesters hits Italian streets for 2nd day

~ link ~
The Daily Telegraph reported students blocked entrance to the Colosseum in Rome and the Leaning Tower of Pisa, and rallied in cities across the country in opposition to spending cuts planned by the government of Prime Minister Silvio Berlusconi.
The British newspaper said demonstrators and police clashed in Milan, Florence and Bologna. In Turin and Palermo, participants blocked traffic and set off smoke bombs, while students occupied university buildings in Naples, Ancona and Cagliari.
Everything Is A Lie: The Deliberate Intent to deceive people is at an ALL TIME HIGH

~ link ~ That is another sign that we are in the End Times. Satan, the Father of all Lies, has become very powerful. The more powerful he becomes the more war, death, horror is coming our way. Stirling
Thailand aborted babies bodies break abortion taboo

~ link ~ The slaughter of innocent unborn babies is a grave crime against God and mankind. That it is happening in such large numbers is another sign that a great evil is upon us. Stirling
In a quiet corner of a Buddhist temple in Bangkok, an impromptu shrine has been created. Cartons of milk and children's toys have been placed on the ground in front of an unimposing grey building divided up into small compartments marked by padlocked doors.
This is the temple morgue, where bodies are stored before being cremated. But the shrine is unusual. The offerings have been left to ease the transition of restless souls from this life to the next: the souls of 2,002 aborted foetuses that were recently discovered behind the locked doors.
Intraspecies Predator: How A Psychopath Sees The World - video

~ link
What Good Is Wall Street

~ link ~
Much of what investment bankers do is socially worthless.
Doctors sound
TSA germ alert
~ link ~
Syphilis, lice, gonorrhea, ringworm, chlamydia, staph, strep, noro and papilloma viruses all are part of the possible fringe benefits when airline passengers next go through a full hands-on pat-down by agents of the federal government's
Transportation
Security Administration, according to doctors.
WND reported two days ago on alarmed passengers who noted that TSA agents doing the pat-downs that have been described by critics as molestation since they include touching private body parts were not changing gloves between passengers. In fact, some apparently were patting down dozens of passengers or more wearing the same gloves.
Is squirrel the
perfect austerity dish
~ link ~
I prefer the Red-Tailed Squirrel over the Gray Squirrel; I like mine barbecued. It has been years, however since I had any. Stirling