Holy Shroud of Turin
Powerful prayer to St. Michael the Archangel - video ~
link
Lord Stirling's news blog EUROPE
Please forward this site to several friends, thanks.

Stirling
1,080 daily postings to this news blog as of today.
LIFE ON THIS EARTH JUST CHANGED - Death of the North Atlantic Current

~ link ~
The coverage that this article that Dr. Deagle and myself wrote, has been great on the Internet.

UPDATED 23 November 2010
Current status of the Gulf Stream ~ link
RTOFS (Atlantic) Graphic Nowcasts/Forecasts - Latest Surface Horizontal Current ~ link
RTOFS (Atlantic) Graphic Nowcasts/Forecasts - Latest Surface Temperature ~ link
T
hree Video Interviews With Lord Stirling by Renowned Video Webcaster Morris Herman of England ~

link ~

link ~

link
Risk of Global Climate Change By BP Oil Spill by Dr. Gianluigi Zangari ~
link
Ancient Scottish Barony Title for sale. There are about 100 Scottish feudal baronies t
hat still exist; only a handful are from the very ancient Baronage of the Isles, as this one is. In a time of economic crisis, it pays to put some of your wealth into important artwork, properties, etc. of rare value. This is one of the most rare things that can be purchased and held. For sale at US$150,000

~ link
*Strike against austerity cuts brings Portugal to a halt

~ link ~ Also see this video link ~ The people of Portugal, like a very large part of the world, are being screwed by the global banking cartel. They are the ones that set up China to destroy the manufacturing bases of North America and Europe, along with Japan and other first world nations. They are the ones that engage in the trade of sovereign debt and act as/control most of the central banks on Earth. They are total parasites. There is no reason, no good reason, for their existance. They exist because they bribe the corrupt political classes. If the masses want to change things, they have to force their countries "leadership" to dump the global bankers, the EU (which the Rothschilds set up and organized), the IMF, and globalism. Stirling
The country's main unions, the UGT and CGTP, hope the 24-hour action will be the most effective in two decades.
Nearly 80% of trains were not running, and bus and ferry links in Lisbon were disrupted, along with the metro service

Both air traffic controllers and airport ground handling operators were on strike, meaning dozens of flights in and out of Lisbon had to be cancelled or rescheduled

All of the country's ports were closed, according to the unions

Fewer than 10% of the workforce at Volkswagen's Autoeuropa plant near Lisburn turned up for work, according to unions
The country found it especially difficult to compete with China in a previously strong sector, the manufacturing of textiles and shoes.
With 80% of its public debt held abroad, Portugal now finds itself at the mercy of bond traders and wants to convince the markets that it will be able to meet its commitments, our correspondent says.
*Irish unveil tough austerity plan

~ link ~ Tough on the people of Ireland, wonderful for the banksters! The only reason for this evil nonsense is that the corrupt Irish political class agreed to dump the debts of the corrupt banks on the backs of the Irish people. Austerity fascism means poverty and the death of the Middle Class and any hope for a better future for us all. Stirling
The recovery plan outlines plans to cut 24,750 public sector jobs, achieve savings in social welfare spending of 2.8bn euros, and raise an additional 1.9bn euros from income tax.
The government will also reduce the minimum wage by 1 euro, to 7.65 euros an hour, and raise VAT from 21% to 22% in 2013, with a further increase to 24% in 2014.
Finance minister Brian Lenihan said the government would also introduce a property tax, called a site value tax, which will cost most homeowners up to 200 euros a year by 2014.
He added that the spending cuts would be concentrated in areas of highest spending - pay, pensions and social welfare.
*Huge cuts revealed in Irish budget

~ link ~
also see link ~ Measures include cutting social welfare by 3 billion euro (£2.5 billion), reducing the public sector pay bill by 1.2 billion euro (£1 billion) and increasing VAT by 2%.
Tens of thousands of students were joined by lecturers and parents during a national day of action against the controversial changes.
The clashes centred around a stranded police van that was ransacked and looted a short distance from the entrance to Downing Street. Police were forced to "kettle" hundreds of protesters for around four hours a short distance from the Houses of Parliament as tensions ran high. The tactic was widely criticised after around 5,000 people were penned in outside the Bank of England during the G20 protests last year.
Thousands also joined protest marches in Manchester, Liverpool and Brighton as pupils walked out of school in Winchester, Cambridge, Leeds and London.
Meanwhile students occupied buildings in Oxford, Birmingham, Cambridge, Bristol, Plymouth and in the capital. Two protesters were arrested in Cambridge for obstruction, one in Liverpool for egg throwing and four in Manchester for public order offences and obstruction. Two people, a 15-year-old boy and 41-year-old man, were also arrested in Brighton. In London, protesters had planned to demonstrate outside the Liberal Democrat headquarters, after leaders said they will break a pledge to abolish tuition fees.
*London: Police lines surround student tuition fee protesters - with video

~ link ~
Marches, walkouts and protest events have taken place at universities and colleges across the country. There were 3,000 marchers in Manchester and similar numbers in Liverpool and Brighton and an estimated 2,000 at a protest in Bristol. School pupils walked out of lessons in Winchester, Cambridge, Leeds and London. Students were protesting against plans to increase tuition fees in England to £9,000 per year and to withdraw public funding for university teaching budgets for many subjects.
Protest leaders have claimed that an "unprecedented wave of student revolt is unfolding" - and they say they are following in the spirit of student protests of 1968.
*Protests erupt across EU over swath of cuts by governments in debt - video

~ link
Snow may cover 90% of UK by End of November with 6 inches in London

~ link ~ It is nice to be right but not always. It appears that Dr. Deagle and Dr. Zangari and I were correct about the longer terms effects of the Death of the Loop Current in the Gulf of Mexico from the massive amount of oil in the Gulf from the BP Oil Spill. A 90% snow cover of the entire United Kingdom in late November is unheard of. Other parts of Europe are also being hit. This could be the start of a mini-Ice Age for Europe. Stirling
Snow is forecast to cover as much as 90 percent of the U.K. by Nov. 29 with six inches in London as cold weather approaches, according to weather forecasts. There may be as much as six inches (15 centimeters) of snow in southeast England, northeast England and much of Scotland, British Weather Services, which sells forecasts to businesses including energy companies, said in an e-mail.
"We expect the country to be whitened out," Jim Dale, a senior meteorologist at British Weather Services in High Wycombe, England, said by telephone. "There's a good chance we could be waking up to large volumes of snow." Snowfall is also forecast across the rest of Europe, particularly across the Alps and Scandinavia, he said.
Snow is going to come "progressively as we get to the end of this week and into next," Dale said. "On current trends, we can't see an end to this until mid-December."
Also see: Snowfall disrupts Germany and Denmark road traffic ~
link
~
Also see: Utah: Impending blizzard a reminder of other harsh storms ~ link
China urged to 'act' on North Korea - with video

~ link ~
The US, which is due to hold joint military drills with the South from this Sunday, urged China to take a tougher stance with its ally.
"China does have influence with North Korea and we would hope and expect that China will use that influence," said Mr Crowley.
South Korea warns of 'enormous retaliation' - Two Koreas on brink of war as pressure mounts for response

~ link ~
Any new Korean War would likely involve the use of weapons of mass destruction early on, perhaps from day one. The North has a vast chemical warfare arsenal, as well as biological weapons, and a number of nuclear warheads. The South is well equipped but with much smaller forces and the capital is very close to North Korea, and North Korean artillery and rocket fire, which can include the use a chemical weapons that could kill millions, is a grave danger to Seoul. The South can count on American nukes in a all-out war. The inter-Korean border is perhaps the most dangerous place on earth. The nuts in the North are more dangerous than the Iranians and Israelis combined. Stirling
US sending USS George Washington super-carrier battle group to South Korean waters for war games

~ link ~ link ~ These war games, while previously planned, will increase the level of tension and dangers. Stirling
Rising Tension: Korea-stone Cops: The Shelling of One of 30 Disputed Islands

~ link ~
The skirmish began Tuesday when North Korea warned the South to halt military drills at the base, after which Seoul began firing artillery directly into disputed waters within sight of the North Korean shore. The North retaliated by shelling the Yeonpyeong military installations. Seoul responded by unleashing its own barrage of howitzers and scrambling fighter jets over the North, killing far more North Koreans though the actual number is not yet know.
AIPAC spying: Why is the FBI looking the other way

~ link ~
IPAC is a sham. The group has, over the years, destroyed anyone who has tried to have it named what it really is, a dangerous foreign lobby and nest of spies. AIPAC is the most feared organization in Washington and most powerful, above any law. A former employee of AIPAC, Steve Rosen, who AIPAC claims was a spy, more appropriately a "caught" spy, now claims his former employer does nothing but spy.
Rosen stands to get $20 million in his defamation lawsuit against AIPAC. He isn't without motive but we have also learned that Rosen has considerable documentation of AIPAC receiving and disseminating classified information, received from, well, we have to call them traitors, inside the US government.
New Zealand traumatized by Pike River mine disaster

~ link ~
New Zealand has begun to mourn 29 miners who were declared dead earlier after a second explosion ripped through the shaft where they were trapped.
New Zealand miners 'would not have survived second blast'

~ link ~
All 29 miners trapped in a New Zealand mine after an explosion were presumed dead today after a second blast occurred, rescuers said.
Police said the workers would not have survived the "horrific" second explosion and rescue teams were "now in recovery mode".
Tears as last Harrier jets leave Ark Royal

~ link ~ link ~ link ~
I must tell you that not having any Harrier jets on the remaining British carrier is crazy. Just as the decision to mothball the radar equipped Sea Harriers a number of years ago was crazy. Why have carriers if you cannot fly jet fighters from them that can defend the fleet and take action on-shore! The UK has wasted vast sums of its defense budget on two unnecessary wars in the Middle East, Iraq and Afghanistan. The Sea Harriers and Harriers should be retained until the new F-35s are operational. That simply makes sense. Stirling Also see: Profile of HMS Ark Royal ~ link ~
Police and Christians clash in Egypt over church

~ link ~

I am told, by a Egyptian priest that I know, that things are far worst for Christians that most know.

Stirling
Congressman Ron Paul:

Crotch groped by TSA - Calls for boycott of airlines

~ link ~

It does appear that most people are boycotting the airlines this Thanksgiving holiday. Hit them where it hurts, in the pocketbook!

Stirling
TSA

spreading diseases

~ link ~
Those latex gloves Transportation
Security
Administration agents wear while giving airline passengers those infamous full-body pat-downs apparently aren't there for the safety and security of passengers – only the TSA agents.
That's the word being discussed on dozens of online forums and postings after it was noted that the agents wear the same gloves to pat down dozens, perhaps hundreds, of passengers, not changing them even though the Centers for Disease Control in its online writings has emphasized the important of clean hands to prevent the exchange of loathsome afflictions.
"Herpes via latex glove ... ewwww," wrote one participant on the independence-minded AR15 website forum.
Responding to the question, "Does the TSA change latex gloves after each sexual assault?" another wrote on the same forum, "I seriously doubt it. Gloves are for their protection, not yours."
Woman:

TSA agents singled me out for my large breasts

~ link ~ Americans need to force the government to stop this crap NOW! Stirling
Poll:

61% of Americans oppose TSA's new airport "security" measures

~ link ~
On the eve of one of the nation's busiest travel days, a poll has found that 61% of likely voters oppose the newly enhanced security measures at the country's airports.
The poll by Zogby International of 2,032 likely voters also found that 48% said they would probably seek alternatives to flying because of the new measures.
Prosthetics become source of shame

at airport screenings - with video

~ link ~ Take the time to view the video. What is shameful is that we Americans are allowing the evil trash in Washington to force this Stalinist crap on us. We should NOT tolerate this! Stirling
Police State USA:
TSA Gestapo Empire
~ link ~
It doesn't take a bureaucrat long to create an empire. John Pistole, the FBI agent who took over the Transportation Security Administration on July 1 told USA Today 16 days later that protecting trains and subways from terrorist attacks will be as high a priority for him as air travel.
It is difficult to imagine New Yorkers being porno-screened and sexually groped on crowed subway platforms or showing up an hour or two in advance for clearance for a
15 minute subway ride, but once bureaucrats get the bit in their teeth they take absurdity to its logical conclusion. Buses will be next, although it is even more difficult to imagine open air bus stops turned into security zones with screeners and gropers inspecting passengers before they board.
Will taxi passengers be next? In those Muslim lands whose citizens the US government has been slaughtering for years, favorite weapons for retaliating against the Americans are car and truck bombs. How long before Pistole announces that the TSA Gestapo is
setting up roadblocks on city streets, highways and interstates to check cars for bombs?
That 15 minute trip to the grocery store then becomes an all day affair.
Indeed, it has already begun. Last September agents from Homeland Security, TSA, and the US Department of Transportation, assisted by the Douglas County Sheriff's Office, conducted a counter-terrorism operation on busy Interstate 20 just west of Atlanta, Georgia. Designated VIPER (Visible Inter-mobile Prevention and Response), the operation required all trucks to stop to be screened for bombs. Federal agents used dogs, screening devices, and a large drive-through bomb detection machine. Imagine what the delays did to delivery schedules and truckers' bottom lines.
There are also news reports of federal trucks equipped with backscatter X-ray devices that secretly scan cars and pedestrians.
Full-body scanners

popping up at courthouses in USA

~ link ~ See how the fascist nonsense spreads if the people allow it! Stirling
Taking a trip during the holidays isn't the only time that people might get a full-body scan to pass through security. People heading to court to testify, get a restraining order, pay a ticket or answer criminal charges could also face a full-body scan at courthouses.
The U.S. Marshals Service, which is in charge of protecting federal judges nationwide, is exploring their use at federal courthouses. And two state courthouses in Douglas and El Paso counties in Colorado have already deployed full-body scanners that use radio waves to detect all objects on a person, including paper.
Continuity of Government:
Is the State of Emergency Superseding our Constitution
~ link ~
China and Russia quit dollar for trade between themselves

~ link ~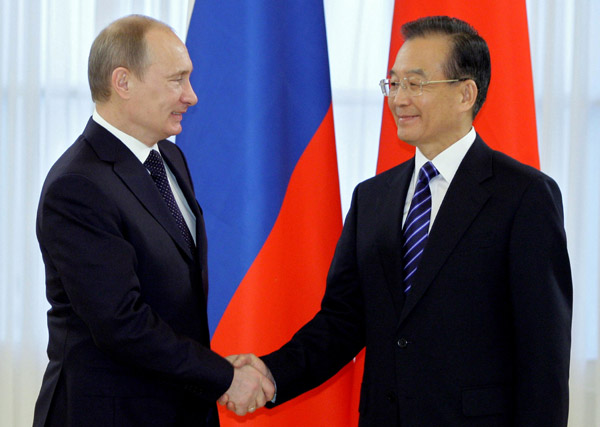 Anglican African archbishops reject 'fatally flawed' effort to unify Anglicans

~ link ~
The future of the Anglican Communion was thrown into doubt today after religious leaders in Africa withdrew their support for an initiative aimed at maintaining a truce over issues such as homosexuality, just as the Church of England gave the plan its overwhelming approval.
Traditionalist archbishops of Kenya, Nigeria, Rwanda, Tanzania, Uganda and west Africa, described the text of the Anglican Covenant as "fatally flawed" and said that supporting it was no longer appropriate, exposing the deep rifts within the church. They represent six of the 38 provinces needed to make the covenant work. Instead they invited churches in England and elsewhere to adopt an alternative doctrinal statement of beliefs. Called the Jerusalem Declaration, it advocates "the unchangeable standard of Christian marriage between one man and one woman as the proper place for sexual intimacy and the basis of the family" and the rejection of "those churches and leaders who have denied the orthodox faith in word or deed".