Holy Shroud of Turin
Powerful prayer to St. Michael the Archangel - video ~
link
Lord Stirling's news blog EUROPE
Please forward this site to several friends, thanks.

Stirling
1,073 daily postings to this news blog as of today.
Global Changes from the Dying Gulf Stream and already dead North Atlantic Current
LIFE ON THIS EARTH JUST CHANGED - Death of the North Atlantic Current

~ link ~
The coverage that this article that Dr. Deagle and myself wrote, has been great on the Internet. However, the corporate owned Mainstream News Media have embargoed the story. Please forward the story to as many sites and people as you can, and to your local newspaper

UPDATED 5 October 2010

- Thanks
Current status of the Gulf Stream ~ link
RTOFS (Atlantic) Graphic Nowcasts/Forecasts - Latest Surface Horizontal Current ~ link ~
This shows North Brazil Current beginning to loop back into itself. Possible death of entire Thermohaline Circulation System.

Updated to latest setting.
RTOFS (Atlantic) Graphic Nowcasts/Forecasts - Latest Surface Temperature ~ link
T
hree Video Interviews With Lord Stirling by Renowned Video Webcaster Morris Herman of England ~

link ~

link ~

link
Video on the Gulf Stream and its connection to any future Ice Ages ~

link
Risk of Global Climate Change By BP Oil Spill by Dr. Gianluigi Zangari ~
link
Ancient Scottish Barony Title for sale. There are about 100 Scottish feudal baronies that still exist; only a handful are from the very ancient Baronage of the Isles, as this one is. In a time of economic crisis, it pays to put some of your wealth into important artwork, properties, etc. of rare value. This is one of the most rare things that can be purchased and held. For sale at US$150,000

~ link
H.R.H. Prince William of Wales and Ms. Kate Middleton announce their engagement - He gives her his mother's famous engagement ring - with video

~ link ~ The best of luck to them. Stirling
Israel's Fisher Says Criticism Of His Former Pupil Bernanke's QE2 'Misplaced'

~ link ~
Bank of Israel Governor
Stanley Fischer
said criticism of the U.S. Federal Reserve for its latest round of monetary stimulus is "fundamentally misplaced."
Fischer, 67, was a professor at the Massachusetts Institute of Technology and served as Bernanke's adviser on his graduate thesis. From 1988 to 1990, Fischer was chief economist at the Washington-based World Bank. At the International Monetary Fund during the 1990s, he worked to resolve financial crises in Mexico, Russia and Southeast Asia. From 2002 to 2005, Fischer was vice chairman of Citigroup Inc.
Revolution against Central Banks

~ link ~
Nothing is more destructive on the planet than the insidious enslavement of humanity at the hands of central banks. The concept of debt created money violates every axiom of logic and common sense. Self-interest should be a primordial instinctive drive. Christendom once condemned usury through a
papal prohibition
that it was a sin to charge interest on a money loan. The
Qur'an
teaches, "The usury that is practiced to increase some people's wealth, does not gain anything at God". However, the Hebrew Bible makes an exception,
Deuteronomy
23:21 "Unto a foreigner thou mayest lend upon interest; but unto thy brother thou shalt not lend upon interest".
Where is the self-interest of the masses that accepts the ruthless theft from the ultimate crime? The helplessness of individuals to resist the cabal of greed is obvious. The literal acceptance of rabbinical Talmudic opportunism is the basis of central banking deception. Let's be perfectly clear,
When Victims Rule
provides the contrast.
*Is Europe Coming Apart Faster Than Expected

~ link
The sky is black with PIIGS coming home to roost: I was going to write my customary long and boring think piece—but the simmering crisis in the Eurozone just got the heat turned up: Things are boiling over there!
The bond markets have no faith in Ireland—Greece has been shown up as having lied
again
about its atrocious fiscal situation—and now Portugal is teetering—
—in other words, the PIIGS are screwed. I would venture to guess that we are about to see this slow-boiling European crisis bubble over into a full blown
meltdown
over the next few days—and it's going to get messy.
*Debt tensions flare up as Ireland denies bailout

~ link ~
The flare-up in tension adds to pressure on EU finance ministers, who will be in
Brussels
Tuesday for their monthly meeting.
After spending their recent gatherings focusing on crisis prevention, a week long sell-off of Irish and Portuguese bonds has thrown them back into crisis management.
*Max Keiser: Irish government slaves to IMF terror machine! - video

~ link
*IMF - International Monetary Fraudsters! The Banksters Are Going To Rape Our Country - Because We're Asking For It!

~ link ~
The article below from the Irish Independent, informing' the Irish people that they must go to the IMF, coming from a former chief economist from the IMF, is nothing less than a pathetically thinly disguised piece of propaganda portraying the pirates of the IMF as benevolent bankers who care for the welfare of the Irish people.
Ask any ordinary person in the Third World after these gangsters have moved in and crippled them with debt if they think the IMF is a good thing and I think you'll find an overwhelming majority, discounting the corrupt despots running these countries, who have seen their natural resources raped by international corporations, who have looted and pillaged every country they've gone into at the IMF's behest for their international banker criminal cartel, you'll find a resounding rejection of any such notion.
The so called 'Irish' government are as despotic and corrupt as any of the Third World leaders. The only difference is that they don't openly slaughter large numbers of people in the process, although poisoning of the water supply, our air and our food is also a less overt way of killing off the 'undesirables'.
Yep, that's you and me folks and don't think for a second that there aren't those in power in Ireland who know this is going on. If visitors to this website can find the information, then surely the apparent 'creme de la creme' of Ireland who are supposedly running the country can find out too?
The fact is that they are bought and paid for by the very same psychopathic bankers and corporate whores who want to rape Ireland of its resources and publicly owned, or at least semi owned companies, to include all utility companies and our vast oil and gas resources which if used for the benefit of the Irish people would see Ireland's debt wiped out overnight and unbridled prosperity for every citizen in the country a distinct possibility. Nobody dares ask the question; What happens when the family silver is sold off for peanuts and we're still in debt to the same bankers? What do you sell next?
The answer is simple and it's already happening…..You sell the people through draconian taxes to pay the compounded interest payments on debts which can NEVER be paid off. In other words, a country of slaves now exists in Ireland; not just in this generation but for generations to come if not for eternity.
The article also informs us that the government is actively seeking buyers for toxic banks which the taxpayer has already pumped BILLIONS into. If they are sold will the austerity measures be rolled back? NO!
The measures already in place with more severe austerity….read poverty policies, due to be announced in this December's budget, it is clear that the IMF is already running Ireland back into the days of colonial oppression and utter poverty and deprivation akin to Third World status.
When will people finally grasp the concept that austerity means UTTER POVERTY?
Perhaps when the shelves of the corrupt supermarket corporations start to empty and the fast food poisoners close their doors or perhaps when the power gets rationed, turning off the TV, will people finally wake up to the real world of global corporate crime.
What does it take folks? What's coming from the IMF in Ireland will devastate the landscape of Ireland economically and societally forever unless the sovereign people of the country stand up and fight back against these psychopathic criminals.
Haiti cholera clashes: UN troops shoot one man dead

~ link ~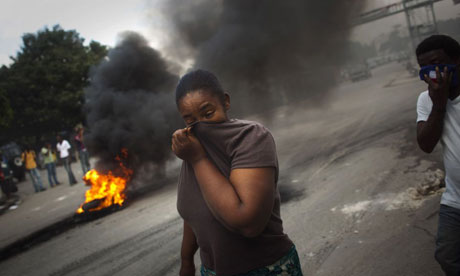 Human trH3N2 Matches Human trH1N1 Huron Ohio Cluster

~ link ~
Did you really think that H1N1 just 'went away'. Stirling
An H1N1 influenza A virus, A/swine/Ohio/24366/07, was isolated from pigs in an Ohio county fair. Twenty-six people who came in contact with the infected pigs developed respiratory disease and two of these people were laboratory confirmed as H1N1 by the Centers for Disease Control and Prevention (CDC). The A/swine/Ohio/24366/07 virus we isolated from swine was shown at the CDC to have 100% identical genome sequence to the human virus associated with the county fair.
The above
comments
describe the largest triple reassortant outbreak reported to date, other than the 2009 pandemic. That outbreak involved H1N1, which was isolated from a presenter and her father as well as multiple swine at the
2007 Huron County fair
. However, influenza reassorts in swine, so the same internal proteins can be found in H3N2 isolates which have swapped H3 and N2 for H1 and N1.
Gulf hero Dr. Soto: Detox or move away - Only way millions will survive Gulf Oil Disaster

~ link ~
The humanitarian known as "An American Treasure" who has been consistently
advocating for the Gulf people for almost seven months since the Gulf operation began
,(1) Mr. Jeff Rense, on national and international
Rense Radio
, interviewed
Gulf hero, Dr. Rodney Soto
who advised to fearlessly keep trying to get information to the public that the Gulf crime against humanity will be the greatest disaster of mankind. The only two way for up to 40 million people as far as 1,000 miles inland to survive toxic exposure, Dr. Soto said, is either relocate or be on an intensive, long-term, well-managed detoxification regime.
"They are killing our American citizens, especially the children" and "Cancer is going to surge" are two statements in the radio program unreported by mainstream press.
"In my opinion, we should not let people eat any of the Gulf seafood," said Dr. Soto. Dr. Soto believes the seafood is what will kill the most people.
Mexico's $80 million boom industry: Bulletproof cars


~ link ~
A growing number of Mexicans — including many from the middle class — see bulletproofing their vehicles as a necessity and not a luxury. Nader says an increasingly typical customer these days "is a regular guy that works, maybe he has a small business and he's been approached by criminals to steal his car." "You'll see Hondas, small SUVs ... pickups," Nader said of some of the vehicles arriving at his business.
Extortion is now commonplace in some regions of Mexico. Kidnapping has soared by more than 300% over the past five years and since December 2006, more than 28,000 Mexicans have died in killings blamed on drug-cartel violence. The violence has sparked a jump in bulletproofing.