Holy Shroud of Turin
Powerful prayer to St. Michael the Archangel - video ~
link
Lord Stirling's news blog EUROPE
Please forward this site to several friends, thanks.

Stirling
1,069 daily postings to this news blog as of today.
Global Changes from the Dying Gulf Stream and already dead North Atlantic Current
LIFE ON THIS EARTH JUST CHANGED - Death of the North Atlantic Current

~ link ~
The coverage that this article that Dr. Deagle and myself wrote, has been great on the Internet. However, the corporate owned Mainstream News Media have embargoed the story. Please forward the story to as many sites and people as you can, and to your local newspaper

UPDATED 5 October 2010

- Thanks
Current status of the Gulf Stream ~ link
RTOFS (Atlantic) Graphic Nowcasts/Forecasts - Latest Surface Horizontal Current ~ link ~
This shows North Brazil Current beginning to loop back into itself. Possible death of entire Thermohaline Circulation System.

Updated to latest setting.
RTOFS (Atlantic) Graphic Nowcasts/Forecasts - Latest Surface Temperature ~ link
T
hree Video Interviews With Lord Stirling by Renowned Video Webcaster Morris Herman of England ~

link ~

link ~

link
Video on the Gulf Stream and its connection to any future Ice Ages ~

link
Risk of Global Climate Change By BP Oil Spill by Dr. Gianluigi Zangari ~
link
Ancient Scottish Barony Title for sale. There are about 100 Scottish feudal baronies that still exist; only a handful are from the very ancient Baronage of the Isles, as this one is. In a time of economic crisis, it pays to put some of your wealth into important artwork, properties, etc. of rare value. This is one of the most rare things that can be purchased and held. For sale at US$150,000

~ link
Remembrance Day: Reversing the Tide of War. Say NO to Nuclear War

~ link ~
Humanity is at a dangerous crossroads. War preparations to attack Iran are in "an advanced state of readiness". Hi tech weapons systems including nuclear warheads are fully deployed.
This military adventure has been on the Pentagon's drawing board since the mid-1990s. First Iraq, then Iran according to a declassified 1995 US Central Command document.
Escalation is part of the military agenda. While Iran, is the next target together with Syria and Lebanon, this strategic military deployment also threatens North Korea, China and Russia.
Chinese Missiles Could Close US Bases in Attack, Report Says

~ link ~
The Chinese military's non-nuclear missiles have "the capability to attack" and close down five of six major U.S. Air Force bases in South Korea and Japan, an unpublished government report says.
China's improved inventory of short- and medium-range missiles provides a "dramatic increase" in its ability to "inhibit" U.S. military operations in the western Pacific, according to excerpts from the draft of the 2010 annual report by the U.S.-China Economic and Security Review Commission scheduled for release on Nov. 17.
Separately, the commission warns that "the future deployment" of China's new anti-ship ballistic missile "could seriously interfere" with U.S. regional access.China "appears to be in the final stage of developing" the missile capable of targeting large ships at sea such as aircraft carriers,'' the report says.The missile, with a range of almost 900 miles, would be fired from mobile, land-based launchers and is "specifically designed to defeat U.S. carrier strike groups," the U.S. Office of Naval Intelligence has reported.
Netanyahu Bolstered by GOP Gains

~ link ~ I believe that Bibi

666

Netanyahu is the most dangerous man on earth. He has control of the Israeli government and the allied AIPAC. He is determined that Iran be attacked and has no time for those who warn of the grave dangers to Israel and the world from Iranian Advanced Biological weapons. He has has his finger on the button to start Armageddon and just can't hardly wait to push it. Stirling
Preparing for WAR: US to boost weapons stockpile in Israel

~ link ~
The upgrade will see the value of US military equipment stockpiled in Israel rise to one billion dollars in 2011, with another 200 million to be added in 2012, the paper said. In 2007, the stockpile was valued at 800 million dollars. Such equipment can be used by US forces throughout the world but also by the host country, under the terms of the US foreign aid law governing reserve stockpiles for allies.

Israel made use of the stockpile during the 2006 war with the Lebanese Hezbollah militia—a conflict which killed 1,200 people in Lebanon, most of them civilians, and around 160 Israelis, most of them soldiers, the Haaretz daily reported.
Pentagon Readies New Ship-Killers for Pacific Showdown

~ link ~ What this article covers is something similar to a proposal of mine to Boeing over a quarter of a century ago. Stirling
The most hopeful is an emerging concept for mixing U.S. Navy ships and subs with Air Force planes to form a tightly-knit, super-lethal, ship-killing force meant to counter an
increasingly powerful Chinese fleet
. The Pentagon calls it "
AirSea Battle
," an homage to NATO's Cold War "AirLand Battle" concept that pioneered tactics for taking out thousands of Soviet tanks with smart weapons. U.S. Secretary of Defense Bob Gates called the classified AirSea Battle concept "encouraging."
The Uninvited Quest: Chinese Song Class diesel-electric attack submarine pops up undetected within ASW defense zone of USS Kitty Hawk super-carrier battle group

~ link ~
This is really bad news if it is true. Or we might just be playing with the Chinese. I have a lot of faith in the US Navy and USAF, however, it is always a cardinal mistake to underestimate your enemy. Stirling
Obama Calls on China to Respect International Law as Power in Asia Grows

~ link ~
U.S. President
Barack Obama
called on China to respect "international norms" as it gains power and economic clout in Asia, according to the transcript of an
interview
with Japan's Yomiuri newspaper.
Obama's statement came in response to the newspaper's question of whether the U.S. opposes China's attempts to "override" Japan's administrative control of disputed islets in the South China Sea. A Sept. 7 collision between a Chinese fishing boat and Japanese Coast Guard vessels near the rocky outcrops, known as Senkaku in Japan and Diaoyu in China, soured relations between the two countries.
US pledges to send super-carrier battle group to Yellow Sea for joint drills: Pentagon

~ link ~
"The only thing I'd answer is those are international waters and they aren't owned by China," Adm. Mike Mullen, chairman of the Joint Chiefs of Staff, told a media roundtable in Melbourn, Australia, Monday, according to a transcript released by the Pentagon, Tuesday. "They aren't owned by Korea. They're international waters in which we have and many other countries have sailed forever. My expectation is we'll continue to do that."
Mullen was responding to the question if Washington will send the USS George Washington to the Yellow Sea for the joint drills, which have not yet been rescheduled after being delayed ahead of the summit of leaders of 20 leading economies in Seoul later this week. The joint drills were originally to be held late last month.
EU Israel date transfer deal to proceed despite Irish veto

~ link ~
An EU deal to allow the transfer to Israel of sensitive personal data on European citizens is set to go ahead after Irish attempts to block the initiative ran aground.
Angry at the use of fake Irish passports by the alleged Israeli assassins of a senior Hamas operative, Dublin tried to block moves to declare that the EU recognises Israeli data protection standards as being sufficient to allow member states to transfer personal data there.
Ariel Sharon ready to be taken home from Israeli hospital four years after stroke

~ link
Hezbollah warns of US-planned war

~ link ~
Hezbollah MP Nawaf al-Moussawi said on Thursday there was a potential "American political decision to wage a new Israeli war on Lebanon and Syria," Lebanese portal Naharnet reported, citing his comments to the leading domestic paper As-Safir.

The offensives had not been yet opted for "due to political reasons linked to the US soldiers in Iraq and the Israeli Army's readiness to go through a war," he added.
US to boost military aid to Israel

~ link ~
Meanwhile, a new report has revealed that Israel planned a military confrontation against Lebanon. An unnamed French official told Lebanese daily As-Safir on Wednesday that he was informed about the plan during his Middle East tour four weeks ago.

The French official said Israeli sources told him that they have completed their military and civil preparations over the past month and that the infrastructure and the settlements adjacent to the border with Lebanon were now ready to confront the prospect of war at any moment.
Clinton: No role for Turkey or Brazil in Nuke talks with Iran

~ link ~ These talks are designed to fail and to lead to war with Iran/Syria/Lebanon/etc. and onwards to WWIII. They don't want any fail or honest parties involved that can tell the truth. Stirling
Netanyahu Nuclear False Flag?

~ link ~
I do indeed do cryptanalysis on the numerology employed by the Kabbalah and Freemasonsry interests that created and continue the the Terror War. I provide mainstream media links to support my involvement in several false flag interdiction missions. All of them involved numerology, focus on Jewish motives and stick to the presumption that the next 9/11 is an absolute necessity for their war interests:
Biden/Bibi nuke war game begins w/ 4 real China Syndromes!, Captain Eric H. May,
http://www.educationnews.org/breaking_news/102593.html
.
Canadian Troops To Stay In Afghanistan

~ link ~
Canadian troops will stay an extra three years in Afghanistan, Prime Minister Stephen Harper said Thursday, though he promises they'll no longer engage in combat missions and will instead focus on safer training missions.
"I do this with some reluctance, but I think it is the best decision when one looks at the options," Harper told reporters here just before the opening of the G20 summit.
Where are the Indictments?

~ link~

When a nation becomes so corrupt that even massive in-your-face criminal fraud involving TRILLION of dollars does not result in even a single indictment, well then you know the end is near for that society/economy/people.

Stirling
Cameron warns of risk of new Great Depression

~ link ~
Actually we are already in a new Global Depression, the "risk" is that the collapse will continue and expand at a rapid rate in the near term. Stirling
The world could slide into a 1930s-style depression, David Cameron has claimed, as the G20 summit struggled to find common ground on the best way to boost the global economy.
British officials played down the prospect of a resolution of the escalating dispute between China and the US over the value of their currencies.
The leaders, meeting in the South Korean capital, Seoul, are finding it difficult to recapture the spirit of unity which was achieved at the London summit 19 months ago, at which they agreed a $1trillion (£625bn) stimulus package for the world economy.
It's Not the "Great Recession" - It's the Great BANK ROBBERY

~ link ~

I
t's not crystal clear, this isn't the "Great Recession".
It's really the

Great Bank Robbery

.
First, there was the threat of martial law if the $700 Billion Tarp bailout wasn't passed. Specifically, Treasury Secretary Hank Paulson warned Congress that there would be martial law unless the Tarp bailouts were approved.
Bailing out the Securitization Deviants

~ link
Obama gets whacked across the world over new Fed policy
~
link
~
As President Obama meets with global colleagues at the G-20 summit in Seoul, South Korea, he is taking heat for the Fed's decision to
pump $600 billion into the American economy
-- from Germany's finance minister to Sarah Palin.
As writer Judy Bachrach reports in World Affairs, Brazilian Finance Minister Guido Mantega likened the Fed policy to "throwing money out of a helicopter."
Russia warns G20 unity in danger

~ link ~
Russian criticism of the Federal Reserve's policy of printing money has so far been subdued compared with China's or
Germany
's, since the world's biggest oil exporter stands to benefit from the resulting surge in commodities prices.
Russia is also aware that in the longer run higher oil prices will drive up the rouble and create asset bubbles, hampering President Dmitry Medvedev's efforts to modernize the economy.
Hong Kong's leader: 'US fiat dollars to create fresh crisis'

~ link ~
Hong Kong Chief Executive Donald Tsang speaks at a panel discussion in Yokohama, Japan on November 12 on the eve of an APEC summit.
To a large extent, I believe what we are witnessing is a nice puppet show with lots of smoke and mirrors. The global banking cartel is behind all of this and they are following their standard method of operation: Problem-Reaction-Solution with the 'Solution' in reality being the strategic goal behind the 'Problem' and the 'Reaction'. Stirling
Russia Asks G20 to Remove Barriers to Investments

~ link ~
Russia is trying to forge an alternative to devaluations and capital controls by developing nations seeking to prevent hot money from creating asset bubbles, said Yaroslav Lissovolik, chief economist at Deutsche Bank AG in Moscow. Interest rates close to zero in advanced economies have spurred demand for higher-yielding assets in countries from Brazil to Thailand.
Russia today criticized unilateral currency devaluations, saying they may trigger "currency wars" because markets will react with "nervousness." "Indirect weakening" of currencies in developed nations that pump liquidity into their economies poses a "serious problem," a member of the Russian delegation in Seoul told reporters while declining to be identified because the official wasn't cleared to speak to the media.
Home prices fall in half of US cities

~ link ~
Many homes that were put up for sale have now been removed due to a fall in house prices and bank repossessions.
There was a fall in the mean price of a single-family home in 76 of 155 US metropolitan areas, the National Association of Realtors said in a report on Thursday, Bloomberg reported.

House prices in Florida, slumped 20 percent from last year, showing the largest decline overall. There was a 15 percent drop in prices in the cities of Palm Bay, Florida, and Tucson, Arizona. The mean price of US homes fell 0.2 percent to $177,900.
Courts Helping Banks Screw Over Homeowners

~ link ~ This is a long article, but one that you should take the time to read. It just about made me sick to read of the legal fraud being committed and the support for it by Florida judges. This nation has become a Third World nation thanks to fraud and criminal and unconstitutional conduct by its political, legal and financial classes. Stirling
T
he foreclosure lawyers down in Jacksonville had warned me, but I was skeptical. They told me the state of Florida had created a special super-high-speed housing court with a specific mandate to rubber-stamp the legally dicey foreclosures by corporate mortgage pushers like Deutsche Bank and JP Morgan Chase. This "rocket docket," as it is called in town, is presided over by retired judges who seem to have no clue about the insanely complex financial instruments they are ruling on — securitized mortgages and laby­rinthine derivative deals of a type that didn't even exist when most of them were active members of the bench. Their stated mission isn't to decide right and wrong, but to clear cases and blast human beings out of their homes with ultimate velocity. They certainly have no incentive to penetrate the profound criminal mysteries of the great American mortgage bubble of the 2000s, perhaps the most complex Ponzi scheme in human history — an epic mountain range of corporate fraud in which Wall Street megabanks conspired first to collect huge numbers of subprime mortgages, then to unload them on unsuspecting third parties like pensions, trade unions and insurance companies (and, ultimately, you and me, as taxpayers) in the guise of AAA-rated investments. Selling lead as gold, shit as Chanel No. 5, was the essence of the booming international fraud scheme that created most all of these now-failing home mortgages.
The rocket docket wasn't created to investigate any of that. It exists to launder the crime and bury the evidence by speeding thousands of fraudulent and predatory loans to the ends of their life cycles, so that the houses attached to them can be sold again with clean paperwork. The judges, in fact, openly admit that their primary mission is not justice but speed. One Jacksonville judge, the Honorable A.C. Soud, even told a local newspaper that his goal is to resolve 25 cases per hour.

Given the way the system is rigged, that means His Honor could well be throwing one ass on the street every 2.4 minutes

.
For most people, the former bit about homeowners not paying their damn bills is the important part, while the latter, about the sudden and strange inability of the world's biggest and wealthiest banks to keep proper records, is incidental. Just a little office sloppiness, and who cares? Those deadbeat homeowners still owe the money, right? "They had it coming to them," is how a bartender at the Jacksonville airport put it to me.
But in reality, it's the unpaid bills that are incidental and the lost paperwork that matters. It turns out that underneath that little iceberg tip of exposed evidence lies a fraud so gigantic that it literally cannot be contemplated by our leaders, for fear of admitting that our entire financial system is corrupted to its core — with our great banks and even our government coffers backed not by real wealth but by vast landfills of deceptively generated and essentially worthless mortgage-backed assets.
You've heard of Too Big to Fail — the foreclosure crisis is Too Big for Fraud. Think of the Bernie Madoff scam, only replicated tens of thousands of times over, infecting every corner of the financial universe. The underlying crime is so pervasive, we simply can't admit to it — and so we are working feverishly to rubber-stamp the problem away, in sordid little backrooms in cities like Jacksonville, behind doors that shouldn't be, but often are, closed.
This isn't some rare goof-up by a low-level cubicle slave: Virtually every case of foreclosure in this country involves some form of screwed-up paperwork. "I would say it's pretty close to 100 percent," says Kowalski. An attorney for Jacksonville Area Legal Aid tells me that out of the hundreds of cases she has handled, fewer than five involved no phony paperwork. "The fraud is the norm," she says.
Schwarzenegger Declares Emergency, Calls Special Budget Session

~ link ~
For decades now, California has led the nation. What happens in California, spreads throughout American in the months to follow. If that remains true in the economy, America is beginning to 'fall off the cliff'. Stirling
California Governor Arnold Schwarzenegger, citing a $25.4 billion budget gap over the next 19 months, declared a fiscal emergency and called lawmakers to a special session next month to begin dealing with the problem.
Schwarzenegger, a Republican whose term ends in January, late yesterday ordered the session to start Dec. 6, the day newly elected legislators are sworn in. He wants to take steps to erase an officially estimated $6.1 billion gap that has already emerged in the budget enacted last month.
Marc Faber says QE2 will not work precisely because excessive monetary growth caused the crisis

~ link
41 Facts about the History of Central Banks in the United States
that our children are no longer taught in school
~ link ~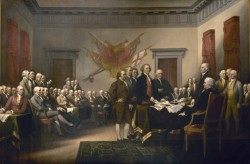 Today, most American students don't even understand what a central bank is, much less that the battle over central banks is one of the most important themes in U.S. history. The truth is that our nation was birthed in the midst of a conflict over taxation and the control of our money. Central banking has played a key role in nearly all of the wars that America has fought. Presidents that resisted the central bankers were shot, while others shamefully caved in to their demands. Our current central bank is called the Federal Reserve and it is about as "federal" as Federal Express is. The truth is that it is a privately-owned financial institution that is designed to ensnare the U.S. government in an endlessly expanding spiral of debt from which there is no escape. The Federal Reserve caused the Great Depression and the Federal Reserve is at the core of our current economic crisis. None of these things is taught to students in America's schools today.
In 2010, young Americans are taught a sanitized version of American history that doesn't even make any sense. As with so many things, if you want to know what really happened just follow the money.
The following are 41 facts about the history of central banks in the United States that every American should know....
Airborn rebellion:
Group urges 'national opt-out day' for airport body scanners

~ link ~

This is really something the people should stand up to. The radiation levels are dangerous and the ability to see through clothes is both unnecessary and a type of 'state porn'/fascism that we do not have to put up with.

Stirling
Mom upset about

12-year-old daughter's full body security scan experience

~ link ~
Read entire article HERE.

"Her 12-year-old daughter, whom she did not want to appear on camera, was at Tampa International Airport on vacation with a family friend when a TSA officer chose her.

"It's an image of a nude child that they're seeing. This is child pornography whether people want to believe this or not. How is this any different," said Nemphos. "
Note: It seems to me that the best place to work if you are a pedophile is at the TSA since there is no penalty for viewing child porn - an activity that otherwise would be criminal. Legally viewing child porn as a TSA "naked body scanner" operator may be the perfect cover,and a life-saver, since convicted pedophiles get murdered in prison. This TSA job is a "stay out of jail free card" for those interested in viewing naked children.
The war on terror has finally transformed America into a police state where obedient and docile robots are expected to obey any command of "authority figures" immediately and without question. The penalty for asserting one's rights - or even applying common sense can range from travel delays to Tasering, from arrest to being shot.
We cannot continue to pretend that a person in a uniform gawking at the naked body of a twelve-year-old girl is "protecting" the girl or the country. One can certainly conclude that a TSA person viewing their naked 12-year-old daughter is NOT protecting that daughter from pedophiles. Child porn is child porn.
Don't fool yourselves - the very people that want to look at naked kids are going to be attracted to these "jobs" allowing them to legally look at your naked kids - and some of them WILL get through.
Editorial:
T&A at the TSA
~ link ~
There is no bigger threat to America's aviation industry than the Transportation Security Administration (TSA). In less than a decade, the bureaucratic agency has heightened the hassle involved in taking to the skies. One can only imagine how much longer it will be before the majority of Americans decide they'd be better off hitting the highways.
Consider TSA's recent $440 million stimulus-funded rush to deploy so-called advanced imaging technology (AIT) scanners at airports throughout the country. These X-rated x-ray machines enable TSA employees to peer beneath the clothing of passengers - including women and children - ostensibly looking for bombs. Those refusing this indignity will be subjected to the humiliation of a public groping session at the hands of a government employee. The overreach may well prove to be the agency's undoing.
Airline pilots and flight attendants, who pass through this screening on a daily basis, are beginning to push back. "There's a level of anger out there right now amongst the pilots in response to this that I haven't seen since I've been doing this job," American Airlines pilot Sam Mayer, spokesman for the Allied Pilots Association, told The Washington Times. "This is the straw that broke the camel's back. We've taken a lot, and this seems to be the one that's pushed some guys over the edge."
Full-body Scanners
are a waste of money, Israeli expert says
~ link
Its time to

dismantle the TSA

- video

~ link ~
In the meantime, boycott air travel
.
Stewardesses
Send Message to TSA
~ link ~
This is excellent news. Stewardesses say to TSA: Keep your hands off my
private parts
. Pilots are saying the same, and so are many passengers. The State has, I think and hope, finally gone too far with its genital gropes and nuclear naked-photos. Even the MSM are starting to cover this police-state scandal, though not truthfully. Airports are today microcosms of what the State wants all of society to be. That is, they see taxpayers as cattle, and expect us to shut up and obey their thugs in blue costume. Well, maybe there's a stampede coming
America's Devolution
Into Dictatorship
~ link ~
Murdering US citizens is a "political question" not subject to judicial review...
Alert: Casus Belli -

Ex-Post-Facto Law!

~ link ~
After years of negative judicial decisions about the use of a straw-man on mortgages, MERS was about to lose its existence as well as its credibility. But now all of that is set to change as Wall Street money is pouring into the coffers of those who are receptive (i.e., almost everyone in Congress). The legislation is already being drafted under the interstate commerce clause to ratify MERS and everything it did retroactively. It appears that the Obama administration is ready to pardon all the securitization deviants by signing this bill into law. This information is corroborated by several people who are in sensitive positions — persons who would be the first to know such proposals.
Fortunately, there are some people in Washington who have a conscience and do not want to see this happen.
Besides the obvious seediness of this maneuver, it runs roughshod over state property laws, and the rights of investors, homeowners and borrowers. It amounts to a permanent installation of a Federal system that supersedes the county records for recording property rights. Off-record comments I've heard from people in power are outraged at this assault on states' rights. But these people are not legislators, who are getting promises larger than anything in your imagination, if they will support such a bill. It might be couched as a uniform law to be adopted by the states to get around the states rights issues, but it will permanently remove some of the power over property that lies solely within the jurisdiction of the states and place it preemptively within federal jurisdiction.
All of this is scheduled to happen during the lame duck session of congress between now and the end of the this year, 2010. That means in a manner of days, some bill that may look like it has nothing to do with property, mortgages or foreclosures is going to have attached to it a provision whose effect will go even further than the notarization bill that went through Congress like S–t through a goose and almost got signed by the President. We caught that one AFTER it was passed by Congress unanimously but before Obama signed it.
We announced it as an attempt at a presidential pardon to all those who committed crimes in the notarization of documents that were fabricated and forged, all those who committed forgery and perjury and all those who created counterfeit documentation that was presented to courts as original documents.
This time we got the information, we think, before it was stitched into some innocuous looking bill. If we don't find it and block it, the plight of homeowners will get that much worse.

That would be an ex-post-facto law, and is explicitly barred by The Constitution.
Such a bill, were it to be promulgated, would be an act of intentional subversion of The Constitution and a violation of the oath of office of every Congressperson who votes or argues for it.
Suffocated by

Red Tape

- 12 Ridiculous Regulations That Are Almost Too Bizarre To Believe ~ link ~
Today, the U.S. government has an "alphabet agency" for just about everything. The nanny state feels like it has to watch, track and tightly control virtually everything that we do. The Federal Register is the main source of regulations for U.S. government agencies.

In 1936, the number of pages in the Federal Register was about 2,600. Today, the Federal Register is
over 80,000 pages long
.

That is just one example of how bad things have gotten.
But it is not just the federal government that is ramming thousands of ridiculous regulations down our throats. The truth is that in many cases state and local governments are far worse. We have become a nation that is run and dominated by bureaucrats. Yes, there always must be rules in a society, but we have gotten to the point where there are so many millions of rules that the game has become unplayable.
The following are 12 examples of ridiculous regulations that are almost too bizarre to believe….
FDA sets its sights on small farms, Orders Moringland Dairy to destroy 50,000 pounds of cheese

~ link also see this article ~ link
Al Gore pocketed $18 million from now-defunct Chicago climate exchange

~ link ~
What a rip-off artist! Stirling
New evidence links BP to health crisis in the Gulf

~ link ~
Severe headaches, nausea, respiratory problems, burning eyes and throat, earache and chest pains -- and that's just the beginning.