Holy Shroud of Turin
Powerful prayer to St. Michael the Archangel - video ~
link
Lord Stirling's news blog EUROPE
Please forward this site to several friends, thanks.

Stirling
1,066 daily postings to this news blog as of today.
Global Changes from the Dying Gulf Stream and already dead North Atlantic Current
LIFE ON THIS EARTH JUST CHANGED - Death of the North Atlantic Current

~ link ~
The coverage that this article that Dr. Deagle and myself wrote, has been great on the Internet. However, the corporate owned Mainstream News Media have embargoed the story. Please forward the story to as many sites and people as you can, and to your local newspaper

UPDATED 5 October 2010

- Thanks
Current status of the Gulf Stream ~ link
RTOFS (Atlantic) Graphic Nowcasts/Forecasts - Latest Surface Horizontal Current ~ link ~
This shows North Brazil Current beginning to loop back into itself. Possible death of entire Thermohaline Circulation System.

Updated to latest setting.
RTOFS (Atlantic) Graphic Nowcasts/Forecasts - Latest Surface Temperature ~ link
T
hree Video Interviews With Lord Stirling by Renowned Video Webcaster Morris Herman of England ~

link ~

link ~

link
Video on the Gulf Stream and its connection to any future Ice Ages ~

link
Risk of Global Climate Change By BP Oil Spill by Dr. Gianluigi Zangari ~
link
Ancient Scottish Barony Title for sale. There are about 100 Scottish feudal baronies that still exist; only a handful are from the very ancient Baronage of the Isles, as this one is. In a time of economic crisis, it pays to put some of your wealth into important artwork, properties, etc. of rare value. This is one of the most rare things that can be purchased and held. For sale at US$150,000

~ link
Updated: 5:45 am 10 November 2010 London time.
QE 2 101: How the Federal Reserve managed to print money

~ link ~
Everyone is singing the praises of the Federal Reserve's next round of "Quantitative Easing" to the tune of nearly $1 trillion. Those in favor extol the virtues of the magical printing presses as if we all had been given a free cruise on the ship Queen Elizabeth 2. The truth for most of us is closer to 3rd class tickets on the Titanic.
Quantitative easing is simply printing more money. Normally the Federal Reserve buys government bonds passively to maintain its interest-rate target. With quantitative easing the Fed aggressively buys government bonds and other securities in large quantities.
So how does the Federal Reserve print money? First, it buys government bonds and other financial securities from big New York City banks. It pays for these bonds with newly created electronic money, using computers to change the records of the banks' accounts at the Fed. If the banks want paper dollars, Federal Reserve Notes, the Department of the Mint at the U.S. Treasury prints and sends crisp new dollars to the Federal Reserve which forwards them to the banks.
People with inside information, or well-informed guesses can make tons of money off this process. Some bond traders and big banks are making a killing off of QE2.
Sarkozy Urges New Monetary System After China Talks

~ link ~
Sarkozy, ever the Rothschild puppet, is straining at the bit to help bring about the long sought New World Order's global currency. Stirling
Obama fires back after countries slam Fed move

~ link ~
US President Barack Obama has defended the Federal Reserve's policy of printing dollars after China and Russia stepped up criticism ahead of this week's Group of 20 meeting.
The G20 summit has been pitched as a chance for leaders of the countries that account for 85 per cent of world output to prevent a currency row escalating into a rush to protectionism that could imperil the global recovery.
But there is little sign of consensus.
The summit has been overshadowed by disagreements over the US Federal Reserve's quantitative easing (QE) policy under which it will print money to buy $US600 billion of government bonds. The move could depress the dollar and cause a destabilising flow of money into emerging economies
Obama cranks up currency heat on China as gold and oil prices soar

~ link ~ Sadly this is much more about making China an enemy than correcting the imbalance in trade with them. Stirling
On a day when the price of gold soared past $1,400 an ounce and oil hit high for the year, President Obama found himself in India Monday on the defensive over the Federal Reserve's decision last week to print more money so it can buy up $600 billion in government

bonds

-- a move Fed Chairman Ben Bernanke insists will stimulate an economy stuck in neutral.
While the
White House
traditionally steers clear of commenting directly on Fed actions, Obama insisted that "the Fed's mandate -- my mandate -- is to grow our economy. And that's not just good for the
United
States
, that's good for the world as a whole.
Russia echoes China, says US should consult G20

~ link ~
Russia
sided with China ahead of the Group of 20 summit, saying on Monday the United States should consult other countries before pumping cash into its economy, but stopped short of calling the policy a mistake.
President Dmitry Medvedev will take part in the summit, where conflict is brewing over the U.S. Federal Reserve's latest allocation of $600 billion to buy Treasury bonds -- money that investors are likely to redirect into emerging markets in search of higher returns, potentially fuelling new asset bubbles.
China says G20 should monitor US Fed

~ link ~
China's state media has issued a new broadside at the US Federal Reserve's move to prime the US economy, suggesting the Group of 20 should monitor policy shifts by the US central bank.
The Xinhua news agency said in a commentary the Fed was "risking the global recovery by following its own track for economic revival" by spending an extra $US600 billion ($A593.65 billion) buying Treasury bonds to stimulate the US economy.
The comments were published just days ahead of two key summits this week - the G20 meeting in Seoul and the Asia-Pacific Economic Co-operation forum in Yokohama, Japan - that are expected to focus on rebalancing global trade.
"There is an urgent need for the G20 ... to set up a new mechanism that effectively monitors the issuer of the international reserve currency, especially when it is not able to carry out responsible currency policies," Xinhua said.
"It is necessary for the issuer of the international reserve currency to report to and communicate with the G20 group before it makes major policy shifts."
Eurozone joins onslaught against US Federal Reserve and weak dollar

~ link
David Cameron leads largest trade delegation to China in 200 years

~ link ~
David Cameron, who departs for Beijing later today for his maiden visit to China as Prime Minister, has said he wants to forge a "much stronger" relationship with China as Britain looks to export its way back into the black.
However, so far his achievements are lagging well behind the EU15 billion of trade deals secured by French President Nicolas Sarkozy last week.
Although China is the world's second largest economy with an enviable 10pc economic growth rate, its trade with Britain remains disappointingly small, with UK exports China totalling just £7.7bn in 2009.
Palin takes potshot at $600 billion QE2

~ link ~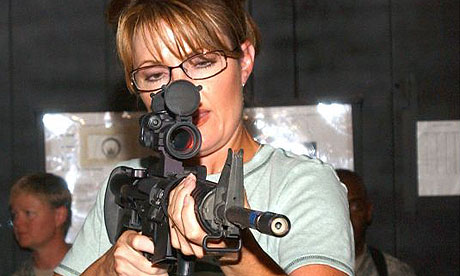 Tea Party darling Sarah Palin joins Chinese and Germans in criticising resumption of quantitative easing, telling Fed chairman Ben Bernanke to 'cease and desist'

US
First it was the might of the emerging economic superpowers, Brazil and China. Then Germany weighed in. Now Sarah Palin, the controversial failed Republican vice-presidential candidate, has entered the debate over the Federal Reserve's $600bn package (£370bn) to revive the moribund US economy.
With world leaders heading to Asia to discuss the imbalances of the global economy at the G20 summit in Korea this week, Palin was set to use a speech in Phoenix, Arizona, to declare that she was "deeply concerned" and would call on the US Federal Reserve chairman, Ben Bernanke, to "cease and desist" buying up government debt. "If it doesn't work, what do we do then? Print even more money? What's the end-game here? Where will all this money printing on an unprecedented scale take us? ... All this pump-priming will come at a serious price," Palin will say, according to snippets of the speech obtained by National Review.
US Consumer debt tumbles $100 billion

~ link ~
US consumers, stung by the most vicious economic downturn in a generation, are still not ready to start spending.